AmeriGas Partners, L.P.: A 10.7% Yield with an "A" Rating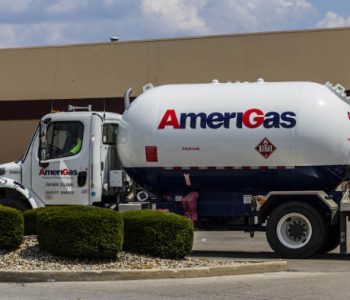 iStock.com/jetcityimage
Safe Income From This 10.7% Yielder
I rate most of the double-digit payouts that cross my desk as junk. You don't see too many safe, high yields out there. But today's company might inspire confidence, at least as far as we care about the distribution.
AmeriGas Partners, L.P. (NYSE:APU) is a master limited partnership (MLP) which distributes propane to thousands of households across the country. It also distributes plenty of cash flow to shareholders. But can this 10.7% yield possibly be safe? Let take a deep dive into this partnership.
The nature of the propane business results in reliable profits, to begin with. AmeriGas doesn't represent a bet on commodity prices. Instead, the partnership makes a dollar on every gallon of propane shipped to customers.
And once customers sign up with AmeriGas Partners, L.P., they're pretty much locked in. If a household wants to save a few bucks and switch to a competitor, they'll have to dig up their propane tank and install a new one. This dynamic allows the firm to maintain thick margins year after year.
That pattern looks set to continue. Next year, AmeriGas executives project the partnership will generate between $625.0 million and $645.0 million in adjusted earnings before interest, depreciation, and amortization. Over the same period, management is set to pay out about $400.0 million in distributions.
In other words, AmeriGas pays out $0.63 in dividends for every $1.00 generated in cash flow. Given the partnership's modest payout ratio, executives have left themselves plenty of wiggle room.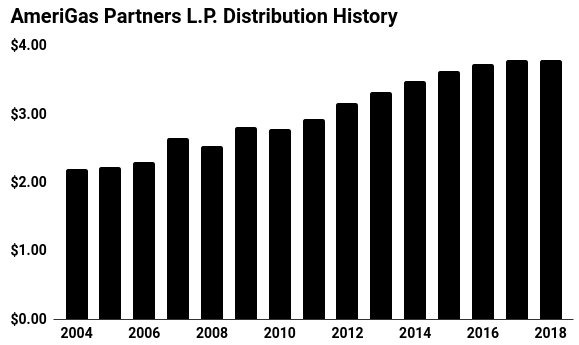 Source: "Distribution History," AmeriGas Partners L.P., last accessed June 28, 2018.

Weather represents the only issue here. Households burn less propane during warm winters, and over the past two years, higher-than-average temperatures have clipped cash flows.
That said, management have left themselves a big safety net to survive a bad year or two. This doesn't just apply to the partnership's modest payout ratio; by keeping the debt load light, AmeriGas has left itself with the financial means to keep many distributions in any climate.
Over the long haul, I expect the number of warm and cold winters to more or less even out. But for now, the company's cash flow remains well above its distributions paid out to investors. AmeriGas Partners, L.P. looks like one of the few double-digit yielders with an "A" safety rating.