AmeriGas Partners, L.P.: A Surprisingly Safe 10% Yield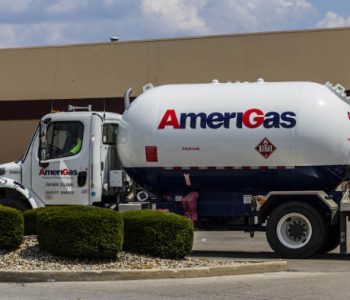 iStock.com/jetcityimage
Is This Payout Safe?
Buying high-yield stocks sometimes feels like being an Alaskan crab fisherman: it's a lucrative but dangerous undertaking.
So I get mixed feelings whenever a big payout crosses my desk. On one hand, the oversized yield gets my greed glands churning. On the other, I know that one misstep could wash my portfolio overboard.
Take propane distributor AmeriGas Partners, L.P. (NYSE:APU). APU stock's 10% yield piqued my interest, but any time you see a yield this high, you have to wonder if it might get cut.
So, is this distribution safe? Let's dig into the financials.
Propane distribution represents the ultimate cash cow business. Like natural gas utilities, AmeriGas Partners, L.P. charges a fixed markup on each gallon of product sold. So while sales may swing wildly with commodity prices, gross margins do not.
This business would not be very profitable except for one factor: AmeriGas, not its customers, owns the propane tanks on site. This allows the company to prevent households from switching to cheaper rivals (unless they want to dig up their yards). For AmeriGas, this results in robust margins year after year.
APU stock has boosted its payout every year since 2001, in addition to supplementing shareholder income through the occasional special distribution. That type of track record shows a true commitment to investors and bodes well for the partnership's future.
This year, management projects the adjusted earnings before interest, taxes, depreciation, and amortization to come in at around $610.0 million. Over that same period, APU stock will pay out around $350.0 million in distributions.
That comes out to a payout ratio of nearly 60%—high, but still well within my comfort zone. Management has left themselves plenty of financial wiggle room to continue paying distributions even in the event of a bad year or two.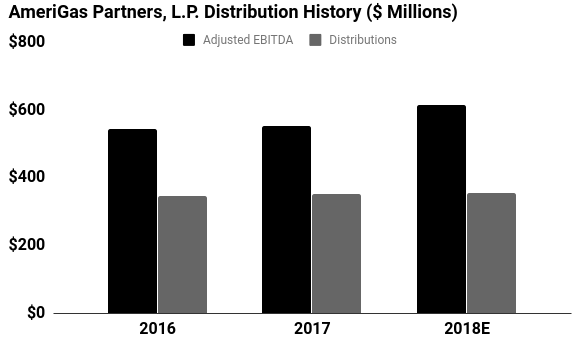 (Source: "Distribution History," AmeriGas Partners, L.P., last accessed October 25, 2018.)

The big risk here is weather. AmeriGas makes more money when it sells more propane. So, while I'm hoping for a warm winter, lower heating demand would clip the company's profits.
Interest rates could also hurt the unit price. Because APU stock's distributions resemble bond coupons, units compete directly with fixed-income securities for capital. As yields have risen, we've seen the partnership's value drop to a new 52-week low.
None of these issues should really worry income investors, however. AmeriGas's conservative financial profile means the firm can ride out a series of warm winters. And while a lower unit price hurts traders, it really doesn't impact the distributions to long-term investors.
In other words, AmeriGas Partners, L.P.'s 10% yield looks surprisingly safe.