AmeriGas Partners L.P.: "Cash Cow" Stock Yields 8.1%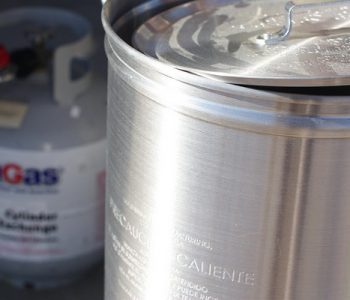 Raniel Diaz/Flickr
Earn an 8.1% Yield From This "Cash Cow"
Today's chart highlights my favorite place to find outsized yields: "cash cows."
Cash cows represent mature operations. Because they have little in the way of growth potential, owners can milk these firms for ongoing dividends.
Examples of cash cows include airport hangers, The Coca-Cola Co (NYSE:KO), and Kellogg Company (NYSE:K). Hardly the fodder for magazine covers and cocktail party chatter, no doubt. But in some cases, these names can payout yields at highs of 12%, 15%, and even 23%.
Today's example is AmeriGas Partners, L.P. (NYSE:APU). The propane distributor serves over two million customers across 50 states, making it the largest player in the industry. And while heating fuel doesn't sound exciting, a safe eight-percent yield might get income hunters out of bed.
You have a simple business here, first off.
AmeriGas earns a fee on each gallon of fuel shipped. And while we see wild swings in propane prices, the actual volume delivered stays rather steady from year to year.
Also Read:
3 Biotechnology Dividend Growth Stocks for 2018
The business requires a large up-front investment, but once established, ongoing costs come in at just a fraction of sales. The company's assets–mostly trucks, terminals, and storage tanks–don't cost a lot of money each year to keep running.
Granted, future growth will be meager at best. Propane demand flatlined years ago, so demand only spikes during the occasional cold winter. But you could consider this a good thing, as it means AmeriGas can return most of its profits to owners.
It's a surprisingly profitable business, too.
You would have to cough up billions of dollars to replicate this operation. And any new rival would only split the existing business, resulting in a money-losing proposition for both players.
Moreover, customers have few alternatives. In order to switch to another distributor, you'd have to dig up the yard and install a new propane tank. And if you want to switch to oil, you might need to replace all of the appliances in your home.
Great news for AmeriGas. Unlike a restaurant or a grocery store, customers won't switch to a competitor just to save a few bucks. This allows management to raise prices just a little each year, which can really add up over time.
For owners, this has created quite the income stream.
AmeriGas has boosted its distribution every single year since 2004. Even through the tech bust and the Great Recession, management bumped the payout to unitholders.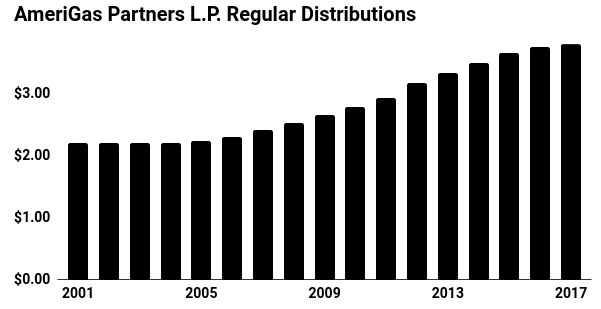 Source: "Distribution History," AmeriGas Partners, L.P., last accessed February 1, 2018.)

Those small distribution hikes have paid off. Today, AmeriGas pays out a quarterly distribution of $0.95 per unit. On an annual basis, that comes out to a yield of 8.1%.
Of course, the investment world offers no sure things. Higher interest rates (they'll come eventually) could clip the unit price. Or a warm winter would reduce propane demand, hurting AmeriGas profits.
That said, I don't get bent out of shape over quarter-to-quarter results. Management has left themselves with plenty of wiggle room here, owing to the company's modest payout ratio and light debt load. And if you wait long enough, the number of good and bad winters (that depends on your perspective I suppose) tends to even out.
In the meantime, owners should be happy to milk this cash cow operation for decades to come.