AmeriGas Partners, L.P.: This 13% Yield Keeps Growing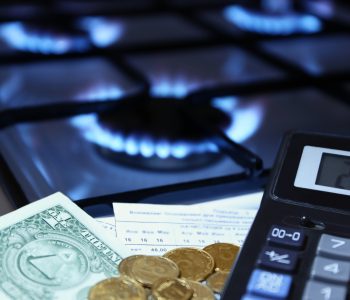 iStock.com/StudioMars
AmeriGas Partners Yields 13%
Today's chart proves once again that you can earn a great income from companies that "sell the basics."
Regular readers know we love simple businesses. Household staples like soda, toothpaste, and cereal enjoy steady demand.
No, these firms don't make headlines often. They do, however, pay out reliable dividends. And for shareholders, this often translates into strong returns.
You can see this in the distribution history for AmeriGas Partners, L.P. (NYSE:APU). The partnership supplies propane to thousands of homes nationwide. And while the business might not be "exciting," its units have emerged as a lucrative income stream.
Here's why.
The business generates reliable income. After all, people still need to heat their homes even during a recession. Propane tends to be one of the last bills households skip, along with rent, food, and electricity.
The real genius here comes from AmeriGas's business model. While propane prices can swing wildly, the distributor charges only a fixed markup on each gallon sold. As a result, gross margins tend to remain stable.
Weather can affect earnings from year to year. Warm winters mean less heating demand, which shows up in the financial results. But these swings tend to even out over time.
This business wouldn't lend itself to high profit margins, except for one thing: AmeriGas, not the customers, owns the propane storage tanks.
By owning the tank, the partnership can prevent rivals from filling it. This prevents customers from switching to a cheaper competitor.
To see how this pays off for holders of APU stock, take a look at AmeriGas's financials.
Over the past five years, the partnership has earned $0.50 in gross profit on every dollar earned in revenue. That puts the company in the league of elite dividend stocks like Johnson & Johnson (NYSE:JNJ) and The Coca-Cola Company (NYSE:KO).
For shareholders, this results in reliable income.
Since 2003, AmeriGas has boosted its payout every single year. Today, units of APU stock pay a quarterly distribution of $0.95, which comes out to an annual yield of 13%.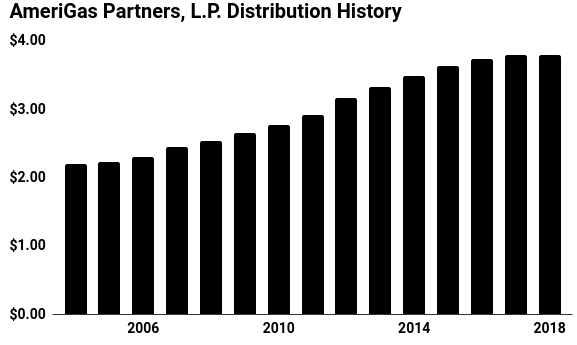 (Source: "AmeriGas Partners, L.P. (APU)," Yahoo! Finance, last accessed January 16, 2019.)

That payout will likely continue to grow, too.
Yes, propane distribution is a mature business. The industry, however, remains highly fragmented. By scooping up smaller rivals, AmeriGas should continue to boost its sales and profits.
The Bottom Line on APU Stock
Of course, you can't call AmeriGas stock a surefire bet.
Natural gas continues to bite into propane sales. Over the long haul, the industry as a whole will see declining volume.
The partnership's distributions resemble bond coupons. As a result, it competes directly for capital with fixed-income securities. If interest rates rise, the AmeriGas stock price will take a hit.
That said, AmeriGas Partners, L.P. has sailed through these headwinds before. In all likelihood, the partnership will continue mailing out checks to investors in APU stock. That's the power of owning a company that "sells the basics."