American Tower Stock: Billionaire D. E. Shaw Buying This Top Dividend Stock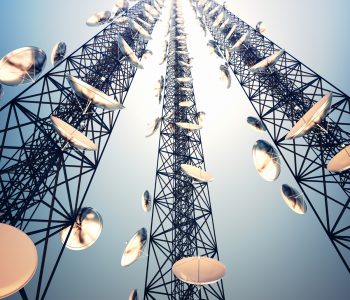 Hedge Funds Swarming Over This Stock
Most people have never heard of him, but D.E. Shaw makes the list of the world's best investors.
In 1988, he founded his first hedge fund. By employing advanced investment algorithms, Shaw went on to earn a 30% compounded annual return for his backers.
Those profits earned him a place among financial legends like George Soros and Warren Buffett. For this reason, I always watch where Shaw puts new cash to work. And right now, he's making some big bets on mobile.
Shaw is bullish on a number of telecom stocks. In recent quarters, he has increased his bets on names like AT&T Inc. (NYSE:T) and T-Mobile Us Rg (NASDAQ:TMUS). Shaw also just picked up a new position: a $205.7-million stake in mobile infrastructure giant American Tower Corp (NYSE:AMT). (Source: "Stock Holdings," Insider Monkey, last accessed July 11, 2017.)
The Top Stock For the Next 10 Years
American Tower represents a backdoor play on the mobile boom.
Today, we want Internet access everywhere. Thanks to newer services like web browsing and streaming video, the average American now chugs down three gigabytes of broadband each month. (Source: "American Tower Corporation: An Overview – First Quarter 2017," American Tower Corp, last accessed July 12, 2017.)
In response, carriers have spent billions to build out their networks. Over the next five years, the industry projects mobile data usage in North America will grow 35% annually. By 2021, the average cell phone subscriber will use seven times more data. (Source: "Mobile Data Usage Will Explode In Next 5 Years Thanks To Faster Network Speeds: Ericsson," Twice, February 6, 2017.)
America, though, is just the beginning. Over the next four years, analysts project mobile traffic worldwide will grow sevenfold. By 2021, 588 exabytes of data will cross the airwaves each month–the equivalent to 132-trillion images or 12-trillion YouTube videos. That's good news for American Tower.
The company buys infrastructure assets from carriers and leases them back for a monthly fee. With over 147,000 properties worldwide, American Tower makes money on each gigabyte of data that passes through its network.
The numbers here look breathtaking. American Tower has produced 10 straight years of record sales. Since 2012, adjusted fund flow per share, an important measure of profitability, has doubled.
These would've looked good even during the tech bubble. In today's mediocre economy, they're absolutely outstanding. I can only name a handful of large businesses in the country growing this quickly.
That expansion will likely continue. In order to handle the boom in mobile data, carriers will need partners like American Tower to build more infrastructure. Analysts expect the company's earnings to grow at a 23% annual clip over the next five years, according to projections compiled by Reuters.
For owners, this boom has created a lucrative income stream. In 2011, American Tower issued a small $0.35-per-unit distribution. Since then, executives have boosted that payout on 19 occasions, increasing the distribution more than threefold.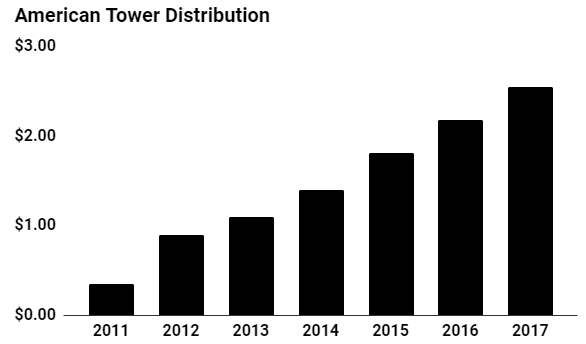 Source: StockCharts.com
Expect those payout hikes to keep rolling in. Today, American Tower cranks out a quarterly distribution of $0.64 per unit, which comes out to an annual yield of two percent. That income should grow at a double-digit clip for at least the next few years, roughly in-line with profits.
The Bottom Line on American Tower
Shaw isn't the only hedge fund building a stake in American Tower. Last quarter, billionaire investor Jim Simons revealed a $154.3-million position. Other hedge fund titans–including Neil Chriss, Ken Griffin, and Steve Cohen–have also disclosed large stakes in the firm. (Source: "American Tower Corp (AMT) – Hedge Fund Holdings," Insider Monkey, last accessed July 11, 2017.)
What could these money mavens see in this stock? I think it means one thing: they see shares going a lot higher.