American Tower Corp Just Boosted Its Dividend—Even Amid COVID-19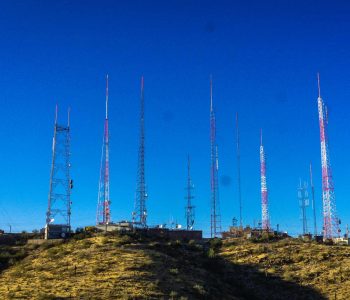 Even a Pandemic Can't Slow Down American Tower Corp
Almost 50 years ago, engineer Martin Cooper made the world's first mobile phone call. The dull, gray device weighed as much as three pounds. And with a price tag north of $10,000 in today's currency, Motorola Mobility LLC had no choice but to market this invention exclusively to high-end business executives. 
Things have changed a lot since then. Today you can find mobile phones in the purse or pocket of just about everyone. And people now count on Internet-connected devices for just about everything from ordering takeout and calling an "Uber" to running a business and checking stock quotes. People have a need to stay connected 24/7—even in a pandemic. (Source: "5 Major Moments in Cellphone History," CBC, April 3, 2013.)
Last spring, the National Bureau of Economic Research reported that COVID-19 officially pushed the U.S. economy into a recession. Stocks crashed. Bankruptcies soared. Spending plunged.
But the mobile phone industry is generally recession-resistant. People need ways to communicate on the go, no matter what happens with interest rates or gross domestic product (GDP). This was true in 2001. It was true in 2008. And it seems to have been proving true again in 2020.
Today's dividend stock has shown strength in these challenging times.
American Tower Corp (NYSE:AMT) owns a collection of mobile broadcasting sites: those spindle towers that house communications equipment. Over the past two decades, management has assembled a portfolio of 41,000 properties across North America. And in recent years, executives have expanded the company's business across Africa, India, and Latin America. 
And it's a fantastic business. Carriers like AT&T Inc. (NYSE:T), T-Mobile Us Inc (NASDAQ:TMUS), and Verizon Communications Inc. (NYSE:VZ), rent space at broadcasting sites in exchange for monthly rent checks.
Given the local opposition to constructing new cell phone towers in many communities, American Tower rarely faces much in the way of competition. And even if the company does have a rival in a given area, it costs tens of thousands of dollars to move equipment from site to site. That means American Tower executives have the freedom to raise prices year after year, with little fear of losing customers. 
Of course, the real test of any business is how well it performs in tough times. But American Tower didn't skip a beat during the last two recessions. It got better, just as you'd expect from a good company.
American Tower Corp entered the 2008 financial crisis with operating and net margins of 37.6% and 15.0%, respectively. It exited that recession with operating margins of 40.3% and net margins of 15.9%. 
What's more, American Tower's rental income actually increased during this time frame. For the three months ended September 30, 2009, its operating revenues topped $440.0 million, a nine percent increase from the same period a year earlier. Earnings per share did even better, up 13% during the quarter year-over-year. Analysts considered that type of performance absolutely remarkable, considering that the global economy was teetering on the verge of collapse.
We're seeing things play out in the same way during the current recession. In November, American Tower reported that its third-quarter revenues increased three percent to $2.0 billion. The company also increased its operating margins to 39%, from 37% during the same period in 2019. So just like in previous recessions, American Tower improved its already-strong business this time around.
That has put American Tower in the position to return more cash to its shareholders. In the third quarter, management boosted the quarterly dividend four percent to $1.14 per unit. I can only list a handful of companies that have managed to boost their payouts to shareholders during the COVID-19 pandemic. And given the current state of the economy, such actions represent an enormous vote of confidence in the business, on the part of management. (Source: "Dividend History," American Tower Corp, last accessed December 23, 2020.)
Wall Street has taken notice. Since stocks bottomed last March, American Tower units have surged 24% in value. And since mid-2002, the business has produced a jaw-dropping total return, including distributions, of 6,952%.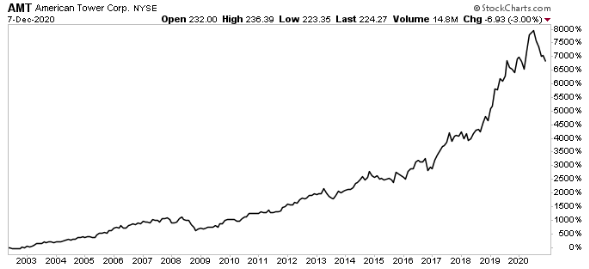 Chart courtesy of StockCharts.com
That growth will likely continue. Mobile data consumption continues to grow at a double-digit annual clip. In order to accommodate the explosive growth in demand, carriers will have to continue making large investments to beef up their networks. The bulk of that investment will consist of new broadcasting sites—ensuring that rental income grows for landlords like American Tower Corp. 
The emergence of fifth-generation (5G) technology could propel the growth into overdrive. The next iteration of mobile networks promises to boost browsing speeds a hundredfold and cut the time lag between when devices send and receive signals by 90%. This, some analysts speculate, could be a catalyst to unlock other emerging technologies like smart cities, self-driving cars, and the Internet of Things. 
Regardless of how this new technology plays out, mobile data will have to pass through some American Tower facilities. And the partnership's position as the industry's landlord will ensure a steady stream of rental income for the business (and growing distributions to unitholders). 
"Looking ahead, 5G deployment activity in the U.S. is poised to accelerate beginning in 2021, and we believe this will include material deployments of the mid-band spectrum," said American Tower Corp's treasurer, executive vice president, and chief financial officer, Rod Smith, in the company's third-quarter conference call with shareholders. (Source: "American Tower (AMT) Q3 2020 Earnings Call Transcript," The Motley Fool, October 29, 2020.)
"Given our comprehensive portfolio of U.S. assets and mutually beneficial relationships with our tenants, we believe that we are well-positioned to drive a prolonged period of attractive contractually guaranteed U.S. growth. Meanwhile, we expect our diverse International Property segment to continue to perform well as global mobile network operators deployed significant capital to deliver capable high-quality networks for their customers who are consuming more, and more mobile data than ever before."
Bottom line: American Tower Corp's mobile business has delivered recession-proof profits for decades. And thanks to the explosive growth of mobile data consumption and the looming rollout of 5G, those earnings could explode in the coming years. That should translate into a lucrative stream of dividend income for prospective income investors.