American Campus Communities Stock Is a Bullish, Reliable High-Yielder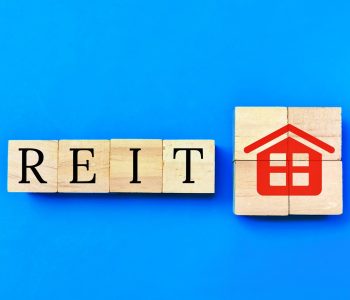 American Campus Communities, Inc.'s Business Back at Pre-Pandemic Levels
Many income investors want to find stocks with ultra-high dividends. With inflation at a 40-year high, who doesn't? But there's something to be said for a bullish stock with smaller, more reliable dividends. And that's exactly what American Campus Communities, Inc. (NYSE:ACC) is.
Founded in 1993, American Campus Communities is the largest developer, owner, and manager of high-quality student housing communities in the U.S. Since its inception, the company has conducted more than $17.5 billion in transactions. (Source: "Investor Presentation: March 2022," American Campus Communities, Inc., last accessed April 7, 2022.)
As of this writing, ACC stock's dividend is 3.4%. That might not be enough to turn the heads of some dividend hogs, but American Campus Communities stock's price is also on fire—which is more than you can say for many high-yield dividend stocks.
While student housing might not be as scintillating as Manhattan real estate, American Campus Communities, Inc. has a captive market. And with student housing strategically located next to universities, its property value often rises quickly.
Including its owned and third-party-managed properties, American Campus Communities' portfolio consists of 203 student housing properties with approximately 140,900 beds. Its 166 owned properties contain approximately 111,900 beds.
What makes the company's properties so compelling, aside from being state-of-the-art, is their locations. That, really, is at the heart of any real estate investment trust (REIT). American Campus Communities, Inc. focuses on properties located just one-tenth of a mile from campus.
And not just any campus will do. The company develops and owns on-campus and pedestrian-to-campus properties serving Power 5 conference and Carnegie R1 institutions (doctoral universities with high amounts of research activity).
American Campus Communities, Inc. also has a foothold in another captive market, Walt Disney Co (NYSE:DIS) employees. In 2018, American Campus Communities began constructing the first phase of the 10-phase $630.0-million Flamingo Crossings Village residential community for people participating in the Disney College Program.
Since then, American Campus Communities has completed the first six phases of the project, which is located just outside Walt Disney World in Florida. The remaining four phases are expected to be finished by the end of 2023.
American Campus Communities, Inc. expects Flamingo Crossings Village to achieve an average occupancy of approximately 93% in 2022. The company also expects the project to meet its 2022 targeted yield with full stabilization at the 6.8% level in May 2023.
Recession-Resistant Cash Flows
While the Power 5 and Carnegie R1 universities only account for 3.5% of the total university enrollment, it makes up 23% of the total base. The enrollment at Tier 1 universities continues to set record enrollment levels. First-year student enrollment growth is at its highest level in over 30 years, up by 5.6% from its 2019 pre-pandemic level. (Source: Ibid.)
All universities that American Campus Communities, Inc. serves have reinstituted housing policies and on-campus requirements since fall 2021. This has helped the student housing sector restabilize, surpassing its pre-pandemic occupancy levels.
In 2021, the company outperformed the entire student housing sector in revenue growth by 300 basis points. The REIT did that by achieving a 95.8% fall occupancy rate and a 3.8% average growth rate. American Campus Communities, Inc. also grew its same-store rental rate for the 17th consecutive year and returned its same-store net operating income (NOI) to pre-pandemic levels—one full year earlier than anticipated.
And the company expects those occupancy gains to continue this fall. Thanks to its long-term strategy and the accelerating momentum of its business, the REIT expects to achieve earnings-per-share growth in the range of 12% to 16% in 2022. American Campus Communities expects that, in 2023, the Disney property will reach $42.0 million in run-rate NOI, net of ground rent in May.
American Campus Communities, Inc.'s recession-resilient cash flows have produced similar same-store NOI growth as that of multifamily housing—with less volatility throughout the economic cycle. The company also offers a compelling investment opportunity with consensus earnings growth estimates higher than those in most REIT sectors.
For 2021 to 2023, American Campus Communities' funds from operations (FFO) are projected to expand at a compound annual growth rate (CAGR) of 10.7%. The average FFO CAGR is 8.4%. The REIT's FFO growth trumps the industrial, apartment, manufactured housing, triple net, data center, mall, shopping center, health-care, and office sectors. The only retail real estate sectors that are stronger are self-storage and single-family rental.
Great Q4 & Full-Year 2021 Results
For the fourth quarter ended December 31, 2021, American Campus Communities announced that its revenue increased by 16.9% year-over-year to $272.3 million. Its operating income in the quarter went up by 43% year-over-year to $73.4 million. (Source: "American Campus Communities, Inc. Reports Fourth Quarter and Year End 2021 Financial Results," American Campus Communities, Inc., February 2, 2022.)
The REIT's fourth-quarter net income climbed by 64% year-over-year to $40.7 million, or $0.29 per share.
The company's FFO in the 2021 fourth quarter totaled $107.5 million, or $0.76 per fully diluted share. That's compared to $89.9 million, or $0.65 per fully diluted share, in the prior-year fourth quarter. The company increased its fourth-quarter FFO-modified by 27.1% year-over-year to $105.4 million, or $0.75 per share.
During the fourth quarter of 2021, American Campus Communities, Inc. commenced three third-party on-campus development projects at Drexel University, Princeton University, and the University of California, Irvine. Subsequent to the quarter-end, the REIT began a third-party development project at the Massachusetts Institute of Technology (MIT). The four projects are expected to contribute fees of approximately $23.4 million during the associated construction periods.
American Campus Communities, Inc. was also awarded a new public-private partnership development by the Purdue University Research Foundation.
Moreover, American Campus Communities recapitalized a 45% minority interest in its eight-property Arizona State University housing project. The total proceeds from that project to American Campus Communities are expected to be $551.3 million.
The REIT's full-year 2021 net income was $35.5 million, or $0.24 per share. Its full-year diluted FFO went up by 6.4% year-over-year to $2.15 per share, while its FFO-modified increased by 8.1% to $300.6 million, or $2.14 per share.
As mentioned earlier, the company completed six phases of the 10-phase Flamingo Crossings Village in 2021. Cumulatively, the company has finished 6,023 beds in the project, representing $369.1 million of development on schedule and within budget.
ACC Stock's Quarterly Dividend Maintained at $0.47
As you can see in the chart below (the red line), American Campus Communities, Inc. has a history of raising its dividends annually; it did so every year from 2012 to 2020. In 2012, it paid out quarterly dividends of $1.35 per share, and in 2020 it paid $1.88.
The company has held its quarterly payout at $0.47 per quarter as it restabilizes its operations from COVID-19. As noted earlier, the pandemic-related headwinds have abated.
American Campus Communities, Inc. has a history of announcing dividend hikes in the second quarter of the year. So, we'll have to wait until May to see if the company is going to hike its payout this year.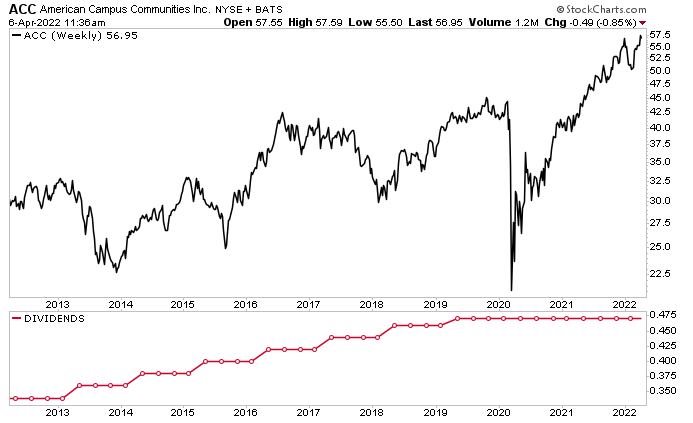 Chart courtesy of StockCharts.com
While American Campus Communities stock's dividend has been held at $0.47 per quarter, its share price has been anything but static. As of this writing, ACC stock is up by:
Four percent over the last month
14% over the last six months
34% year-over-year
210% since bottoming in March 2020
The Lowdown on American Campus Communities Stock
The biggest owner, manager, and developer of high-quality student housing communities in the U.S., American Campus Communities, Inc. is a financially solid REIT that operates in a recession-resistant industry.
Thanks to strong industry tailwinds, the company's business is back to its pre-pandemic levels earlier than forecast. The company expects that momentum to continue in 2022, which bodes well for ACC stock investors.