Who Wins in a Fight? Amazon.com, Inc. vs. Costco Wholesale Corporation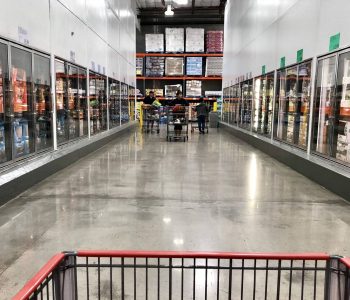 Costco Wholesale Corporation Keeps Beating the Competition
Heading into 2019, I thought Costco Wholesale Corporation (NASDAQ:COST) could stand up to e-commerce giant Amazon.com, Inc. (NASDAQ:AMZN). Sure, Amazon CEO Jeff Bezos has made "road pizza" out of brick-and-mortar retailers. But Costco always seems to keep its stores filled with shoppers, in addition to building a solid e-commerce business of its own.
But to see Costco stock outperform Amazon stock by almost two to one? I didn't see that one coming.
For full-year 2019, Costco posted a total return, including dividends, of 46%. For an industry where companies seem to be shuttering stores left and right, this is a pretty substantial development. Most retailers are happy just to keep the lights on, let alone thrive in the age of online shopping.
So how is Costco doing it?
First off, e-commerce is not the main catalyst. Last year, Costco's online revenues jumped 23%. While that number might sound impressive, it's from a low base. The company's e-commerce business accounts for only five percent of total sales—a long way from moving the needle in the company's overall financial results. "Costco Wholesale Corporation Reports Fourth Quarter and Fiscal Year 2019 Operating Results," Costco Wholesale Corporation, October 3, 2019.)
If anything, Costco has survived by doing what Amazon can't. My theory? Costco isn't thriving despite being a brick-and-mortar retailer; it's thriving because it's a brick-and-mortar business.
The company has defended its turf by creating a treasure-hunt buying experience that can't be copied online. If you have ever visited a Costco store, you have experienced the confusing layouts first-hand. The warehouse-style stores are deliberately designed in such a way to encourage shoppers to wander around. That, employees say, creates a fun experience and gets members to view—and purchase—products that they wouldn't otherwise.
So, while shoppers will go online to replace physical shopping experiences they don't enjoy, they will still make their regular visits to Costco.
The company has also fought off its online rivals by offering things like meat, produce, and gasoline. Yes, Amazon has quietly made inroads into the grocery business. Fresh foods, however, remain a purchase that people like to make in person. Other products, like propane, also generate foot traffic. These loss leaders keep shoppers visiting the physical stores, where Costco can then sell them other, higher-margin products.
But the real secret to Costco Wholesale Corporation's success? Low prices. The company's private-label "Kirkland Signature" products pencil out middlemen, allowing management to undercut more-established brands. Raw size allows Costco to spread its fixed costs over a wider base of sales, providing more wiggle room to cut prices.
Moreover, Costco offers fewer types of products than other retailers: 3,800 unique items compared to, say, 100,000 at Walmart Inc (NYSE:WMT). By consolidating their purchases, Costco executives can push suppliers for bigger discounts. Those discounts can then be passed on to shoppers. (Source: "How Costco Thrives in the Amazon Era," CNN Business, August 21, 2018.)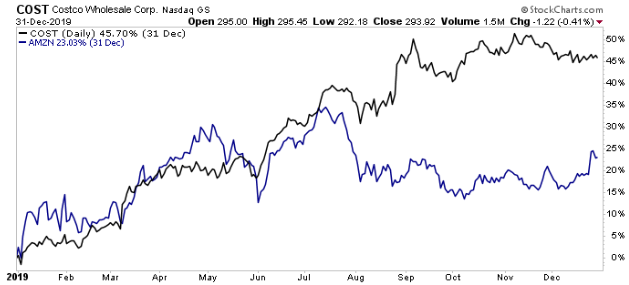 Chart courtesy of StockCharts.com
You can see these strategies show up in Costco Wholesale Corporation's recent financial results. Management reported that, in the retail month of December 2019 (the five weeks ended January 5, 2020), same-store sales jumped nine percent from the same period in the previous year. (Source: "Costco Wholesale Corporation Reports December Sales Results," Costco Wholesale Corporation, January 8, 2020.)
You might see results like that from small, emerging retailers. You don't, however, expect to see growth numbers like this from large, established companies that do billions of dollars in sales each year. Analysts drool over Costco's numbers.
"Total and comparable company sales for the quarter were negatively impacted by approximately 1.5% due to Thanksgiving occurring a week later this year," said Chief Financial Officer Richard Galanti in a conference call in December. (Source: "Costco Wholesale Corp (COST) Q1 2020 Earnings Call Transcript," The Motley Fool, December 12, 2019.)
"Weakening foreign currencies relative to the U.S. dollar negatively impacted sales by approximately 30 basis points and gasoline price deflation negatively impacted sales by approximately 40 basis points."
What does that mean in plain English? Costco Wholesale Corporation's jaw-dropping financial results actually understate how strong the business has performed.
Bottom line: Costco has a number of weapons to use against Amazon. I know many of my readers like COST stock for its reliable distributions and the special dividends it pays once in a while. But this company has emerged as a real growth story, too. And Jeff Bezos better watch out.