Altus Midstream Co Initiated Annual Dividend of $6 Per Share, for 10.7% Yield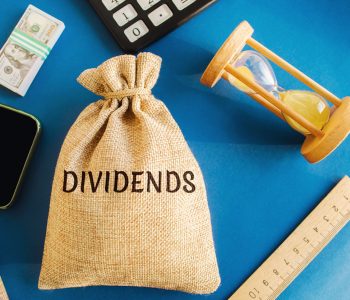 Healthy Balance Sheet Led to Initiation of Altus Midstream Stock Dividend
It certainly wasn't uncommon for oil and gas companies to halt or even slash their dividends in 2020. It's another thing, however, to see an oil and gas company actually initiate a dividend during the worst financial crisis in almost 100 years. But that's exactly what Altus Midstream Co (NASDAQ:ALTM) did.
Last November, Altus Midstream reported strong third-quarter results that were fueled by improving commodity prices and increasing activity in the Permian Basin. The company also noted that the startup of its Permian Highway Pipeline in early 2021 would supply it with a strong cash flow.
To celebrate, the company said the best way to generate shareholder value was to pay quarterly dividends of $1.50 per share, which started in the first quarter of March 2021. (Source: "Altus Midstream Announces Third-Quarter 2020 Results," Altus Midstream Co, November 4, 2020.)
As you can see in the chart below, investors were more than enthusiastic about Altus Midstream's long-term growth prospects and its newly christened dividend. At its current share price, ALTM stock's annual $6.00-per-unit payout translates to a high dividend yield of 10.7%.
The dividend news was sorely needed. Long-suffering Altus Midstream stock holders had seen their underlying investments tumble since the company went public in November 2018. And 2020 wasn't looking very hot, either.
From the beginning of 2020 until Altus Midstream Co announced it was initiating a dividend, its share price cratered 82%. It has been a different story since then. After announcing its solid third-quarter results on November 4, 2020, ALTM stock has been on a tear.
Over the five days following the earnings announcement, this dividend stock soared approximately 265%. Altus Midstream stock has been able to not just hang on to those eye-watering gains, but also to build on them.
On April 27, ALTM stock hit an intra-day high of $62.00. The dividend stock is up 332.8% year-over-year, 535% since the company announced in November 2020 that it was initiating a dividend, and 28% year-to-date.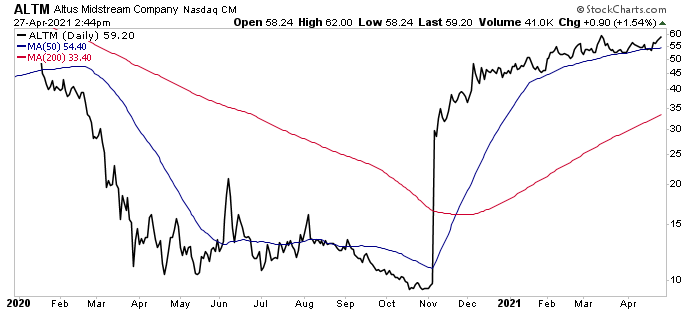 Chart courtesy of StockCharts.com
The growing investor optimism in Altus Midstream stock is well placed.
Altus Midstream is a pure-play, Permian-to-Gulf-Coast midstream energy corporation. Through its consolidated subsidiaries, the company owns substantially all of the natural gas gathering, processing, and transmission assets servicing production from Apache Corporation, a subsidiary of holdings company APA Corp (NASDAQ:APA). (Source: "Investor Presentation: February 2021," Altus Midstream Co, last accessed April 28, 2021.)
Altus Midstream also owns equity interest in four Permian-to-Gulf-Coast pipelines:
Gulf Coast Express (GCX): Altus Midstream owns a 16% stake in the GCX pipeline. The $1.8-billion project started operations in September 2019. The daily capacity is 2.0 billion cubic feet of natural gas per day, and it's fully subscribed under long-term, binding agreements with minimum volume commitments. GCX continues to have strong performance, with cash flow in line with expectations.
 Shin Oak NGL Pipeline: Altus Midstream owns a 33% stake in the $1.5-billion, 658-mile Shin Oak NGL pipeline. The natural gas liquid (NGL) pipeline connects Orla and Waha, TX to an NGL fractionation and storage complex in Mont Belvieu, TX. 
Permian Highway Pipeline: Altus Midstream owns 27% of the $2.2-billion, 430-mile Permian Highway Pipeline. The joint venture, which began operations in January 2021, has a capacity of 2.1 billion cubic feet of natural gas per day. Its capacity is fully subscribed under long-term, binding agreements with minimum volume commitments. The minimum contract term is 10 years. The cash flow from this venture was expected to commence in the recently completed first quarter. 
EPIC Crude Pipeline: Altus Midstream owns a 15% stake in the EPIC Crude Pipeline, which connects the Permian Basin and Eagle Ford basins to Corpus Christi, TX. The pipeline commenced operations in April 2020. The project consists of about 700 miles of pipeline, with a current capacity of approximately 600 million barrels of oil per day.
Commenting on the company's 2020 results, CEO Clay Bretches said, "Altus Midstream delivered strong performance despite the challenges faced last year. Thanks to our diversified assets and the dedication of the Altus team members, we are primed for continued improvement in 2021." (Source: "Altus Midstream Announces Full-Year and Fourth-Quarter 2020 Results," Altus Midstream Co, February 24, 2021.)
"With the economy recuperating and the improving demand for oil and gas products, we are optimistic about the opportunities in the year ahead. Our focus remains on securing third-party business, maximizing use of assets, strengthening our balance sheet and carrying out key environmental initiatives."
The Lowdown on Altus Midstream Co
Altus Midstream Co is a great oil and gas midstream venture with five revenue-generating assets. Most notably, in January, the Permian Highway Pipeline began production, which is expected to generate strong cash flows and position the company for long-term growth.
Thanks to the company's strong balance sheet and cash flow, it started paying quarterly dividends for ALTM stock at the end of March.