Altria Group Inc: Altria Stock's 7% Yield Deserves a Serious Look
iStock.com/denkcreative
Beaten-Down Altria Stock Still Paying Dividends
Investors once considered shares of Altria Group Inc (NYSE:MO) to be a safe, reliable investment. But no longer.
For decades, the cigarette giant has navigated new regulations, higher taxes, and declining smoking rates. Now the industry faces two new threats: e-cigarettes and legal marijuana. That disruption has triggered an exodus from Altria stock, with its shares losing a third of their value over the past 18 months.
Savvy income investors, however, ignore stock prices and focus on dividends. MO stock still pays out oodles of cash to shareholders, with a yield around seven percent. And despite the industry's headwinds, that income stream looks safe for the time being.
Granted, Altria Group Inc no longer represents the boring, predictable income stream it once did. I used to describe the company as a "cash cow," a mature business with not much room for growth or expansion. Because the company required little in the way of new plants or equipment, management could pay out almost all of the profits to shareholders.
Those days of have passed. With traditional cigarette sales sinking, management has spent billions of dollars on acquisitions, including Juul Labs, Inc. (e-cigarettes), Cronos Group Inc (marijuana), and Burger Söhne Holding AG (oral nicotine). Analysts have praised those deals, as they could serve as the Altria's lifeboat. Unfortunately, they also leave less money to pay shareholder-friendly dividends and buybacks.
But Wall Street may have overreacted. Today, MO stock trades at only 10.7 times forward earnings, compared to an average forward multiple of 21 in the broader consumer staples sector. And as analysts at Goldman Sachs Group Inc (NYSE:GS) pointed out in July, tobacco stocks have never looked this cheap relative to U.S. Treasury bonds. (Source: "Tobacco Stocks May Be Poised to Light Up," The Wall Street Journal, July 12, 2019.)
Yet the cigarette business still mints money. The addictive nature of the product creates a dependent customer base. And government regulations limit advertising, preventing new rivals from swiping market share. This has always allowed Altria to charge top dollar for its products, as is evident from the company's 60% gross margins last quarter.
Higher prices for Altria's products have also allowed executives to offset declining volumes. The U.S. is one of the most affordable markets for tobacco among the Organisation for Economic Co-operation and Development (OECD) countries, as measured by the minutes of labor required to buy a pack of cigarettes. This leaves management plenty of room to raise prices for many years. (Source: "Migration to Vaping is Sub-Optimal for Altria, Whose Cash Flow Driver Remains U.S. Cigarettes," Morningstar, July 30, 2019.)
In the meantime, Altria still earns enough cash to pay shareholders. Last year, the company generated $7.3 billion in free cash flow while paying out just $5.2 billion in dividends. That comes out to a payout ratio of 73%.
Generally, I like to see companies keep their payout ratio below 90%; that leaves executives with some wiggle room to keep making dividend payments. So the payout ratio on Altria stock sits well within my comfort zone.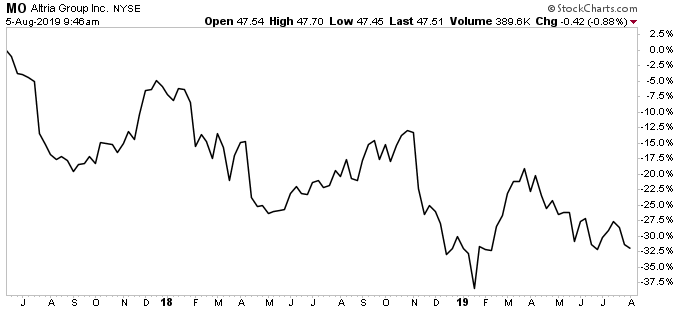 Chart courtesy of StockCharts.com
The Bottom Line on Altria Stock
The good situation at Altria doesn't look bound to change anytime soon. Cost cuts, price hikes, new profits, and lower taxes will likely boost profits in the coming year. Last quarter, Altria reaffirmed its full-year adjusted profit guidance for 2019, predicting earnings of between $4.15 and $4.27 per share. (Source: "Altria Reports 2019 Second-Quarter and First-Half Results," Altria Group Inc, July 30, 2019.)
That comes out to an increase of between four and seven percent. No, this doesn't represent explosive growth. But it does mean the business will still generate ample cash flow.
In other words, Altria Group Inc may no longer present the dependable, blue-chip name it once did. But Altria stock's seven percent yield looks safe for now.