Altria Stock: This 8%-Yielder a Sin Stock for the Ages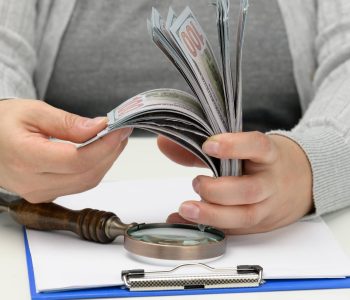 Altria Group Inc a Tobacco Company That Has Diversified for the Future
When it comes to economic turbulence and a possible recession, you can count on people to cut back on discretionary spending. While nothing is truly recession-proof, one consumer staple that remains fairly stable during recessions is tobacco. And when it comes to American tobacco stocks, it's tough to beat Altria Group Inc (NYSE:MO).
The biggest tobacco company in the U.S., Altria makes boatloads of money and returns value to shareholders in the form of growing, high-yield dividends and a multi-billion-dollar share repurchase program.
At one point, Altria Group Inc was mostly known as a cigarette behemoth associated with the brand Marlboro" (the leading cigarette brand in the U.S., with a 40%+ market share), but the one-time pure-play tobacco company has diversified over the years to include cannabis and alcohol.
The company has three business units: Combustible Tobacco, Smoke-Free Tobacco, and Complementary Assets. The Combustible Tobacco division's brands include Marlboro, "Black & Mild," and "Parliament." The Smoke-Free Tobacco division's brands include "Copenhagen" (moist smokeless tobacco), "on!" (oral nicotine pouches), and "IQOS" (heat-not-burn tobacco). (Source: "Corporate Profile," Altria Group Inc, last accessed June 22, 2022.)
Altria's Complementary Assets division owns a 10% equity investment in Anheuser-Busch InBev (NYSE:BUD), the world's largest brewer, and a billion-dollar stake in Cronos Group Inc (NASDAQ:CRON), giving it a stronghold in the marijuana industry.
Altria's wholly owned subsidiaries include Helix Innovations LLC, John Middleton Co., Philip Morris USA Inc., and U.S. Smokeless Tobacco Company. (Source: "Altria Reports 2022 First-Quarter Results; Reaffirms 2022 Full-Year Earnings Guidance," Altria Group Inc, April 28, 2022.)
Branching into businesses outside of the traditional combustible tobacco segment is a wise move, especially when you consider how many people are shunning cigarettes these days. Altria has said that, by 2030, it wants to "responsibly lead the transition of adult smokers to a smoke-free future." To reach that goal, Altria Group Inc expects to:
Deliver a portfolio of Food and Drug Administration (FDA)-authorized smoke-free products
Maximize the profitability of its combustible tobacco brands while funding the growth of its smoke-free products
Enhance its manufacturing infrastructure
Help position Cronos Group Inc as a leader in the U.S. legal cannabis market
(Source: Ibid.)
Off to Strong Start in 2022, Altria Reaffirms Full-Year Guidance
With millions of people trying to quit smoking, some of whom won't switch to smokeless products, chances are good MO stock will experience some volatility over the coming years. Right now, however, the future looks bright for Altria stock.
In April, Altria Group Inc announced that its first-quarter 2022 revenue slipped by 2.4% year-over-year to $5.9 billion. Its operating income went up by 7.2% year-over-year to $2.8 billion and its net income soared by 37.9% year-over-year to $2.0 billion. Altria Group Inc's earnings per share (EPS) climbed by 40.3% year-over-year to $1.08, and its adjusted EPS went up by 4.7% to $1.12.
"We are off to a strong start to the year and believe our businesses are on track to deliver against their full-year plans…" said Billy Gifford, Altria's CEO. (Source: Ibid.)
Gifford added, "We reaffirm our guidance to deliver 2022 full-year adjusted diluted EPS in a range of $4.79 to $4.93. This range represents an adjusted diluted EPS growth rate of 4% to 7% from a $4.61 base in 2021. We continue to expect that adjusted diluted EPS growth will be weighted toward the second half of the year."
MO Stock's Dividends & Share Repurchases Reward Investors
Altria Group Inc isn't a dividend champion, a title reserved for companies that have raised their dividends for at least 25 consecutive years, but it's on its way.
The company has increased its dividend every year since 2009. Over the last 13 years, the company hiked its annual payout by 172% from $1.32 to $3.60 per share. Most recently, in May, it declared a quarterly dividend of $0.90 per share, for a current yield of eight percent. Historically, Altria raises its quarterly dividend in the third quarter of the year. (Source: "Dividend Information," Altria Group Inc, last accessed June 22, 2022.)
In 2021, Altria paid out $6.4 billion in dividends. In the first quarter of 2022, it paid out $1.6 billion in dividends.
In addition to dividends, Altria Group Inc returns capital to investors through its share repurchase program. In 2021, the company repurchased $1.7 billion of its own shares. In the first quarter of 2022, it repurchased 11.3 million of its own shares at an average price of $50.69, for a total of $576.0 million.
As of March 31, Altria had approximately $1.2 billion remaining under its existing $3.5-billion share repurchase program, which it expects to complete by December 31.
Altria Stock Still Beating the Market
Both the S&P 500 and Nasdaq are currently in bear-market territory, and the Dow Jones Industrial Average is trying hard to join the club. As of this writing, the S&P 500 is:
Down by 15.6% over the last three months
Down by 19.0% over the last six months
Down by 21.0% year-to-date
Down by 10.9% year-over-year 
In comparison, MO stock continues to do well. As of this writing, Altria stock is:
Down by 10.0% over the last three months
Up by 0.07% over the last six months
Down by one percent year-to-date
Up by 2.9% year-over-year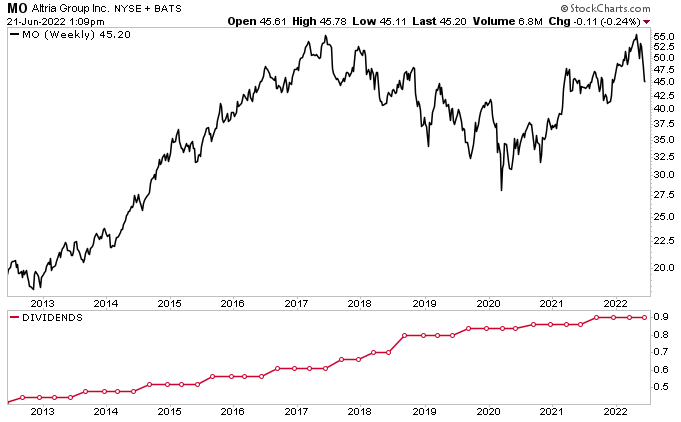 Chart courtesy of StockCharts.com
MO stock's performance was even more impressive in the period before the S&P 500 cratered in early May. As you can see in the following chart, at that time, shares of Altria Group Inc went up by 50.8% year-to-date, while the S&P 500 went down by 9.8%.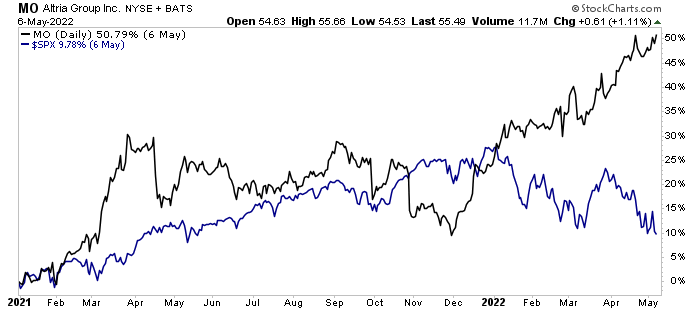 Chart courtesy of StockCharts.com
The outlook for Altria stock is robust, with analysts providing an average 12-month share-price target of $55.08 and a high target of $60.00. This points to potential gains in the range of 21% to 32%. For technical traders, MO stock has found support at $44.00 and resistance at $47.60.
The Lowdown on Altria Group Inc
Even as many stocks are being battered by soaring inflation, rising interest rates, and fears of a recession, Altria stock continues to provide investors with solid long-term growth and income.
In 2021, despite economic headwinds and ongoing fears about the COVID-19 pandemic, Altria Group Inc returned more than $8.1 billion to its shareholders through dividends and share repurchases. This represents the third-largest single-year return to MO stockholders in the company's history—and its largest annual return since 2002.
With the company diversifying beyond just combustible tobacco products, Altria stock's outlook is promising.