Altria Group Inc: Undervalued Wide-Moat Sin Stock With 8.2% Dividend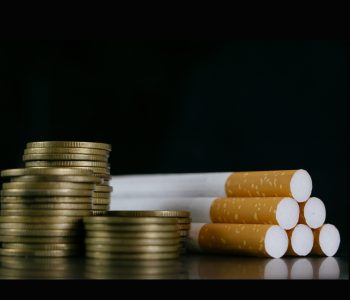 MO Stock Has a Long Record of Rising Dividends
In a topsy-turvy, volatile world, where one day is more unpredictably head-scratching than the next, there's one thing investors can rely on: sin stocks. The industries under this umbrella (e.g., tobacco, gambling, cannabis, weapons, and adult entertainment) can be some of the most lucrative ones, even—or especially—during turbulent economic times.
In the 43 years leading up to 2020, a benchmark of the 50 largest sin stocks outperformed the MSCI World Index by nearly five percent annually. (Source: "Do Sin Stocks Really Give Your Portfolio the Edge?," Firstlinks, February 26, 2020.)
Why might that be? In good economic times, people drink, smoke, gamble, and surf the dark reaches of the Internet late at night. When things go bad, they're even more inclined to do so. This makes sin stocks a perfect defensive play for an investment portfolio.
One of the best sin stocks out there is Altria Group Inc (NYSE:MO). A one-time pure-play U.S. tobacco company, Altria has diversified its offerings over the last number of years to include alcohol and cannabis. (Source: "Corporate Profile," Altria Group Inc, last accessed December 2, 2021.)
Its combustible tobacco brands include "Marlboro" and "Black & Mild." Its smoke-free brands include "Copenhagen," "IQOS," "JUUL," "on!," and "Skoal."
Altria Group Inc has a 10% stake in Anheuser-Busch InBev (NYSE:BUD), the world's largest brewer, and a billion-dollar stake in Cronos Group (NASDAQ:CRON), giving it a stronghold in the cannabis industry. With cigarette sales trending downward in the U.S., diversifying outside of combustible tobacco products makes perfect sense for Altria.
The company also used to have a foothold in the wine business through Ste. Michelle Wine Estates. This year, the company sold off that division to Sycamore Partners Management, L.P., a private equity firm, in an all-cash $1.2-billion deal. (Source: "Altria Reaches Agreement to Sell Its Ste. Michelle Wine Estates Business," Altria Group Inc, July 9, 2021.)
"We believe the Transaction is an important step in Altria's value creation for shareholders and allows our management team greater focus on the pursuit of our Vision to responsibly transition adult smokers to a non-combustible future," said Billy Gifford, Altria's CEO.
Altria Group Inc Increases Dividend 56th Time in 52 Years
In spite of ongoing uncertainty, Altria has continued to reward its shareholders with strong and growing dividends. In August, Altria's board increased Altria stock's quarterly dividend by 4.7% to $0.90 per share, for a yield of 8.2%. That increase, which marks MO stock's 56th dividend increase in the past 52 years, should appease even the most discerning income hog. (Source: "Altria Increases Quarterly Dividend by 4.7% to $0.90 Per Share," Altria Group Inc, August 26, 2021.)
During the third quarter, Altria stock paid $1.6 billion in dividends. The company continues to target a payout ratio of approximately 80% of its adjusted diluted earnings per share (EPS).
Third-Quarter Earnings Report
In the third quarter, Altria's revenue slipped by 4.7% year-over-year to $6.8 billion. (Source: "Altria Reports 2021 Third-Quarter and Nine-Months Results," Altria Group Inc, October 28, 2021.)
While the company's domestic cigarette shipment volume was down by 12.9% and its oral tobacco domestic sales volume was down by 3.8%, its "Marlboro HeatStick" sales volume increased by more than 20% on a sequential basis.
The company's third-quarter diluted EPS fell to a loss of $1.48 while its adjusted diluted EPS inched up by 2.5% to $1.22.
Also during the third quarter, Altria Group Inc repurchased 6.7 million shares at an average price of $48.35, for a total of $322.0 million. Altria's board announced the expansion of its existing share repurchase program from $2.0 to $3.5 billion. Altria expects to complete the expanded program by December 31, 2022.
The board also raised the lower end of its full-year 2021 guidance. They now expect Altria Group Inc to deliver adjusted diluted EPS in the range of $4.58 to $4.62. This represents a growth rate of five to six percent from a $4.36 base in 2020.
Altria Stock Performance & Forecast
Speaking of growth, MO stock has done well since bottoming in March 2020. As of this writing, Altria stock is up by:
Six percent year-to-date
15% year-over-year
60% since March 2020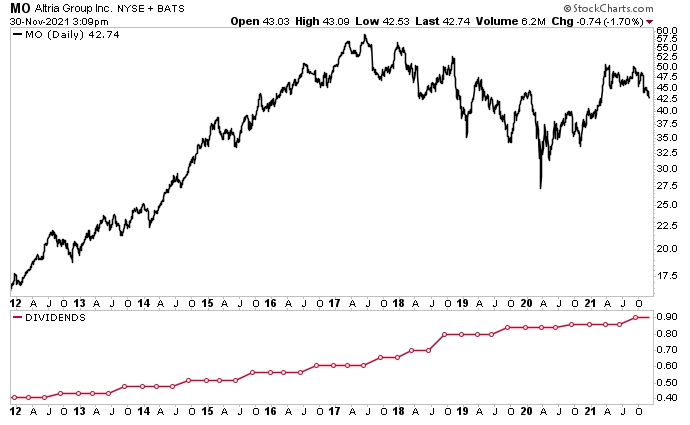 Chart courtesy of StockCharts.com
Those are decent gains, but over the last three months, MO stock has slipped by roughly 13%, and it's trading at its lowest level since March. Instead of considering it a cause for concern, investors could see the recent dip in price as a window of opportunity.
Wall Street has an average 12-month price target for Altria stock of $52.80, with a high estimate of $56.00. That translates to gains of 21.5% and 31%, respectively. Only time will tell whether those gains come as predicted. What we do know is that Wall Street analysts are notoriously conservative in their forecasts.
In the meantime, investors can weather the uncertainty and avail themselves of Altria Group Inc's frothy 8.2% dividend.
The Lowdown on Altria Group Inc
Altria Group Inc is an industry behemoth with a market cap of $81.0 billion. It has an enhanced business platform with leading positions in the combustible and smoke-free tobacco segments. It also has a massive stake in the beer and cannabis industry.
Thanks to its wide economic moat and loyal customers, Altria is a cash cow. That allows management to reward MO stockholders with safe, growing, high-yield dividends and an aggressive share buyback program.