Altria Group Inc: Safe 7% Dividend Yield & Rising Payouts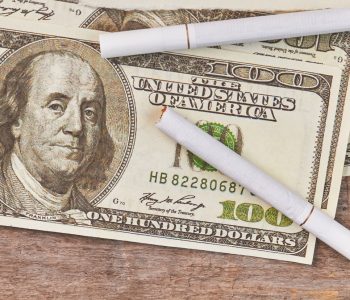 Altria Stock Has Raised its Dividends for 51 Consecutive Years
Some investors don't like so-called sin stocks. The idea of investing in companies that make money from things like gambling, weapons, or alcohol is off-putting for some. But those who don't mind that aspect and want to see a share price that rises and a high-yield dividend that grows quarter-after-quarter might want to put tobacco giant Altria Group Inc (NYSE:MO) on their radar.
Altria is the holding company behind venerable brands including "Marlboro," "Copenhagen," and "Skoal." It also owns a 35% stake in JUUL Labs, Inc., the country's leading e-vapor company, and an 80% interest in Helix Innovations LLC, the maker of an oral tobacco-derived nicotine pouch. (Source: "Corporate Profile," Altria Group Inc, last accessed March 29, 2021.)
Altria Group is about more than just tobacco, though. The company has complemented its tobacco business with the ownership of Michelle Wine Estates and a 10.2% stake in beer company Anheuser Busch InBev SA (NYSE:BUD). Altria also made a $1.8-billion strategic investment in Cronos Group (NASDAQ:CRON), giving it a foothold in the legal cannabis industry.
That said, the vast majority of Altria Group Inc's earnings come from U.S. tobacco sales. Following the breakup of Phillip Morris International Inc. (NYSE:PM) in 2008, Altria's operations are based solely in the U.S. while Phillip Morris owns the rights to brands elsewhere.
Wine sales have been contributing more and more to Altria's bottom line, and analysts believe the company's recent acquisitions in the vaping and cannabis sectors will lead to increased earnings in the not-to-distant future.
While there are concerns about the U.S. tobacco market, it remains a lucrative area. Still, there's no way of getting around the fact that fewer Americans have been smoking cigarettes. That helps explain why Altria has diversified its offerings—and why, in part, the company was able to deliver "outstanding" financial results in 2020, a year that was ravaged by COVID-19.
In the fourth quarter, Altria's net revenues increased by roughly five percent to $6.3 billion, primarily fueled by higher sales of smokable products. The company's diluted earnings per share (EPS) jumped 100% to $1.03. The company's fourth-quarter adjusted diluted EPS slipped two percent to $0.99. (Source: "Altria Reports 2020 Fourth-Quarter And Full-Year Results," Altria Group Inc, January 28, 2021.)
Altria's full-year revenues were up 4.2%, at $26.2 billion. Its full-year diluted EPS increased by more than 100% to $2.40 and its full-year adjusted diluted EPS increased by 3.6% to $4.36.
"Altria delivered outstanding results in 2020 and managed through the challenges presented by the COVID-19 pandemic," said Billy Gifford, CEO. "Our tobacco businesses were resilient and we made steady progress toward our 10-year Vision to responsibly transition adult smokers to a noncombustible future." (Source: Ibid.)
Those strong results and a solid outlook have helped MO stock rally considerably higher since bottoming in March 2020. Altria stock is up 35.1% year-over-year and up approximately 25% in 2021. The stock is trading at its highest levels since November 2018.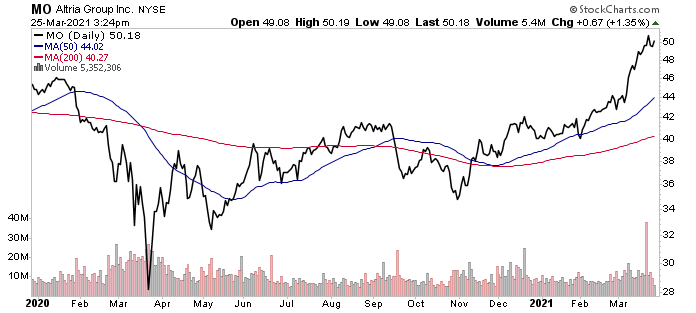 Chart courtesy of StockCharts.com
Thanks to solid fourth-quarter financial results and a great-looking future, Altria Group Inc's board of directors authorized a new $2.0-billion share repurchase program, which Altria expects to complete by June 30, 2022.
The company's strong balance sheet means it can afford to repurchase those shares and still pay its shareholders a high dividend. Not only that, it can increase that dividend year-after-year. In fact, MO stock has raised its annual dividend for 51 consecutive years.
Whether we're in the midst of a pandemic, recession, stock market crash—you name it—Altria Group Inc has weathered it and rewarded dividend investors with annual raises.
Altria's current annualized dividend rate is $3.44 per share, representing a yield of seven percent.
And history shows that Altria stock's payout is safe. The company has a long-term objective of a dividend payout ratio of approximately 80% of its adjusted diluted EPS. As noted above, the company's 2021 adjusted diluted EPS was $4.36, translating to a payout ratio of 78.9%, giving the company more than enough financial wiggle room to keep that high-yield dividend going.
The Lowdown on Altria Group Inc
A giant in the U.S. tobacco industry, Altria Group Inc also has a diverse portfolio of products that have been helping the company offset the declining demand for smokable products. This will aid Altria in reaching its 10-year goal of transitioning smokers to noncombustible products.
Because of its wide economic moat and loyal (and for now, addicted) customers, the company has been able to keep increasing its revenue, earnings, and dividend. That trend is expected to continue, which bodes well for MO stock investors.