Why Altria Group Inc Might Not Be Great for Dividend Investors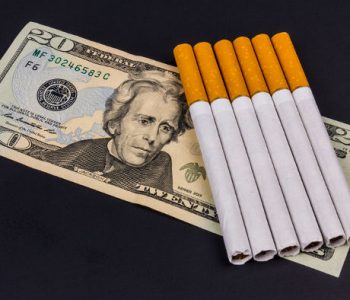 Altria Group Inc's (NYSE:MO) stock history is the stuff of dividend investing legend. Through an ultra-potent combination of ever-growing dividends and awesome price appreciation, it has returned an annual average of more than 20% since 1968. No other stock's long-term performance comes close.
But as savvy dividend investors are well aware, past performance isn't always an indicator of future results. And with MO stock sitting at record highs, up about 10% over the past three months alone, it's especially tricky to bank on continued outperformance.
So is MO stock still worth owning at this point?
Well, let's take a look at the company's Q4 results, released on Wednesday, and see if we can come up with a decent answer.
Volume Drag
For the fourth quarter, Altria posted earnings per share of $0.68, topping the average analyst estimate by $0.01. Revenue of $4.7 billion was flat year-over-year and missed the consensus by $70.0 million.
It's no secret that Altria has been grappling with declining cigarette volume, and this quarter was no different. Cigarette sales fell four percent year-over-year, weighed down largely by the 4.8% decrease in smokable cigarette volume.
Altria has experienced a bit of a volume bounce recently, but the Q4 cigarette decline represents a reversion back to more long-term trends.
On the bright side, smokable adjusted operating margin increased two percentage points on higher net pricing and lower costs, reinforcing the strength of Altria's pricing power. Moreover, smokeless revenue increased 7.2% year-over-year, doing a decent job to at least partially offset the smokable decline.
"Altria had another outstanding year," said Marty Barrington, Altria's chairman and chief executive officer. "We grew our earnings in line with our long-term objectives while returning a large amount of cash to shareholders, improving our balance sheet and strengthening our organizational capability, thus positioning Altria to continue to deliver on our long-term financial goals." (Source: "Altria Reports 2016 Fourth-Quarter and Full-Year Results; Provides 2017 Full-Year Earnings Guidance," Altria Group Inc, February 1, 2017.)
No Butts About It 
And therein lies the beauty of Altria's business model. Even in the face of cigarette declines, the company's ability to raise prices and even grow in other areas continues to fuel massive cash flow generation. More importantly, it's cash flow that goes straight into the pockets of shareholders.
During the full-year 2016, Altria paid out about $4.5 billion in dividends, hiking the payout by eight percent, and repurchased more than $1.0 billion worth of stock.
Since the beginning of 2011, the company has returned a whopping $28.0 billion to shareholders through growing dividends and healthy buybacks.
Furthermore, the company's payout ratio of 80% remains one of the highest in the industry, suggesting that management's commitment to capital returns isn't waning in the least. (Source: "Altria Group (MO) Q4 2016 Results – Earnings Call Transcript," Seeking Alpha, February 2, 2017.)
The Bottom Line on MO Stock
With roughly 50 dividend boosts over the past 47 years, and wonderful price appreciation to boot, it's tough not to be attracted to MO stock.
More importantly, Altria's market-thumping ways haven't exactly let up: over the past five years, MO stock has generated a total shareholder return of 187%, easily beating that of the S&P 500, as well as the S&P Food, Beverage and Tobacco Index.
But while Altria's still-dominant market share and track-record of shareholder friendliness are quite enticing, its current price-to-earnings (P/E) ratio of about 27 isn't. For context, MO stock's average P/E ratio over the past 10 years is about about 16. Furthermore, Altria's current P/E ratio represents a clear premium to both the tobacco sector and the S&P 500.
When you couple that seemingly lofty P/E with Altria's cigarette volume headwinds, I'd wait for a wider margin of safety before accumulating.
In other words, MO is a great company trading at a not-so-great price.