This 12%-Yielding "Alternative Bank" Is an Insider Favorite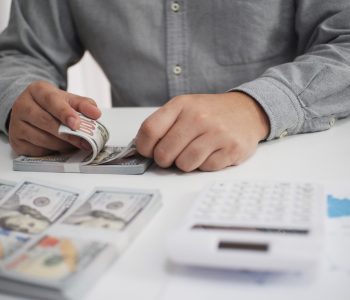 Looking for High-Yield Stocks? Read This
In today's ultra-low interest rate environment, a yield of 12% simply seems too good to be true. But what if management of this 12% yielder is willing to put their money where their mouth is?
Let's take a look.
The stock in question is Capital Southwest Corporation (NASDAQ:CSWC), which belongs to a special group of companies called business development companies (BDCs). I like to consider BDCs as "alternative banks" because they don't serve retail customers like you and me. Instead, most of them are in the middle-market lending business.
In the case of Capital Southwest, the company focuses on supporting the acquisition and growth of middle-market businesses across the capital structure. It follows a two-pronged investment strategy.
The firm's core strategy is to invest in lower-middle-market businesses, which tend to generate earnings before interest, tax, depreciation, and amortization (EBITDA) between $3.0 and $15.0 million. The typical holding size for this core strategy ranges between $10.0 and $20.0 million. (Source: "Q4 2020 Earnings Presentation," Capital Southwest Corporation, June 2, 2020.)
Other than its core strategy, CSWC has an opportunistic strategy that invests in upper-middle-market companies that usually earn more than $50.0 million in EBITDA. The holding size of an opportunistic investment is generally between $5.0 and $15.0 million.
These two strategies have resulted in a rather lucrative business. At the end of March, the weighted average yield on CSWC's debt investments was 10.5%.
One thing I really like about these alternative banks is that they have a pass-through tax structure. As long as a BDC distributes at least 90% of its taxable income to investors through dividends, it pays little to no income tax at the corporate level.
So when Capital Southwest Corporation earns oversized interest income from its portfolio, most of that income gets passed on to shareholders as dividends.
Right now, the company pays regular quarterly dividends of $0.41 per share, which translates to an annual yield of 12.5%.
Insiders Have Loaded Up on Capital Southwest Corporation
Of course, as I said earlier, we live in an ultra-low interest rate environment. The 10-Year U.S. Treasury Note currently just yields about 0.66%. A stock that offers a double-digit payout can seem quite risky.
Obviously, as is the case with any stock, investors should take a look at Capital Southwest's financials. But before we do that, I want to talk about another useful indicator: insider ownership.
You see, in most companies, management is almost always upbeat about their business. However, not all  executives are willing to buy their own companies' shares. In this day and age, talk is cheap, but if a company's management is willing to put their own money on the line, it should be considered a more genuine sign of strength.
And that's exactly why CSWC stock could be special. In the BDC's latest earning conference call, Chief Executive Officer Bowen Diehl revealed that, in the March quarter, management and board members were active buyers of Capital Southwest stock in the market. Added up, they own approximately 10% of the company's total shares outstanding. (Source: "Capital Southwest (CSWC) CEO Bowen Diehl on Q4 2020 Results – Earnings Call Transcript," Seeking Alpha, June 2, 2020.)
Looking at the financials, note that Capital Southwest's fiscal year ends on March 31, so its full-year fiscal 2020 results are already available. During the fiscal year, the company generated a pre-tax net investment income of $1.68 per share. The amount not only represented a 14% increase year-over-year, but was also in excess of the company's $1.60-per-share regular dividends paid for the fiscal year. (Source: "Capital Southwest Announces Financial Results for Fourth Quarter and Fiscal Year Ended March 31, 2020 and Announces Total Dividends of $0.51 Per Share for the Quarter Ended September 30, 2020," Capital Southwest Corporation, June 1, 2020.)
Going further back, we see that, since Capital Southwest completed its spin-off of CSW Industrials Inc (NASDAQ:CSWI) in 2015, the company's pre-tax net investment income has provided 1.07 times coverage for its regular dividends.
Mind you, regular dividends aren't the only thing CSWC stock investors have been collecting. In fact, since mid-2018, Capital Southwest stock has been paying supplemental dividends of $0.10 per share every quarter. (Source: Capital Southwest Corporation, June 2, 2020, op. cit.)
Capital Southwest created the supplemental dividend program to return some of its undistributed taxable income (UTI) to shareholders. At the end of March, the company still had a UTI balance of $1.44 per share.
Can You Count on This 12.5% Yield?
Of course, the COVID-19 pandemic has sent shock waves through the financial markets, and we have seen quite a few dividend cuts in recent months.
The good news is that Capital Southwest Corporation is committed to its dividend policy. In fact, the company has already declared a $0.51-per-share dividend for the quarter ended September 30, including a regular dividend of $0.41 per share and a supplemental dividend of $0.10 per share. (Source: Capital Southwest Corporation, June 1, 2020, op. cit.)
Note that the company could have waited for uncertainties to resolve before declaring its dividend for the September quarter; we are still in June, after all. But as Diehl puts it, "In an effort to create some level of certainty in an otherwise uncertain world, we believe this announcement demonstrates our continued confidence in our portfolio and the ability to earn our dividend at the current level over time through net investment income." (Source: Seeking Alpha, op. cit.)
Later in the company's June 2 earnings conference call, Capital Southwest Corporation's chief financial officer Michael Sarner added, "So we feel good about where our dividend is relative to our earnings power, but we'll probably hold that dividend constant relative to ever making a dividend cut."
And there you have it. Capital Southwest has solid financials, substantial insider ownership, and a strong focus on maintaining its oversized dividends. As it stands, CSWC stock could be one of the best high-yield BDCs on the market.