Alliance Resources Partners Stock: Bullish 14.1%-Yielder Has 63% Upside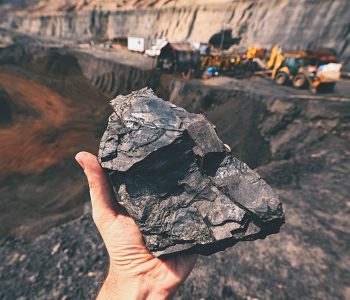 Why ARLP Stock Has a Bright Outlook
Alliance Resource Partners, L.P. (NASDAQ:ARLP) has one of the most uninspiring company names in the energy sector, but it makes up for that with growing, ultra-high-yield dividends and strong financial results.
The company is on track to deliver record financial results this year. This should juice Alliance Resource Partners stock's price, which has already rallied by 7.5% this year. As of this writing, Wall Street analysts think ARLP units have 62% upside.
As the world's second-largest coal producer in the eastern U.S., Alliance Resource Partners, L.P. should benefit from high coal demand and prices.
In 2022, record-high global coal consumption and soaring demand, combined with supply shortages, led to an exceptionally tight coal market and high prices. According to the International Energy Agency (IEA), coal consumption increased by 3.3% in 2022 to 8.3 billion tons. (Source: "Global Coal Demand Set to Remain at Record Levels in 2023," International Energy Agency, July 27, 2023.)
After 18 months of high prices and volatility, thermal coal prices have returned to a more normal level, near $115.00 per ton. Nevertheless, the outlook for the coal market is robust.
The global consumption of coal is expected to stay at its current high level as the use of coal increases in Asia, more than making up for a decline in coal consumption in the U.S. and Europe. Furthermore, in 2023 and 2024, small declines in coal-fired power generation are expected to be offset by increases in industrial usage of coal.
The IEA estimates that the global demand for coal grew by about 1.5% to 4.7 billion tons in the first half of 2023.
The demand for coal fell in the U.S. and E.U. by a larger percentage than expected (24% and 16%, respectively), but those declines were offset by increased demand from the two largest users of coal, China and India, where coal consumption increased by more than five percent. Even though many economies in Asia have ramped up renewable energy production over the decades, the demand for coal remains high in those two countries.
This year, China and India, with a combined population of 2.9 billion, could account for approximately 70% of the world's global coal consumption. Put another way, the two countries use more than twice as much coal as the rest of the world combined. The U.S. and E.U., with a combined population of 788 million, use just 10% of the world's coal.
Lower coal prices have made imports more attractive to some buyers. In the first half of 2023, Chinese imports almost doubled. Global coal trade is expected to grow by more than seven percent this year, outpacing the overall demand growth and approaching the record levels reached in 2019.
These metrics are great news for Alliance Resource Partners.
About Alliance Resource Partners, L.P.
The first publicly traded master limited partnership, Alliance Resource Partners is the second-largest coal producer in the eastern U.S. The Tulsa, Oklahoma-based company generates operating and royalty income from the production and marketing of coal to major domestic and international utilities and industrial users. It also generates royalty income from oil and gas mineral interests located in strategic producing regions across the U.S.
Alliance Resource Partners, L.P. has seven operating underground mining complexes in Illinois, Indiana, Kentucky, Maryland, Pennsylvania, and West Virginia, as well as a coal-loading terminal in Indiana on the Ohio River.
The partnership currently owns mineral and royalty interests in approximately 61,400 net royalty acres in premier oil and gas-producing regions in the U.S., primarily the Permian, Anadarko, and Williston basins. The company currently has about 580.7 million tons of proven and probable coal mineral reserves and 1.2 billion tons of measured, indicated, and inferred coal mineral resources.
There's more to Alliance Resources than coal.
Last September, the company announced the debut of a new ventures team that will use the partnership's high cash flow and core technology to make strategic investments in the fast-growing energy and infrastructure transition. (Source: "Alliance Resource Partners, L.P. Announces Formation of New Ventures Team Led by Andrew Woodward and Matthew Lewis," Alliance Resource Partners, L.P., September 14, 2023.)
The new ventures team will be responsible for identifying, developing, and acting on new commercial opportunities beyond the company's existing business divisions.
Solid Second-Quarter Financial Results & Full-Year Outlook
For the second quarter ended June 30, Alliance Resource Partners announced that its revenues inched up by 3.5% year-over-year to $641.8 million. (Source: "Alliance Resource Partners, L.P. Reports Increased Financial and Operating Results," Alliance Resource Partners, L.P., July 31, 2023.)
Its net income climbed by 3.8% year-over-year to $169.8 million, or $1.30 per unit, while its earnings before interest, taxes, depreciation, and amortization (EBITDA) rallied by one percent to $249.1 million.
Commenting on the results, Alliance Resource Partners, L.P.'s chairman, president, and CEO, Joseph W. Craft III, said, "ARLP delivered solid results during the second quarter of 2023, keeping us on track to deliver record financial results this year." (Source: Ibid.)
He added, "Our year-to-date results have been impressive despite coal demand, both domestically and globally, being lower than we expected entering this year, due to slower economic growth, mild weather in our targeted markets, and lower natural gas prices."
Looking forward, Alliance Resource Partners, L.P.'s management lowered their 2023 production guidance levels modestly to 96% to 97% of their previous guidance range. Despite the slight drop in expected production, the partnership is still on track to achieve record financial results in 2023.
During the second quarter, the company agreed to sell an additional 8.6 million tons of coal. Management expects there will be even more opportunities this year to fill out its future contract book.
Quarterly Dividend Jumped in 2023
In 2022, Alliance Resource Partners raised its dividend in each quarter—from $0.20 per unit in the fourth quarter of 2021 to $0.50 per unit in the fourth quarter of 2022. That represents a year-over-year increase of 150%.(Source: "Distributions," Alliance Resource Partners, L.P., last accessed August 15, 2023.)
So far in 2023, the partnership has held its quarterly distribution at $0.70 per unit, which is up by 40% from its fourth-quarter 2022 dividend of $0.50 and up by 75% from its third-quarter dividend of $0.40.
As of this writing, ARLP stock has a dividend yield of 14.1%.
It's not always sunshine and flowers, though. Since Alliance Resource Partners is an energy company, its dividend fluctuates based on supply and demand, as well as where we are in the economic cycle.
As you can see in the chart below (the red line), the partnership suspended its dividends during the COVID-19 pandemic. In 2020, the company only paid one dividend of $0.40. In 2021, Alliance Resource Partners, L.P. also distributed a total of $0.40 per unit, but spread over three payments. That's not a big surprise. The global economy was in a recession, so the demand for oil, gas, and coal pretty much evaporated.
Alliance Resource Partners Units Have 63% Upside
Alliance Resource Partners, L.P.'s distribution isn't the only thing that's been going up; so has its share price. As of this writing, ARLP units are:
Up by 10.3% over the last month
Up by 6.0% over the last three months
Up by 7.0% year-to-date
Down by 1.8% year-over-year
Up by 838% from its October 2020 low of $2.10
Alliance Resource Partners units' recent upward moves are certainly encouraging, and their outlook is very robust.
For the next 12 months, Conservative Wall Street analysts have provided a median unit-price estimate of $28.00 and a high estimate of $26.00. This points to gains in the range of 42% to 63%. Even the low estimate of $26.00 suggests potential upside of 32.5%.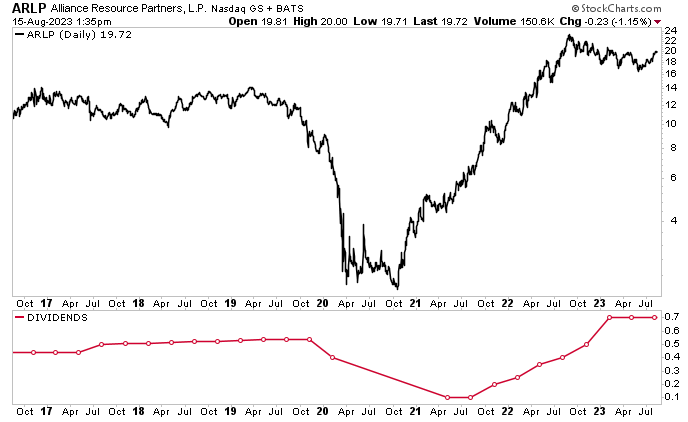 Chart courtesy of StockCharts.com
The Lowdown on Alliance Resource Partners, L.P.
Alliance Resource Partners is a great energy company with high long-term growth potential. It's been delivering outstanding financial results and expects to report record results for full-year 2023.
Looking beyond 2023, the partnership said it's encouraged by the growth opportunities being pursued by its new ventures group, the acquisition prospects for its oil and gas royalty segment, and the recent increase in the forward oil and gas price curves.
Alliance Resource Partners, L.P. forecasts that the demand for coal will be stable over the next several years. Many of its customers are projecting significant growth in their electricity demand as record numbers of new manufacturing facilities come online. Moreover, an increase in the number of liquid natural gas (LNG) terminals coming online over the next five years is expected to support higher domestic natural gas prices.
That kind of robust, long-term outlook is excellent news for ARLP units' price and ultra-high-yield dividends.