Alico, Inc.: Bullish 5.4%-Yielding Stock Hikes Dividend 178%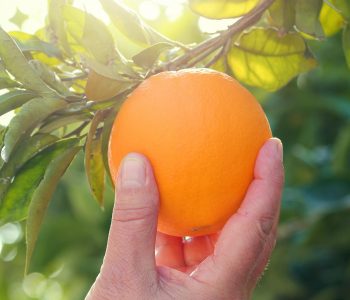 Alico Stock Up 20% Year-Over-Year & Poised for Additional Gains
An apple a day might keep the doctor away, but an orange a day keeps Alico, Inc. (NASDAQ:ALCO) shareholders happy. One of America's largest citrus producers, Alico has everything going for it: strong financials, a rock-solid balance sheet, a bullish share price, and a growing, high-yield dividend.
As of this writing, ALCO stock is up by 25% over the last six months and 20% year-over-year.
Alico, Inc.'s outlook is bright. For starters, it has erased all of its share-price losses associated with the COVID-19-fueled stock market crash in March 2020. Alico stock is already trading near a 52-week high, but Wall Street expects it to soar higher. One analyst has provided a 12-month share-price forecast of $44.00, which translates to potential upside of approximately 20%.
Even at $44.00 per share, ALCO stock would need to climb by an additional 26% to get to its January 2015 record level of $55.73.
Quarterly Dividend Payout Soars 178%
Not only is Alico stock's price up 20% year-over-year, but it also pays out a frothy 5.4% annual dividend. And, as you can see in the chart below, that dividend has been growing fast. (Source: "Dividend History," Alico, Inc., last accessed August 19, 2021.)
In the September 2020 quarter, ALCO stock paid a quarterly dividend of $0.09 per share. In the December quarter, the company hiked its dividend payout by 100% to $0.18 per share. Not to be outdone, in June 2021, the quarterly dividend payout soared by 178% to $0.50 per share.
Over the course of four quarters, Alico, Inc. raised its quarterly dividend by an eye-watering 455%. Can that blistering pace continue for this dividend stock? The company certainly has the financial means to do so. Its payout ratio is a miserly 13.4%, which is far below the 90% threshold I like to see.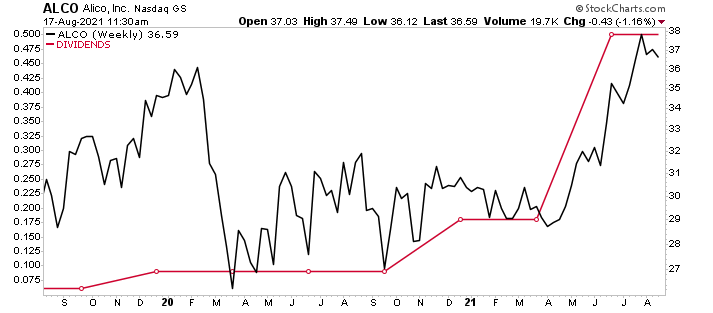 Chart courtesy of StockCharts.com
About Alico, Inc.
As mentioned earlier, the Fort Meyers, FL-based agribusiness and land management company is one of the country's largest citrus producers. (Source: "About Us," Alico, Inc., last accessed August 19, 2021.)
Through its Alico Citrus segment, the company owns and manages citrus groves in seven Florida counties: Collier, Charlotte, DeSoto, Hendry, Hardee, Highlands, and Polk. The seven properties cover roughly 49,000 acres.
Although the coronavirus pandemic has hobbled the global economy, it didn't impact Alico, Inc.'s harvesting activities. In 2020, the company sold 7.6 million citrus boxes.
In June 2021, Alico entered new citrus supply agreements with Peace River Citrus Products covering 3,614 gross citrus acres purchased in May and October 2020. With those agreements, approximately 99% of the company's fruit is under contract through the 2023 and 2024 harvest seasons.
And there's more to Alico than just oranges. Through the company's Land Management and Other Operations segments, it leases out land for recreational, grazing, conservation, and mining purposes.
Alico, Inc. has been selling off its non-core land assets. In the third quarter of fiscal 2021 (ended June 30), the company sold 18,500 acres of parcels from the Alico Ranch to various third parties. After those sales, it still has approximately 35,000 acres of ranch land, none of which is encumbered or restricted. Overall, the company's Land Management segment oversees 84,000 acres.
The company's net proceeds from future sales of its assets will be used to acquire additional citrus acreage, prepay variable-rate term debt, repurchase common shares, diversify the business through other acquisitions, and/or pay special dividends.
It's a win-win, no matter how you look at it.
Strong Q3 Results
For the third quarter ended June 30, Alico announced that its revenue increased by 33% year-over-year to $34.8 million. The Alico Citrus segment accounted for the vast majority (98%) of the company's revenue. (Source: "Alico, Inc. Announces Financial Results for the Third Quarter and Nine Months Ended June 30, 2021," Alico, Inc., August 5, 2021.)
For the three months ended June 30, the company recorded net income of approximately $27.1 million and earnings of $3.61 per diluted share, compared to third-quarter 2020 net income of approximately $2.0 million, or $0.28 per share.
Its earnings before interest, taxes, depreciation, and amortization (EBITDA) were $40.6 million, versus $7.5 million in the same prior-year period. The company's adjusted EBITDA were $9.8 million, up by 31.8% from $7.4 million in the third quarter of 2020.
Alico, Inc.'s management reiterated their guidance for the fiscal year ended September 30. They expect:
Net income between $33.0 and $38.5 million
Adjusted net income between $1.3 and $3.8 million
EBITDA between $64.0 and $72.0 million
Adjusted EBITDA between $21.7 and $25.7 million
The Lowdown on Alico, Inc.
Alico stock is excellent for dividend hogs and buy-and-hold investors. Alico, Inc. has continued to report strong financial results and provide a solid outlook.
That has helped ALCO stock rise more than 20% year-over-year. And in June, the company's board of directors increased the stock's quarterly dividend.