Alexander's, Inc.: Bullish 6.7%-Yielding New York City REIT Is Safe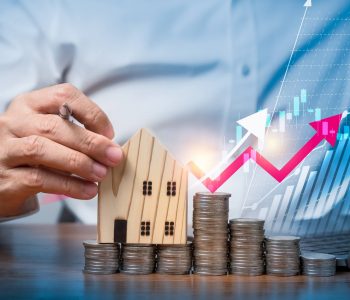 Alexander's Stock Has Strong Growth Potential
Alexander's, Inc. (NYSE:ALX) might sound like it's a high-end steak joint from the 1970s with dim lighting and red leather seats, but it's not. It's a real estate investment trust (REIT) with holdings mainly in the New York City area. The REIT's activities are conducted through its manager, Vornado Realty Trust (NYSE:VNO).
The company leases, manages, develops, and redevelops properties in the Greater New York City metropolitan area. Its current real estate holdings consist of seven properties, including:
The 731 Lexington Avenue office and retail building (which includes Bloomberg, L.P.'s world headquarters)
The Rego Center complex in Rego Park, Queens, which includes the Rego Park I, II, and III retail properties
The Alexander apartment tower and retail properties in Paramus, and Flushing, NY.
U.S. real estate can, as history shows, fluctuate and, at times, crash. But New York City has been one of the more robust global real estate markets. That has resulted in Alexander's stock being a cash cow for shareholders.
Since the start of 1991, ALX stock's price has soared by 2,600%. And there's still room for growth. Alexander's stock needs to climb by 15% to get to its pre-coronavirus sell-off level and 25% to get to its previous record level near $340.00.
In addition to providing investors with significant capital appreciation, ALX stock has been rewarding buy-and-hold investors with high-yield dividends.
Most recently, in late July, the company's board of directors declared a regular quarterly cash dividend of $4.50 per share, for an annual dividend yield of 6.7%. (Source: "Alexander's Declares Quarterly $4.50 Dividend on Common Shares," Alexander's, Inc., July 28, 2021.)
The company also has a generous special dividend program.
Alexander's, Inc. Sells New Jersey Property to IKEA
In May, Alexander's announced that IKEA Property, Inc exercised its option to purchase the company's Paramus, NJ property for $75.0 million.
After repaying the $68.0-million mortgage, Alexander's expects to receive net cash of approximately $6.0 million. The financial-statement gain will be approximately $60.0 million and the tax gain will be approximately $63.0 million. The company said that it "does not expect to pay a special dividend related to this transaction." (Source: "Alexander's Announces IKEA Exercises its Option to Purchase Paramus Property," Alexander's, Inc., May 13, 2021.)
Investors can be forgiven for wanting a special dividend now. Alexander's has a history of providing investors with special dividends when the company makes a big sale.
Back in 2012, Alexander's sold its Kings Plaza Mall in Brooklyn to Macerich Co (NYSE:MAC) for $751.0 million. The net proceeds were $479.0 million. Thanks to the influx of cash, the company's board of directors declared a special long-term capital-gain dividend of $624.0 million, or $122.00 per share. (Source: "Alexander's Completes Sale of Kings Plaza Mall for $751 Million and Declares Special Long-Term Capital Gain Dividend of $122.00 Per Share," Alexander's, Inc., November 30, 2012.)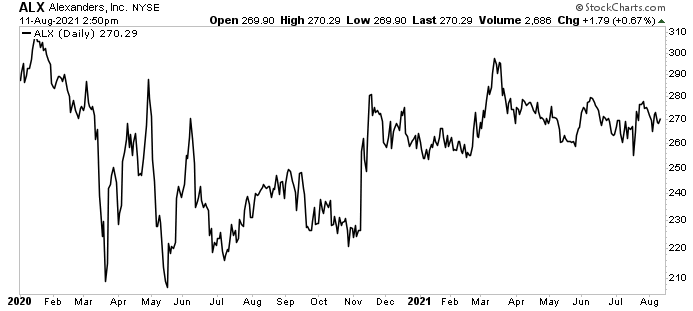 Chart courtesy of StockCharts.com
Q2 Revenues & Funds From Operations Rise
Alexander's can afford to pay out growing, high-yield dividends because it's a REIT and has to pay out the vast majority of its profits to its shareholders. For the second quarter ended June 30, the company's revenue increased by 13% year-over-year to $51.3 million. (Source: "Alexander's Announces Second Quarter Financial Results," Alexander's, Inc., August 2, 2021.)
The REIT's second-quarter net income was up by 11%, at $25.9 million, or $5.05 per share. Its net income in the quarter included $9.1 million, or $1.78 per share, from the net gain on the sale of real estate.
Its funds from operations (FFO) were $21.1 million, or $4.12 per share, compared to $18.0 million, or $3.51 per share, in the same prior-year period.
For the first half of 2021, the REIT's revenue advanced eight percent to $107.5 million. Its net income climbed by 160% to $43.8 million, or $8.55 per share. Its FFO were $46.9 million, or $9.16 per share, compared to $41.7 million, or $8.15 per share, during the six-month period ended June 30, 2020.
The Lowdown on Alexander's, Inc.
Alexander's, Inc. is light on news and comments from management. But the company makes up for the silence with large stock-market gains and reliable, high-yield dividends that are anchored by one of the top commercial real estate markets in both the U.S. and globally.