Alamos Gold Inc: 50% Dividend Increase… From a Gold Mining Company?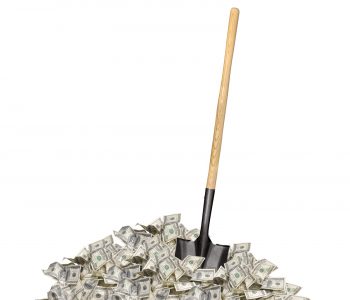 Alamos Is Returning Cash to Investors
For the most part, income investors aren't really known for being fond of gold. The reason is simple: on its own, the yellow metal does not pay any interest or dividend. However, gold mining companies do have the ability to return cash to investors, and one of them just delivered a massive dividend hike.
On March 3, Alamos Gold Inc (NYSE:AGI) announced that its board of directors declared a quarterly cash dividend of $0.015 per common share. The amount represented a 50% increase from the company's prior quarterly dividend. The new dividend will be paid on March 31 to shareholders of record as of March 17. (Source: "Alamos Gold Declares Quarterly Dividend and Adopts Dividend Reinvestment and Share Purchase Plan," Alamos Gold Inc, March 3, 2020.)
Now, keep in mind that Alamos Gold announced the dividend increase at a time when the U.S. stock market was going through a major sell-off. On March 3, the Dow Jones Industrial Average tumbled 2.9%, the S&P 500 slipped 2.8%, and the Nasdaq Composite went down three percent.
The dividend hike announcement could have served as good news for AGI stock during the market downturn. And it did. On March 3, Alamos Gold stock surged 3.4%.
Of course, another reason why this gold mining stock went up on a day when most other stocks tumbled was that gold prices went up. On March 3, the spot price of the shiny metal surged more than three percent.
Sure, gold prices experienced a sizable drop at the end of February, but if you look further back, you'll see that the price of gold is still up by more than $100.00 an ounce year-to-date.
Speaking of gold prices, it's worth noting that Alamos Gold has a very simple business model: it produces gold and sells it.Right now, the company has three operating mines: two in Canada and one in Mexico. It also has assets in the U.S. and Turkey. AGI's proven and probable mineral reserves total 9.7 million ounces. (Source: "Corporate Presentation March 2020," Alamos Gold Inc, last accessed March 11, 2020.)
If the company can produce gold at a lower price than what it sells for, it runs a profitable business.
And that's indeed the case at Alamos Gold. According to the company's latest earnings report, the company produced 122,100 ounces of gold in the fourth quarter of 2019. Its all-in sustaining cost in the quarter was just $972.00 per ounce. (Source: "Alamos Gold Reports Fourth Quarter and Year-End 2019 Results," Alamos Gold Inc, February 19, 2020.)
Here's the neat part. In the fourth quarter, Alamos Gold sold 127,148 ounces of gold at an average realized price of $1,463 per ounce. This allowed the company to generate record quarterly revenue of $186.0 million. It also led to adjusted earnings of $32.1 million.
It's a similar story for full-year 2019. During the year, Alamos produced 494,500 ounces of gold, meeting its production guidance for the fifth consecutive year. Its all-in sustaining cost was $951.00 per ounce.
Meanwhile, the company sold 494,702 ounces of gold in 2019 at an average realized price of $1,381 per ounce. As a result, Alamos generated record revenues of $683.1 million for the year. Its adjusted earnings, on the other hand, totaled $83.5 million for 2019, representing a whopping 326% increase from 2018.
Another thing that makes Alamos stock stand out is the company's strong balance sheet. As of December 31, 2019, Alamos Gold Inc had $183.0 million in cash and cash equivalents and no outstanding debt. So this is a company with a strong cash position.
Going forward, management expects Alamos Gold to produce 425,000 to 465,000 ounces of gold in 2020. The company's all-in sustaining cost is projected to be between $1,020 and $1,060 per ounce.
I'm not going to make any gold price predictions here, but if the yellow metal manages to trade in its current range, AGI should be on track to make some serious profits this year.
Last but certainly not least, while the gold mining sector isn't really for known for dividends, Alamos Gold Inc has demonstrated that it is willing to return cash to investors on a regular basis. In particular, 2020 will be the 11th consecutive year in which Alamos has paid a dividend. And during those 11 years, the company has returned $161.0 million to investors through dividends and stock buybacks.
Bottom Line on Alamos Gold Inc
At its current share price, Alamos Gold Inc's increased dividend brings its yield up to about one percent. This is not a high-yield stock by any means, but given what the company plans to do—and the current gold price—AGI stock could return a lot more value to investors.