AHT Stock: Why Insiders Love This Real Estate Stock's 7.3% Yield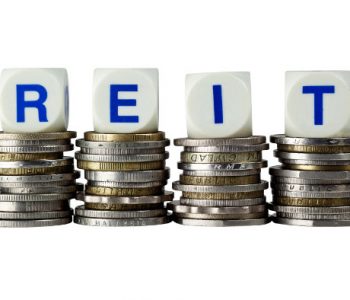 iStock.com/joxxxxjo
Is This High-Yield Stock Worth a Look?
There are many angles of looking at dividend stocks. You can study a company's financials, go through its dividend history, and evaluate industry dynamics. Today, however, I would like to go over a much less talked about aspect of investing: insider ownership.
If you listen to any earnings conference call, you'll see that management is always upbeat about their companies. They'll use words like "streamlining operations" and "creating shareholder value," even when everything is deep in the doldrums.
In other words, talk is cheap. But if management is willing to invest their own money into the company's shares, it would be a much more genuine vote of confidence.
In today's article, I'm going to show you a company that stands out when it comes to insider ownership.
An Insider Favorite
The company in question is Ashford Hospitality Trust, Inc. (NYSE:AHT), a real estate investment trust (REIT) headquartered in Dallas, Texas. The company invests in the hospitality industry, mostly through investing in upscale, full-service hotels.
Also Read:
REIT ETF List: Earn Regular Income from These Real Estate ETFs
Most people have never heard of Ashford Hospitality Trust, but the company has been an insider favorite. As of November 7, 2017, management owns $139.0 million of the company's shares. This is a quite substantial amount, considering that AHT stock has a market capitalization of less than $650.0 million. (Source: "Ashford Hospitality Trust," Ashford Hospitality Trust, Inc., last accessed January 3, 2017.)
As a matter of fact, with a 19.1% insider ownership, AHT has the most highly aligned management team in the entire lodging REIT industry. To give you some perspective, the average lodging REIT has an insider ownership of just 3.3%.
Highest Insider Ownership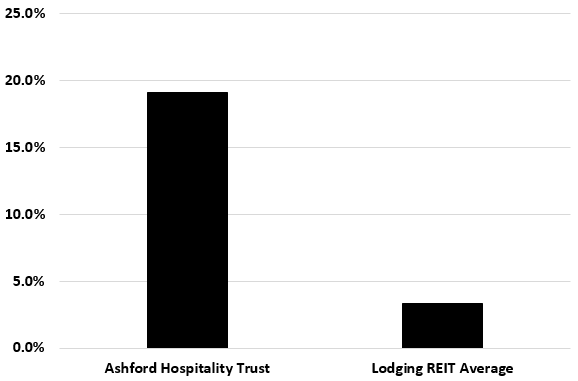 Source: Ibid.
Why would Ashford Hospitality Trust's management put so much money into their own company's stock? Well, each director will likely have their own investment objectives. But there's a very simple reason why AHT stock is appealing: its generous dividends.
You see, under the U.S. Federal Reserve's ultra-low interest rate environment for most of the last decade, dividend stocks became highly sought after. Due to the increased investor enthusiasm toward dividend-paying companies, the share prices have been bid up, causing their yields to drop. In fact, the average S&P 500 company pays less than two percent in today's market.
Ashford Hospitality Trust, on the other hand, has a quarterly dividend rate of $0.12 per common share. Trading at $6.60 apiece, AHT stock offers an annual yield of 7.3%.
Of course, if yield is the only criterion, investors would go after stocks paying 20% and 30%. Ashford Hospitality Trust's management is willing to put their money where their mouth is because they know—and probably better than any Wall Street analyst—that the company runs a rock-solid business.
Ashford Hospitality Trust currently has investments in 120 hotels totaling 25,000 rooms. While these hotels are spread across 31 states, the company does have a focus on high-growth regions. Its top markets include San Francisco, Los Angeles, New York City, and Washington, D.C.
These hotels operate under some of the most well-known brands in the industry. Marriott International Inc (NASDAQ:MAR) and Hilton Hotels Corporation (NYSE:HLT) are currently the biggest brands in AHT's portfolio, contributing 58% and 28% to the company's annual earnings before interest, tax, depreciation, and amortization (EBITDA), respectively.
The company also has hotels under the brands of Hyatt Hotels Corporation (NYSE:H), InterContinental Hotels Group PLC (ADR) (NYSE:IHG), as well as some independent brands.
With a focus on upscale hotels and fast-growing markets, Ashford Hospitality Trust generates a sizable income stream from its investments. In the 12-month period ended September 30, 2017, the company earned revenue per available room (RevPAR)—which is calculated by multiplying the average daily room rate by its occupancy rate—of $122.00.
Due to the rise of platforms like Airbnb, you might be wondering how well a traditional hotel REIT is doing under today's sharing economy. Well, as it turns out, Ashford Hospitality Trust is doing just fine. In the most recent quarter, the company's RevPAR for all hotels not under renovation actually increased 0.4% year-over-year to $126.64. (Source: "Ashford Trust Reports Third Quarter 2017 Results," Ashford Hospitality Trust, Inc., November 2, 2017.)
The dividend is also more than safe. In the third quarter of 2017, the company generated adjusted funds from operations (AFFO) of $0.30 per share. Considering that Ashford paid $0.12 of dividends per share during this period, it had payout ratio of just 40%.
In the first nine months of 2017, the company paid $0.36 of total dividends per share while earning $1.14 in AFFO per share, translating to a payout ratio of 31.6%.
In other words, Ashford Hospitality Trust was paying out less than one-third of the cash it generated from operations in the first three quarters of 2017. That's one of the lowest payout ratios in the REIT business, leaving a wide margin of safety.
With a high dividend yield, a conservative payout ratio, and management's vote of confidence, AHT stock deserves the attention of income investors.