AHT Stock: The 7.4%-Yielding Real Estate Stock is an Insider Favorite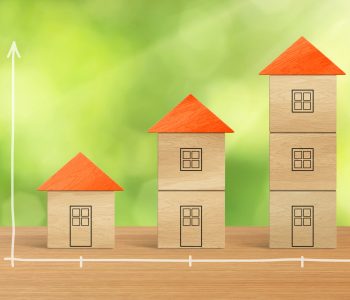 iStock.com/suwichaw
A High-Yield Stock for Income Investors
Today's chart highlights a high-yield stock that's also an insider favorite.
The company in question is Ashford Hospitality Trust, Inc. (NYSE:AHT), a real estate investment trust (REIT) headquartered in Dallas, Texas.
As the name suggests, Ashford specializes in the hospitality industry. In particular, the company invests in upper-scale, full-service hotels.
AHT stock pays generous dividends. With a quarterly dividend rate of $0.12 per share, the company offers an annual yield of 7.39% at its current price. That's quite impressive considering that the average S&P 500 company is yielding less than two percent at the moment.
High insider ownership makes this hotel REIT stand out among its peers. As of September 8, 2017, 19.1% of Ashford shares are owned by the company's management, making it the number-one insider favorite among all lodging REITs. The second-place finisher, Hersha Hospitality Trust (NYSE:HT), has an insider ownership of just 7.6%. The average insider ownership of lodging REITs is 2.5%.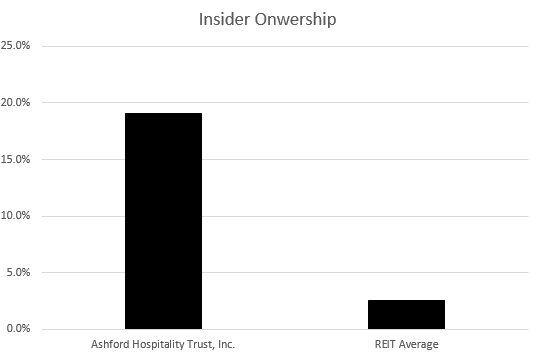 Source: "Company Presentation—September 2017," Ashford Hospitality Trust Inc, last accessed September 25, 2017.
Insider ownership, which refers to the holdings of a company's shares by someone who is employed by the company (usually the management), can have many implications. The most important one is that management is willing to put their money where their mouth is.
Think about it. Management are always optimistic about their business during earnings conference calls. But when it comes to actually putting their hard-earned money into their company's stock, not everyone is willing to do it. A company with a high insider ownership could mean that management is genuinely confident about the business. And because of their sizable stake, there could be a better chance that management will act in the best interests of shareholders.
Indeed, with well-aligned interests between management and shareholders, Ashford REIT has been delivering solid returns. In the five-year period ended December 30, 2016, AHT stock provided investors with total shareholder return–including reinvested dividends–of 120%, outperforming its peer group's average total return of 95%. (Source: "Company Presentation – September 2017," Ashford Hospitality Trust Inc, last accessed September 25, 2017.)
The reason why Ashford can deliver such impressive returns–and why management is willing to put their own money into the company–lies in the quality of its real estate portfolio. The company works with some of most well-known brands in the business. Right now, Marriott International Inc (NASDAQ:MAR), Hilton Hotels Corporation (NYSE:HLT), Hyatt Hotels Corporation (NYSE:H), and InterContinental Hotels Group (NYSE:IHG) contribute 94% of Ashford's hotel earnings before interest, tax, depreciation and amortization (EBITDA).
Ashford's properties are also located in prime locations. The top five regions for its hotel EBITDA are Washington DC, San Francisco, Los Angeles, New York/New Jersey, and Boston. Nearly three quarters of the company's hotel EBITDA come from the top 25 metropolitan statistical areas in the U.S. These are regions marked by significant social and economic interactions.
Bottom Line on This High-Yield Stock
Sometimes a high dividend yield can be a sign of trouble, but a look at Ashford's financials will show that its payout is more than safe. In the most recent quarter, the company generated adjusted funds from operations of $0.52 per share, which covered its $0.12 per share dividend more than four times over. (Source: "Ashford Trust Reports Second Quarter 2017 Results," Ashford Hospitality Trust, August 3, 2017.)
Bottom line: not all high-yield stocks are safe investments, but this insider favorite is certainly worth considering.
Also Read:
10 Best Real Estate Stocks to Own in 2017