AGNC Stock: Earn Monthly Income from Other People's Mortgage Payments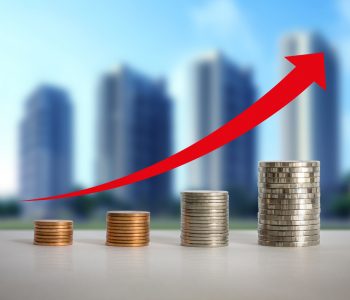 iStock.com/suwichaw
AGNC Stock: A Monthly Dividend Stock Pays 10%
Today's article highlights a monthly dividend stock with a double-digit yield.
The company runs a rock-solid business. Many people have been making monthly payments to this company for years, yet most of them have never heard of it.
I'm talking about mortgage payments. If you have ever borrowed money to buy a house, you would know how much of a burden it is to pay off the mortgage. Now I'm going to show you how to make it even.
The company in question is AGNC Investment Corp (NASDAQ:AGNC). From its headquarters in Bathesda, Maryland, AGNC invests in mortgage-backed securities (MBS).
Here's how mortgage-backed securities work. When someone gets a loan to buy a house from a local bank, the bank may hold that mortgage or sell it. If the bank chooses to sell it, the mortgage usually gets packaged into a group of loans. That package is then rated by a credit rating agency and sold to companies like AGNC.
Therefore, even though homeowners don't see the name "AGNC Investment Corp" on their mortgage statements, they are indeed making payments to the company.
Here's the neat part: while AGNC invests in mortgages rather than in physical properties, the company is organized as a mortgage real estate investment trust (mREIT). And that provides a major benefit: as long as the company distribute 90% of its annual taxable net income to shareholders in the form of dividends, it does not have to pay any federal or state corporate taxes.
AGNC is a well-established player in the mortgage business. Commanding $7.9 billion in market cap, the company is currently the second-largest mREIT specializing in residential mortgages. As of June 30, 2017, AGNC's portfolio consisted of nearly $64.0 billion in securities.
Despite its substantial size, AGNC runs extremely efficiently. The company only has 57 total employees. With a net operating expense ratio of just 0.7%, it boasts one of the lowest operating cost structures among all residential mREITs. (Source: "Barclays Global Financial Services Conference," AGNC Investment Corp, last accessed September 26, 2017.)
Generous Dividends
With a monthly revenue stream, a mandatory distribution requirement, and a low cost structure, AGNC has the ability to pay monthly dividends. Right now, the company has a monthly dividend rate of $0.18 per share, translating to an annual yield of 10% at the current stock price.
Of course, if dividend yield is the only criterion, a simple search using a stock screener will give you dozens of stocks with even higher yields. For investors looking to generate a monthly income stream, dividend safety should also be a priority.
And to be honest, mortgage-backed securities are not exactly known for their reliability. As a matter of fact, repackaged mortgages played a central role in the last financial crisis.
Due to investors' concerns, mortgage REITs haven't really been a hot commodity despite their generous payouts. But that's also one of the reasons why AGNC can offer such an impressive yield. Think about it: if AGNC stock shot through the roof, it would no longer be able to offer a double-digit yield, as dividend yield moves inversely to a company's share price.
Moreover, while mortgage-backed securities do carry a level of risk, AGNC manages that risk by investing primarily in agency MBS. Agency mortgage-backed securities are created by one of the three quasi-government agencies: the Federal National Mortgage Association (Fannie Mae), the Government National Mortgage Association (Ginnie Mae), and the Federal Home Loan Mortgage Corporation (Freddie Mac).
The key to note here is that agency MBS are guaranteed by these government-sponsored enterprises. By the end of the second quarter, AGNC's portfolio consisted of $63.2 billion in agency MBS and to-be-announced securities. Its exposure to non-agency securities was only $0.6 billion, a tiny fraction of its total portfolio. By investing primarily in agency mortgage-backed securities, AGNC is running a much safer business than a company that focuses mostly on non-agency MBS.
Most recently, AGNC has been improving its financials. In the second quarter of this year, the company generated net spread and dollar roll income (a comprehensive measure of a mortgage REIT's earnings) of $0.67 per share, representing a 20% growth year-over-year and five-percent increase sequentially. (Source: "AGNC Investment Corp. Announces Second Quarter 2017 Financial Results," AGNC Investment Corp, July 26, 2017.)
In particular, that amount was more than enough to cover the three monthly dividends declared and paid during this period. For the second quarter, the company achieved a payout ratio of just over 80%, leaving a margin of safety.
Final Thoughts on This Monthly Dividend Stock
At the end of the day, you can find stocks with more stable businesses. But most of them don't distribute as frequently, and their yields are nowhere near as high as AGNC stock. That's why even though AGNC Investment Corp is not the safest pick, it deserves the attention of investors looking for a high-yield monthly dividend stock.
Also Read:
Top 5 Cheap Stocks That Pay Monthly Dividends