AGNC Investment Corp: This Top Dividend Stock Yields 12%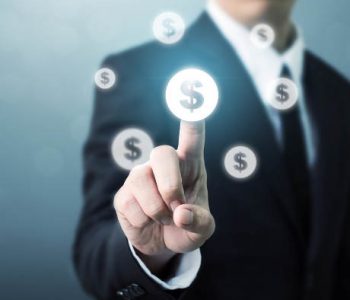 iStock.com/marchmeena29
Safe, Double-Digit Income Play
When I played hockey, I often made the first line because of my ability to rack up points. I lived by all-star Wayne Gretzky's motto, "skate to where the puck is going, not where it has been."
I apply the same mantra to spotting top dividend stocks. You need to avoid crowds and look for stocks that no one else wants. By focusing on solid, but ignored, businesses that have the potential for a turnaround, you can earn far better returns.
Case in point: AGNC Investment Corp (NASDAQ:AGNC). The company's wider industry has fallen out of favor on Wall Street, sending unit prices plunging. And that's exactly why I've started sniffing around.
Mortgage real estate investment trusts (REITs) have hit a rough patch as of late. These firms borrow cheaply at short-term rates and then invest the proceeds in longer-term, higher-yielding mortgages. The bigger the difference between these two yields, the bigger their profit margins. That difference, however, has shrunk in recent years, hammering profits for the entire group.
You can see the problem in the chart below. In 2011, the spread between a 10-year and two-year Treasury bond topped 2.75%. Nowadays, short-term yields have crept up thanks to the Federal Reserve's rate hikes. Now the spread between these two interest rates has dropped to a near-record low: 0.25% versus a long-term average of around 1.25%.
For this reason, Wall Street has abandoned the mortgage REIT space. Investors haven't even spared best-of-breed AGNC, which has plunged in value over the past year. Units now trade hands for only 90% of the trust's book value, which represents one of the biggest discounts we've seen in a decade.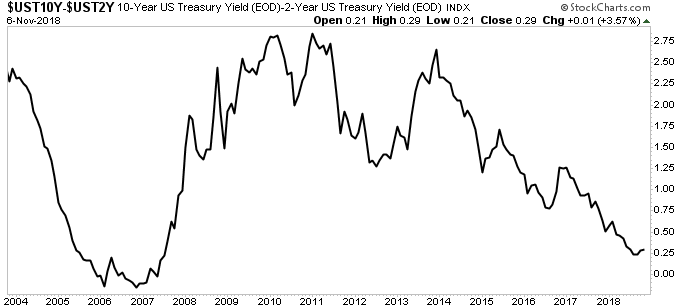 Chart courtesy of StockCharts.com
This situation, however, may have created an opportunity for investors. I can't predict which way the yield spread will go today or tomorrow. But over the next few years, we have a good chance of seeing it go higher. If we buy a top-end mortgage REIT that can soldier through a downturn, profits and shares could soar when the business rebounds.
We also get to buy shares today with a certain margin of safety. Historically, AGNC Investment Corp has traded between 90% of book value (when investors hate mortgage REITs) and 110% of book value (when they line up to buy them). We likely won't see the current discount grow much further. And if the valuation snaps back to its historical average, investors will juice their returns through extra capital gains.
While they wait, a prospective unitholder will get well paid. Right now, units pay out a quarterly distribution of $0.54 each, which comes out to an annual yield of around 12%. That payout also looks reasonably sustainable, given the trust's ample coverage ratio.
Bottom line: AGNC Investment Corp is a top dividend stock in a bottom-ranked industry. These industry rankings, however, tend to shift over time. I expect that investors who scoop up shares today will be well rewarded with capital gains while collecting a 12% yield in the meantime.
And while Wayne Gretzky's motto is about hockey, he might as well have been talking about investing, too. Take a page out of his book.
We have a lot of "open ice" in the mortgage REIT sector. You want to go where the play is going next.