After Another Dividend Increase, This Renewable Energy Stock Yields 5.6%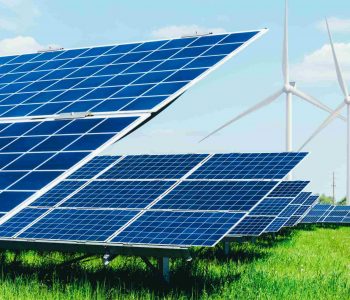 This High-Yield Stock Could Be Special
If you are an investor of high-yield stocks, you'll likely be content if the companies in your portfolio can maintain their dividends at the moment. The blunt reality is, most of the high-yield stocks are not the safest bets. Since the economy got hit by the COVID-19 pandemic, dividend cuts have not been uncommon.
But not all high-yield stocks are the same. Atlantica Sustainable Infrastructure PLC (NASDAQ:AY), for instance, is a high-yield stock with a payout that grows to this day.
Atlantica is a renewable infrastructure company that is structured as a yieldco. For those not familiar with the term, yieldcos usually own and operate assets that can produce predictable cash flows through long-term contracts. As a result, they often pay out most of their profits as dividends.
In the case of Atlantica, its portfolio consists of 25 assets with 1,496 megawatts of renewable energy generation capacity, 343 megawatts of natural gas power generation capacity, 10.5 million cubic feet per day of water desalination capacity, and over 1,166 miles of electric transmission lines. (Source: "Corporate Presentation May, 2020," Atlantica Sustainable Infrastructure PLC, last accessed August 13, 2020.)
As of December 31, 2019, the yieldco's assets were 100% contracted, with a weighted average remaining contract life of 18 years.
If you've been following dividend stock news, you'd know that the coronavirus pandemic has resulted in numerous dividend cuts in almost every industry. Yet, on July 31, Atlantica's board of directors declared a quarterly cash dividend of $0.42 per share, which actually marked a 2.4% increase from the company's previous payout. The dividend will be paid on September 15 to shareholders of record as of August 31. (Source: "Dividends,"Atlantica Sustainable Infrastructure PLC, last accessed August 13, 2020.)
Looking back, you'll see that, over the past two years, AY stock's quarterly dividend rate has grown by 23.5%. With Atlantica stock trading at about $30.00 per share, the company's new dividend rate translates to an annual yield of 5.6%.
Now, you may be wondering whether this yieldco can afford its payout in this extraordinary time. So let's take a look at the financials.
In the first six months of 2020, Atlantica generated $465.7 million of revenue, down 7.7% year-over-year. Excluding exchange-rate headwinds, the revenue decline in the first half of this year was 6.1%. (Source: "Atlantica Reports Second Quarter 2020 Financial Results," Atlantica Sustainable Infrastructure PLC, August 3, 2020.)
As a yieldco, the company also reports something called cash available for distribution (CAFD). In the first half of this year, Atlantica's CAFD generation was $97.3 million, which actually represented a 2.9% increase compared to the year-ago period.
Considering that the company paid approximately $83.3 million in cash distributions in the first half of this year, its CAFD not only covered the payout, but also left a sizable margin of safety.
In fact, Atlantica's business is so solid that, in the company's latest earnings conference call, Chief Executive Officer Santiago Seage said, "[W]e want to share with you that Atlantica has not experienced any material impact from COVID-19 as of today." (Source: "Atlantica Sustainable Infrastructure plc's (AY) CEO Santiago Seage on Q2 2020 Results – Earnings Call Transcript," Seeking Alpha, August 3, 2020.)
Bottom Line on Atlantica Sustainable Infrastructure PLC
In an era when the average S&P 500 company pays less than two percent, Atlantica Sustainable Infrastructure PLC's 5.6% yield certainly looks appealing.
Add in how durable its business has been during this challenging time and you'll see that AY stock could present a serious income opportunity.