AFC Gamma Stock: Pot REIT Smokes Inflation With 13.2%-Yielding Dividend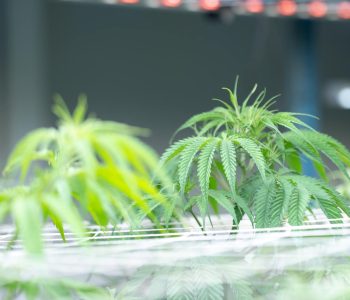 AFCG Stock's Dividend Jumps 30% Year-Over-Year
Since marijuana is still illegal in the U.S. at the federal level, it's tough for American cannabis companies to access traditional banking services. Most U.S. banks won't touch marijuana companies because of the risks associated with federal laws and concerns about money laundering. This is why cannabis dispensaries in the U.S. don't accept credit cards. Even if the laws change, some American marijuana companies will need to access capital outside the usual banking channels.
Enter AFC Gamma Inc (NASDAQ:AFCG).
AFC Gamma (the "AFC" stands for advanced flower capital) is a real estate investment trust (REIT) that provides institutional loans to U.S. cannabis companies. The loans and related facilities are generally secured by substantial assets such as real estate, licenses, and cash flow. (Source: "AFC Gamma, Inc. Q3 2022 Earnings Presentation," AFC Gamma Inc, November 8, 2022.)
The company serves all areas of the marijuana sector, including cultivation, real estate/facilities, equipment/supplies, processing, and distribution. Its target loan size is approximately in the range of $10.0 to $100.0 million.
To date, AFC Gamma Inc has reviewed 661 deals, representing $17.0 billion in aggregate value. The company has funded 13 of those deals, rejected 580, and is reviewing 58. It continues to source deals across the cannabis industry and maintain a strong pipeline of opportunities.
As of November 8, the company had total loan commitments of $426.0 million across 12 portfolio companies. The loans' weighted average yield to maturity was around 20%.
Three of AFC Gamma Inc's current investments are Acreage Holdings Inc (CNSX:ACRG.A.U, OTCMKTS:ACRHF) at $100.0 million, Bloom Medicinals Holding Company at $82.5 million, and Verano Holdings Corp (CNSX:VRNO, OTCMKTS:VRNOF) at $60.0 million.
During the third quarter, AFC Gamma Inc paid dividends of $0.56 per share, a 30% increase over the $0.43 per share it paid out in the third quarter of 2021. As of this writing, AFC Gamma stock's yield is about 13%.
AFCG stock's dividend is safe. As noted above, since going public, the company's dividends have never exceeded its distributable earnings.
| | | |
| --- | --- | --- |
| Fiscal Period | Dividend Per Share | Distributable Earnings Per Share |
| Q3 2022 | $0.56 | $0.59 |
| Q2 2022 | $0.56 | $0.69 |
| Q1 2022 | $0.55 | $0.62 |
| Q4 2021 | $0.50 | $0.52 |
| Q3 2021 | $0.43 | $0.44 |
| Q2 2021 | $0.38 | $0.43 |
AFC Gamma Inc's Q3 Distributable Earnings Climb 64% Year-Over-Year
For the third quarter ended September 30, AFC Gamma announced that its net income increased by 45% year-over-year to $11.5 million, or $0.57 per share. Its distributable earnings increased by 64% year-over-year to $11.8 million, or $0.59 per share. Its total net interest income increased by 71% year-over-year to $18.1 million. (Source: "AFC Gamma, Inc. Announces Financial Results for Third Quarter 2022," AFC Gamma Inc, November 8, 2022.)
During the third quarter, the company closed $203.8 million of new commitments. Year-to-date (as of the end of the third quarter), it funded $167.6 million of new and existing commitments, including approximately $32.0 million that was refinanced from existing borrowers.
Leonard Tannenbaum, AFC Gamma Inc's CEO, noted, "We are pleased with our third quarter performance and that AFC Gamma's distributable earnings per share [have] now exceeded its dividend for the seventh consecutive quarter since going public." (Source: Ibid.)
He continued, "Given the current broader market environment, we continue to act disciplined in our approach towards deploying capital to new and existing operators. Given substantial repayments subsequent to quarter end, our balance sheet remains strong, and we have ample capacity to complete additional deals with strong risk-adjusted returns."
Despite AFC Gamma Inc's solid financial results and reliable, ultra-high-yield dividends, AFC Gamma stock's price hasn't performed quite as well. This isn't a total surprise; the entire cannabis stock market is under pressure.
As of this writing, AFCG stock is:
Up by five percent over the last month
Up by five percent over the last six months
Down by 19.5% year-to-date
Down by 22% year-over-year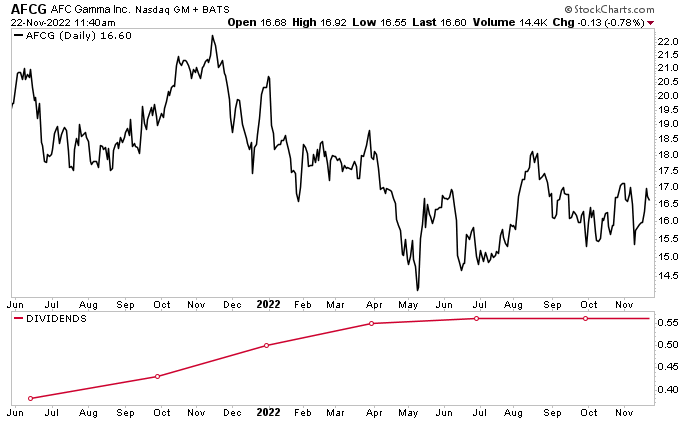 Chart courtesy of StockCharts.com
Those are mixed results for sure, but the outlook for AFCG stock is solid. Analysts have provided a 12-month share-price target for AFC Gamma Inc of $22.00 to $25.00 per share. This points to potential gains in the range of 32% to 50%.
The Lowdown on AFC Gamma Stock
The White House has been making moves toward federally decriminalizing marijuana, but the cannabis industry remains in flux. This hasn't done wonders for AFC Gamma Inc's share price.
That said, the company continues to report solid financial results and reward buy-and-hold AFCG stockholders with reliable, ultra-high-yield dividends. In the current economic environment, it's nice to know you can find a dividend stock like that.