AFC Gamma Stock: 19.1%-Yielding Cannabis REIT Has 118% Upside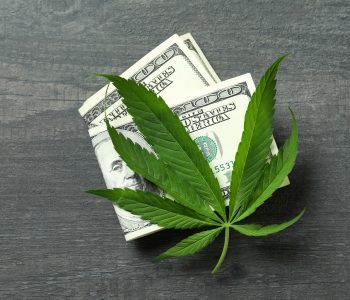 Why AFCG Stock Is Compelling
Since marijuana is still illegal in the U.S. at the federal level, it's tough for cannabis companies to access traditional banking channels. In fact, most banks won't touch marijuana companies because of the risks associated with federal laws and concerns about money laundering. Suffice it to say, there are many cannabis companies looking for a cash injection.
That's where AFC Gamma Inc (NASDAQ:AFCG) comes in. The company is a real estate investment trust (REIT) that provides institutional loans to U.S. cannabis companies.  The loans and related facilities it offers are generally secured by substantial assets such as real estate, licenses, and cash flow. (Source: "First Quarter 2023 Investor Presentation," AFC Gamma Inc, May 10, 2023.)
The REIT serves companies in all areas of the marijuana sector, including operations, real estate/facilities, cultivation, equipment, supplies, processing, and distribution. Management typically targets loans in the range of $5.0 to $100.0 million.
To date, AFC Gamma Inc (the "AFC" stands for advanced flower capital) has reviewed 925 deals, representing more than $24.0 billion in aggregate value. Of those deals, the company has rejected 846 (91.5%).
Rising interest rates make it more costly to borrow money. On the surface, that sounds like great news for lenders—and it is—but it also means lenders have to ensure that the companies they lend capital to can meet their debt obligations. Given the current state of the economy and the interest rate volatility, AFC Gamma Inc has taken a conservative view to deploying its capital.
The REIT is currently funding just 13 deals, reviewing 35 commercial real estate deals, and reviewing 15 cannabis deals. It continues to source deals across the cannabis industry, and it maintains a strong pipeline of active opportunities.
As of May 1, AFC Gamma Inc had total loan commitments (funded and unfunded) of $415.0 million across 12 companies. The weighted average yield-to-maturity was around 21%.
Three of the company's current investments are $100.0 million in Acreage Holdings Inc (CNSX:ACRG.A.U; OTCMKTS:ACRHF), $82.5 million in Bloom Medicinals Holding Company, and $60.0 million in Verano Holdings Corp (CNSX:VRNO; OTCMKTS:VRNOF).
AFC Gamma Inc's Q3 Distributable Earnings Climbed 64%
In the first quarter of this year, AFC Gamma reported net income of $10.0 million, or $0.49 per share, and distributable earnings of $11.6 million, or $0.57 per share. This compares to first-quarter 2022 net income of $10.2 million and distributable earnings of $11.9 million, or $0.62 per share. (Source: "AFC Gamma, Inc. Announces Financial Results for First Quarter 2023," AFC Gamma Inc, May 10, 2023.)
"During the first quarter of 2023 we maintained an ample level of liquidity, which we believe will prove valuable in this environment as we look to capitalize on investment opportunities as they arise," said the company's CEO, Leonard M. Tannenbaum.
High cash generation helped AFC Gamma Inc declare a first-quarter dividend of $0.56 per share, for a current eyewatering yield of 19.1%.
Some might question whether that ultra-high-yield dividend is safe. It is for now. Since going public, AFC Gamma's dividends have never exceeded its distributable earnings.
Some might say AFC Gamma Inc's distribution is too near its distributable earnings. It would be for a "normal" company, but REITS play by different rules. The biggest rule is that 90% of a REIT's taxable income must be paid to shareholders annually. Therefore, to maintain its REIT status, AFC Gamma pays out virtually all of its distributable earnings.
| | | |
| --- | --- | --- |
| Fiscal Quarter | Dividend Per Share | Distributable Earnings Per Share |
| Q1 2023 | $0.56 | $0.57 |
| Q4 2022 | $0.56 | $0.62 |
| Q3 2022 | $0.56 | $0.59 |
| Q2 2022 | $0.56 | $0.69 |
| Q1 2022 | $0.55 | $0.62 |
| Q4 2021 | $0.50 | $0.52 |
| Q3 2021 | $0.43 | $0.44 |
| Q2 2021 | $0.38 | $0.43 |
AFC Gamma Stock's Recent Price Performance & Forecast
While AFC Gamma Inc's dividend has never taken a step back, the same cannot be said for its share price. As of this writing, AFCG stock is down by:
22.5% over the last three months
29% over the last six months
23.7% year-to-date
25.7% year-over-year
This isn't a total surprise; the entire cannabis industry is under pressure. The ETFMG Alternative Harvest ETF (NYSEARCA:MJ), which is the world's largest cannabis exchange-traded fund (ETF), is down by 57% year-over-year. Another cannabis ETF, the AdvisorShares Pure US Cannabis ETF (NYSEARCA:MSOS), is down by 61% over the same period.
That's not the kind of news any shareholder likes to see, but it's what happens when the shares are of companies in an industry that's still illegal at the federal level.
It can't stay that way forever, though. A large majority of Americans want to see cannabis legalized for recreational and/or medical use. In a 2022 survey, 59% of American adults said marijuana should be legal for recreational use by adults and 30% said it should be legal for medical use. Just 10% said the drug should not be legal at all. (Source: "Americans Overwhelmingly Say Marijuana Should Be Legal for Medical or Recreational Use," Pew Research Center, November 22, 2022.)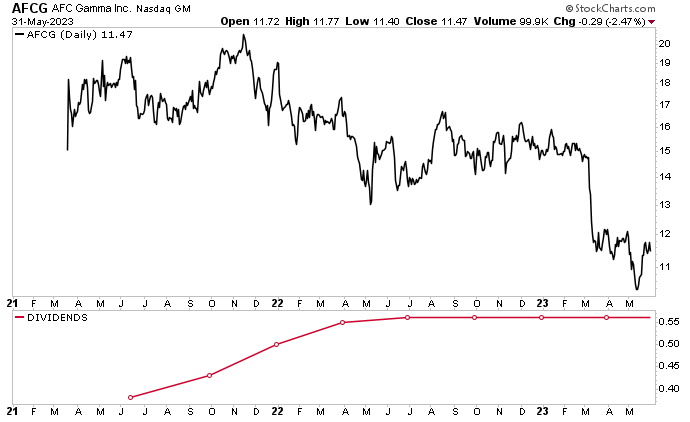 Chart courtesy of StockCharts.com
Wall Street analysts see sunny days ahead for AFC Gamma stock. They've provided a 12-month share-price target for AFC Gamma Inc in the range of $16.50 to $25.00 per share. This points to potential gains in the range of 44% to 118%.
That $16.50 target isn't a stretch. At the moment, AFCG stock is trading at $11.47, but its book value is $16.49.
The Lowdown on AFC Gamma Stock
AFC Gamma Inc is the only Nasdaq-listed provider of institutional loans to the cannabis industry. It has a solid balance sheet, a high-quality loan portfolio, and a massive, growing addressable market.
The company has been throwing off lots of cash and rewarding buy-and-hold investors with reliable, growing, ultra-high-yield dividends. Aside from providing inflation-busting dividends, AFCG stock could provide share-price gains of more than double over the coming year.