AFC Gamma Inc: Banker to U.S. Cannabis Industry Yields 10.4% & Raises Payout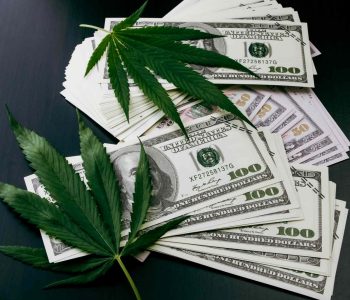 AFCG Stock Has Near-Term 50% Upside Potential
On the 2020 campaign trail, the Democrats positioned themselves as the pot-friendly party. If you wanted to get marijuana legalized at the federal level, the Democrats were your party! It turns out they weren't. When it comes to cannabis legalization, the federal Democrats have been party poopers.
And really, with President Joe Biden at the helm, we shouldn't be entirely surprised that the Democrats have been slow-footed on the marijuana issue. If anything, the current malaise in Washington mirrors Biden's ambivalence about cannabis legalization. In 1982, he helped coin the term "drug czar," and later he pushed President Ronald Reagan to create the Office of National Drug Control Policy.
President Biden may support legalizing medical cannabis, but the slow march to federal legalization has been a millstone around the entire U.S. cannabis industry. Even the baby-step Secure and Fair Enforcement Banking Act of 2021 (SAFE Banking Act), which would give marijuana companies legal access to banking services, has failed to take off.
Not allowing the marijuana industry to access traditional banking channels gives the larger U.S. cannabis companies a chance to insulate themselves with better access to capital. For example, in December 2021, Curaleaf Holdings Inc (CNSX:CURA, OTCMKTS:CURLF) announced a $425.0-million private placement. (Source: "Curaleaf Announces $425 Million Private Placement of 8% Senior Secured Notes Due 2026," Curaleaf Holdings Inc, December 13, 2021.)
Smaller U.S. marijuana companies, however, struggle to find capital.
Enter AFC Gamma Inc (NASDAQ:AFCG). The real estate investment trust (REIT) provides institutional loans to high-quality cannabis companies in the U.S. The company lends capital to businesses in every segment of the marijuana sector, from cultivation, to processing, to distribution. (Source: "AFGC Gamma 3 2021 Earnings Presentation," AFC Gamma Inc, November 4, 2021.)
Estimated Yield on AFC Gamma Inc's Existing Portfolio Is 20%
According to the latest data, AFC Gamma Inc (AFC stands for "advanced flower capital") has, in total, reviewed 409 deals, representing $9.4 billion in aggregate value. That doesn't mean everyone gets a handout; the company has rejected 302 deals and currently has 75 under review.
For the fourth quarter of 2021, AFC Gamma reported gross origins of a record $127.3 million. In full-year 2021, the REIT's gross funding was $302.5 million, and it closed on new total commitments of $341.3 million. (Source: "AFC Gamma Posts Record $127.3 Million in Gross Originations for Quarter Ended December 31, 2021," AFC Gamma Inc, January 3, 2022.)
That's what separates AFC Gamma from another popular cannabis REIT, Innovative Industrial Properties Inc (NYSE:IIPR). Innovative Industrial Properties buys properties from medical marijuana companies and leases them back to the companies.
AFC Gamma Inc, however, provides loans and related facilities, generally secured by substantial assets. The loans typically include amortization and/or cash flow sweeps, significant collateral, and favorable pricing. This drives average annual gross yields of approximately 20%.
Q3 Report & Other Recent Developments From AFC Gamma Inc
For the third quarter ended September 30, 2021, AFC Gamma announced net income of $7.9 million, or $0.48 per share. In the third quarter of 2020, the company only reported net income of $2.1 million. (Source: "AFC Gamma, Inc. Announces Financial Results for Quarter Ended September 30, 2021," AFC Gamma Inc, November 4, 2021.)
Its distributable earnings in the third quarter of 2021 were $7.2 million, or $0.44 per share, compared to $1.1 million, or $0.22 per share, in the same prior-year period.
Also during the third quarter of 2021, AFC Gamma closed on $119.2 million of new commitments and funded $89.3 million of new and existing commitments.
Subsequent to the end of the third quarter, the company closed its $100.0-million, 5.8%, senior unsecured debt offering.
Because AFC Gamma Inc is a REIT, it's legally required to distribute virtually all of its earnings to investors in the form of dividends. Thanks to its continued financial growth, the company has been able to increase AFC Gamma stock's payout for each of the last three quarters.
On December 15, 2021, the board of directors declared a quarterly dividend of $0.50 per share, for a yield of 10.4%. That dividend represents a 16% increase over the $0.43 per share paid out in the third quarter. (Source: "AFC Gamma Declares $0.50 Dividend Per Share For The Quarter Ending December 31, 2021," AFC Gamma Inc, December 15, 2021.)
As you can see in the chart below, investors cheered when AFC Gamma Inc announced on December 16 that, together with Viridescent Realty Trust, Inc., it provided a senior secured credit facility of $100.0 million to Acreage Holdings Inc (CNSX:ACRG.A.U, OTCMKTS:ACRHF). (Source: "AFC Gamma and Viridescent Realty Trust Provide Acreage Holdings with $100 Million Senior Secured Credit Facility," AFC Gamma Inc, December 16, 2021.)
AFC Gamma has committed $60.0 million under Acreage's $100.0-million senior secured credit facility, with an additional $10.0 million syndicated to an affiliate. Viridescent has committed the remaining $30.0 million.
The credit facility is secured by first-lien mortgages on Acreage's owned real estate properties and other commercial security interests. The facility also includes a committed accordion option for a further $50.0 million that's available in future periods once certain predetermined milestones are achieved.
AFCG stock soared by approximately 20% after the announcement about the senior secured credit facility, but that momentum was upended in early 2022 when the overall stock market started to careen.
AFC Gamma Stock's Performance
As of this writing, AFCG stock is down by:
10% month-over-month
17% over the last three months
Four percent over the last six months
Certainly not the best numbers, but that downward trend has more to do with the Federal Reserve's plans, inflation, the COVID-19 pandemic, earnings season, and the slow path toward federal legalization of marijuana than anything going on at AFC Gamma Inc. If anything, AFC Gamma stock is down in spite of all the good news the company has been churning out.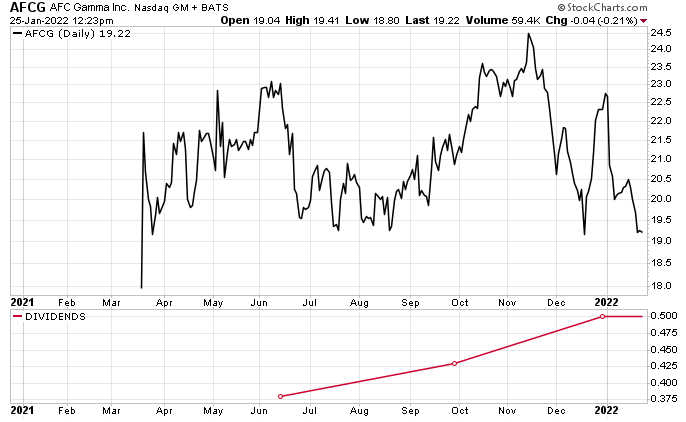 Chart courtesy of StockCharts.com
On the bright side, investors fleeing the village has put AFCG stock in a more compelling trading range.
Of the Wall Street analysts providing a 12-month share-price forecast for AFC Gamma Inc, their average target is $26.67, with a high estimate of $29.00. This points to potential gains of 38% and 50%, respectively. Even the low 12-month estimate of $25.00 points to potential gains of 30%.
The gains are even higher when you factor in the inflation-trumping dividends.
The Lowdown on AFC Gamma Inc
AFC Gamma stock is an excellent stock for investors who seek long-term income and growth. The company has a first-mover advantage as a provider of institutional loans to the cannabis industry.
For both the 2021 fourth quarter and full year, AFC Gamma Inc reported record gross origins, and its outlook for 2022 and beyond is promising. Thanks to the REIT's strong financial growth, AFCG stock is able to provide investors with inflation-busting, ultra-high-yield dividends, which management has raised for the last three quarters.