Inflation-Crushing,13.6%-Yielding AFC Gamma Stock Has 50%+ Upside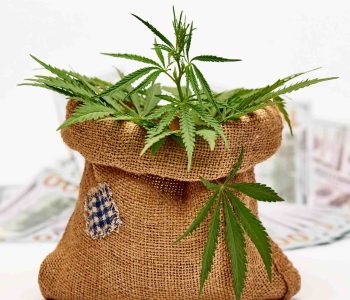 Why AFCG Stock Is Worth Considering
Cannabis stocks are back in the spotlight after a bill to federally legalize marijuana was introduced in the U.S. Senate on July 21. The legislation would lift federal prohibitions on marijuana more than 50 years after Congress made the substance illegal. (Source: "S.4591 – Cannabis Administration and Opportunity Act," Congress.gov, last accessed August 4, 2022.)
The chances that the Cannabis Administration and Opportunity Act will be passed in its current form are pretty slim. What will probably come of this, though, is deliberation that will eventually lead to some kind of federal cannabis law reform.
Until then, marijuana companies in the U.S. will continue to find it difficult, if not impossible, to access capital from banks and other mainstream financial institutions. That's where AFC Gamma Inc (NASDAQ:AFCG) comes in.
AFC Gamma (the "AFC" stands for advanced flower capital) is a real estate investment trust (REIT) that provides institutional loans to high-quality cannabis companies in the U.S. It offers loans and related facilities that are generally secured by substantial assets such as real estate, licenses, and cash flow. (Source: "Q1 2022 Earnings Presentation," AFC Gamma Inc, May 10, 2022.)
The REIT serves all areas of the marijuana sector, including cultivation, real estate/facilities, equipment/supplies, processing, and distribution. It targets loans with gross yields in the range of 12% to 20%.
It's fair to say there are a lot of high-quality cannabis companies out there looking for capital. To date, AFC Gamma Inc has reviewed 557 deals, representing $14.5 billion in aggregate value. Of those deals, the company has funded 13, rejected 419, and is reviewing 112. The REIT continues to source deals across the cannabis industry, maintaining a large pipeline of active opportunities.
As of May 9, AFC Gamma Inc had total loan commitments of $482.7 million across 16 states. The weighted average yield to maturity is around 19%.
Five of the company's current investments are Acreage Holdings Inc ($100.0 million), Bloom Medicinals Holding Company ($82.5 million), Nature's Medicines ($75.5 million), Justice Cannabis Co ($65.4 million), and Verano Holdings Corp ($60.0 million).
With a market cap of $325.2 million, AFC Gamma is relatively small, but its portfolio has been growing. This has caught the attention of Wall Street. Of the analysts providing a 12-month share-price forecast for AFC Gamma stock, their average target is $22.81 and their high target is $26.00, which points to potential gains in the range of 32% to 51%. That bullish sentiment is good news for AFC Gamma stock investors.
As of this writing, AFCG stock is:
Up by 10% over the last month
Up by eight percent over the last three months
Down by five percent over the last six months
Down by 19 percent year-to-date
Down by five percent year-over-year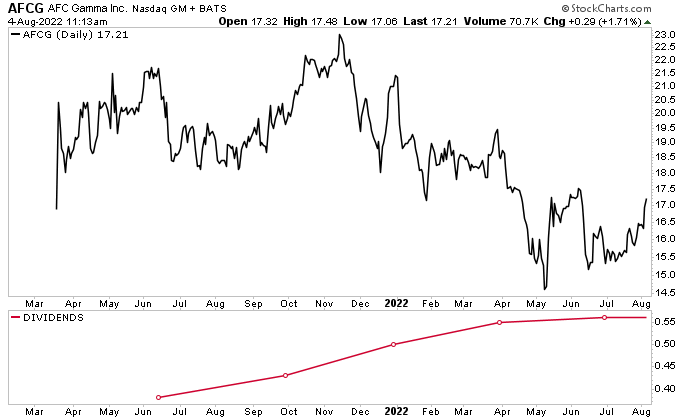 Chart courtesy of StockCharts.com
Q1 Net Income Up 261% & Distributable Earnings Up 281%
For the first quarter ended March 31, AFC Gamma announced that its net income came in at $10.1 million, or $0.53 per share. That's up significantly from its first-quarter 2021 net income of $1.4 million, or $0.20 per share. (Source: "AFC Gamma, Inc. Announces Financial Results for First Quarter 2022," AFC Gamma Inc, May 10, 2022.)
The REIT's distributable earnings were $11.9 million, or $0.62 per share, up by 271% from its first-quarter 2021 distributable earnings of $3.2 million, or $0.45 per share.
During the quarter, AFC Gamma Inc closed on $154.2 million of new commitments and funded $131.5 million of new and existing commitments.
Leonard Tannenbaum, AFC Gamma's CEO, noted, "Additionally, the entry into our $60 million senior secured revolving credit facility led by two [Federal Deposit Insurance Corporation]-insured banks was another significant milestone for AFC Gamma's debt cost of capital and enables continued expansion of the portfolio." (Source: Ibid.)
AFC Gamma Inc Hikes Dividend for 4th Consecutive Quarter
When AFC Gamma announced its first-quarter results in May, management said they expected AFCG stock's quarterly dividend to remain at $0.55 over the course of 2022.
In June, however, the company declared a quarterly dividend of $0.56 per share, for a yield of 13.6%. This represents the fourth consecutive quarter in which AFC Gamma Inc raised its dividend, and a 47% increase over the $0.38 per share in the second quarter of 2021.
AFC Gamma stock's ultra-high-yield dividend remains safe, and additional pay raises seem more than plausible. Since going public, AFC Gamma Inc's dividends have never exceeded its distributable earnings.
| | | |
| --- | --- | --- |
| Quarter | Dividend | Distributable Earnings |
| Q2 2022 | $0.56 | N/A |
| Q1 2022 | $0.55 | $0.62 |
| Q4 2021 | $0.50 | $0.52 |
| Q3 2021 | $0.43 | $0.44 |
| Q2 2021 | $0.38 | $0.43 |
(Sources: "AFCG Dividend History," Nasdaq, last accessed August 4, 2022 and "News Releases," AFC Gamma Inc, last accessed August 4, 2022)
The Lowdown on AFC Gamma Stock
The only Nasdaq-listed provider of institutional loans to the marijuana industry, AFC Gamma Inc has a strong balance sheet, a high-quality portfolio, and a rapidly growing addressable market.
Therefore, AFC Gamma stock continues to be an excellent dividend stock for investors who seek long-term growth and inflation-crushing payouts.