AAPL Stock: Why Apple Inc. Is a Top Dividend Growth Stock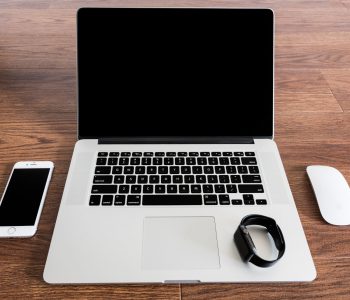 iStock.com/tariq_shaikh
Own Apple Stock for Dividends
Owning Apple Inc. (NASDAQ:AAPL) for dividends hasn't always been a popular idea. Prior to 2012, there were 16 years in which the company did not pay a dividend. But now, things have changed.
Thanks to the tremendous success of the "iPhone," Apple has reestablished its position in the tech world. And with billions of dollars of profits flowing in every quarter, the company decided to resume its dividends. In 2012, Apple declared its first quarterly dividend after a 16-year hiatus. The amount was $0.3786 per share after adjusting for the later-on stock split.
And that was just the start. The chart below shows Apple's per-share cash dividend payout for each calendar year since it reinstated dividends. The growth has been quite impressive.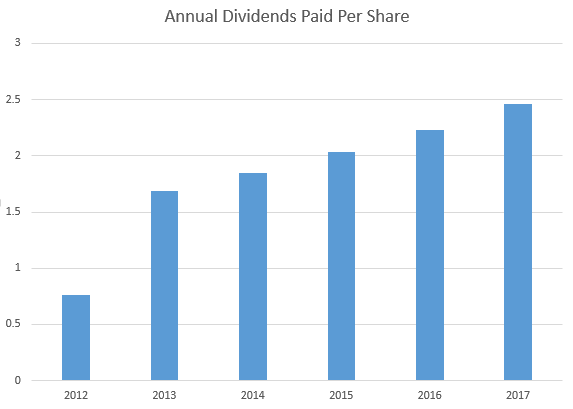 Source: "Dividend History," Apple Inc., last accessed July 27, 2017.
The latest dividend hike came in May, when Apple announced a 10.5% increase to its quarterly dividend rate to $0.63 per share. From its first $0.3786 per share payout in 2012 to today, Apple's quarterly dividend rate has increased by a total of 66.4%.
Past performance in no way guarantees future results, but for Apple, its dividends are almost guaranteed to go higher.
More Dividend Hikes Likely on the Way
Dividends come from profits. For a company to pay a dividend indefinitely, it has to generate recurring profits. One of the concerns for Apple stock was that when everyone who wants an iPhone has already bought one, its business would decline. However, in recent quarters, the company has shown that that was far from being the case.
Apple's fiscal 2017 began in September 2016 and the company has reported financial results for the first half of the fiscal year. During this period, Apple's net sales grew 3.8% year-over-year to $131.2 billion. Net income for the first six months came in at $5.46 per share, representing a 5.2% increase over the year-ago period. (Source: "Apple Inc. Condensed Consolidated Statements of Operations," Apple Inc., last accessed July 27, 2017.)
In the first half of Apple's fiscal 2017, the company declared total cash dividends of $1.14 per share. With its $5.46 of earnings per share, simple calculation shows that the company had a payout ratio of just 20.9%. This not only leaves a huge margin of safety, but also gives plenty of room for the company to further increase its payout.
The reality is that Apple has an unrivaled following when it comes to consumer electronics. Each time the company releases a new flagship iPhone, Apple fans around the world would line up at Apple Stores.
And even when the new product has been on the market for a while, people are still buying it. For instance, in the first three months of 2017 (a period of no new iPhone releases), Apple sold more than 50-million units of the iPhone. These units brought in $33.2 billion of revenue for the company. (Source: "Apple Inc. Q2 2017 Unaudited Summary Data," Apple Inc., last accessed July 27, 2017.)
Also Read:
AAPL Stock: Is Apple Inc. a Great Dividend Play for 2017?
Apple's Dividend History and What to Expect in 2017
A recurring business is not the only thing that could propel Apple's dividends. The company also has a huge pile of cash—$256.8 billion when it last reported. Even though most of that cash is stored overseas, it is possible for Apple to use some of that cash for shareholder returns when the cash is brought back to the U.S.
Apple Stock Still Offers Value
When analyzing a company's dividend paying capacity, I like to ignore market movements and focus solely on the company. However, valuation does come into play when making investment decisions. So for investors who are considering this tech giant, it is necessary to take into account the recent rally in Apple stock.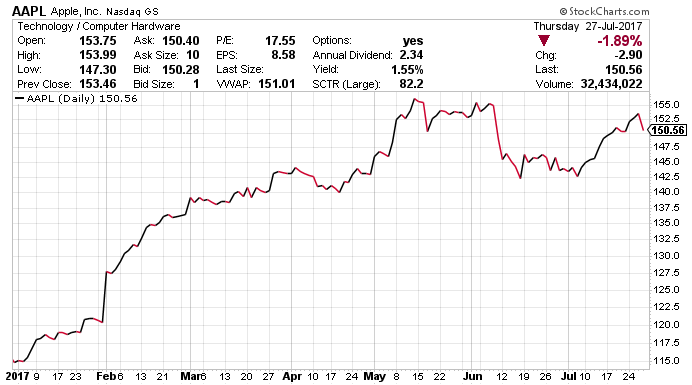 Chart courtesy of StockCharts.com
Apple stock fell into the doldrums in the summer of 2015 and stayed low for about a year. But since May 2016, it started to climb back up and the rally has continued to this day. In the last 12 months, AAPL stock has surged 44.3%.
The stock's bull run is particularly impressive, given that Apple is currently the largest company in the world by market capitalization. The rally in just the last 12 months has essentially added hundreds of billions of dollars to the company's market cap.
So you may be thinking, "When a stock rises by so much, it's gotta be expensive, right?"
Not exactly. Trading at $150.56 apiece, Apple stock has a price-to-earnings (P/E) multiple of 17.66 times, which is lower than the industry's average price-to-earnings ratio of 18.4 times and significantly lower than the S&P 500's average P/E of 24.7 times.
Moreover, if you use Apple's expected earnings for next year, you'd see that the company has a forward P/E of just 14.1 times. Not a high number by any means.
And that, my dear reader, is why Apple is a top dividend growth stock in today's market.