AAPL Stock: Why Apple Inc. Is a Top Pick for Income Investors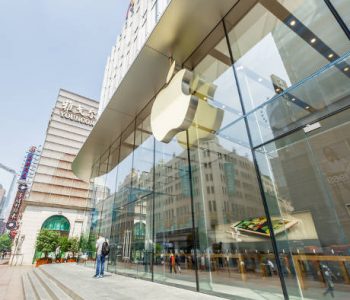 Don't Ignore Apple Stock's Dividend Potential
For the better part of the last 10 years, Apple Inc. (NASDAQ:AAPL) stock's performance has relied on one thing: "iPhone" sales. The company has been around for decades, but it was the iPhone that really brought Apple stock back to the center stage. Now there is something else going on at the Cupertino, California-based tech giant and, this time, it could turn AAPL stock into a dividend machine. Let me explain.
Apple excels at making hardware devices, and it has sold a lot of them. In fact, the company's active installed base of devices—including the iPhone, "iPad," "Mac," "iPod touch," "Apple TV," and "Apple Watch"—has reached one billion. (Source: "Q1'16 Earnings Supplemental Material," Apple Inc., January 26, 2016.)
Moreover, note that Apple uses its proprietary operating systems on all these devices. What this means is that all of the one billion devices are on the company's own ecosystem.
If you have been following the tech industry, particularly the consumer-facing companies, in recent years, you'd know how important it is to build an ecosystem of users. Companies are fighting for users. Just take a look at how many times the term "monthly active users" (MAUs) is used in Internet companies' earnings reports and you'll see what I mean.
Apple makes most of its money by selling hardware devices. But with such a large user base, the company could see huge monetizing opportunities in its services segment.
In fact, Apple's services business is already booming. In the fourth quarter of the company's fiscal 2016, ended September 24, Apple's services revenue grew 24% year-over-year to an all-time quarterly record of $6.3 billion. (Source: "Apple Reports Fourth Quarter Results," Apple Inc., October 25, 2016.)
One thing to note here is that, unlike the hardware device business, software and services don't have to follow the same product update cycle. Moreover, with an unmatched level of engagement and loyalty of its growing installed base, a lot of Apple's services revenue could be recurring.
Sponsored Advertising Content: Insurance Return Checks: Your Second Source of Income
Having recurring revenue is key for Apple stock to become a dividend machine. In the past four years, Apple's services revenue has more than doubled. The company expects its services segment to be the size of a Fortune 100 company in fiscal 2017.
Of course, right now, Apple remains a hardware device maker for the most part. In its September quarter, iPhone sales totaled $28.2 billion, accounting for more than 60% of the company's total revenue. (Source: "Apple Inc. Q4 2016 Unaudited Summary Data," Apple Inc., October 25, 2016.)
The smartphone industry isn't exactly known for producing dividend payers. One of the reasons is that the industry is very competitive and requires high investments. The competitive nature means that even the relatively established players can fail to make a profit. In the third quarter of 2016, both LG Electronics Inc. and HTC Corporation lost money in their smartphone segments.
Apple, on the other hand, has done something truly impressive: differentiating itself from other companies in a competitive environment. There is a huge following for Apple's products around the world. Every time the company launches a flagship iPhone, people line up at Apple Stores to get it.
By differentiating itself from the competitors, Apple can charge a premium for it products. According to Statista, the worldwide average selling price of iPhones is estimated to be $651.00 in 2016. For smartphones running on "Android," the number is a significantly lower $208.00. (Source: "The Smartphone Price Gap," Statista, June 2, 2016.)
That's why even when some major players are taking a loss, Apple is still earning massive profits in its smartphone segment. As a matter of fact, Apple reportedly accounted for 103.6% of the smartphone industry's profits in the third quarter of 2016. (Source: "Apple iPhone captures 103.6% of smartphone industry profits in Q3, according to analyst estimates," 9To5Mac, November 4, 2016.)
The Bottom Line on AAPL Stock
Right now, the company pays $0.57 of dividend per share on a quarterly basis, giving Apple stock an annual dividend yield of 2.03%. Since the company resumed paying dividends in 2012, its quarterly payout has increased by more than 50%.
If you are worried that the iPhone maker is raising its dividends too aggressively, don't be. In Apple's fiscal 2016, the company declared $2.18 of dividends per share on earnings of $8.31 per share, so it was paying out just 26.2% of its earnings.
With a booming services segment and a hugely profitable hardware business, the best could be yet to come for AAPL stock investors.