Earn a 9.5% Yield (Paid Monthly) From Tech?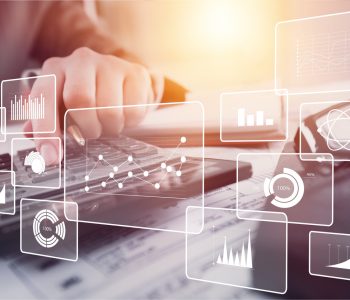 iStock.com/artisteer
A High-Yield Tech Stock to Think About
It's no secret that technology investors have made some of the biggest profits in the stock market. With many tech companies growing at a rapid pace, double- and even triple-digit returns are possible within a rather short time frame.
But it's not always that easy for income investors to get a piece of the action. The tech industry is known for being fast-changing, and companies often have to reinvest their profits (if they have any) just to stay relevant. As a result, there's usually not enough financial resources left to establish a dividend policy.
In fact, even some of the most established tech giants—such as Amazon.com, Inc. (NASDAQ:AMZN) and Alphabet Inc (NASDAQ:GOOG)—don't pay dividends.
And that's why today I want to talk to you about Horizon Technology Finance Corp (NASDAQ:HRZN).
Headquartered in Farmington, Connecticut, Horizon is a specialty finance company that invests in the healthcare information and services, life science, sustainability, and technology sectors. It is structured as a business development company (BDC), meaning it must return at least 90% of its profits to shareholders through dividends.
As a result, HRZN stock provides a very income-investor-friendly way to get some exposure to the tech sector.
And while a lot of BDCs choose to pay quarterly dividends, Horizon Technology Finance returns cash to investors more frequently. Right now, the company has a monthly dividend rate of $0.10 per share, which translates to a staggering annual yield of 9.5%.
Horizon Technology Finance Corp Runs a Lucrative Lending Business
In an era when a four-percent yield is considered high, a yield approaching 10% can seem too good to be true. So let's take a look at Horizon Technology Finance's business and see how it can afford such a generous dividend policy.
To put it simply, Horizon is a lender. In particular, it provides secured loans to venture-capital-backed and private-equity-backed growth-stage companies. The company generates income from directly-originated senior secured loans.
And because Horizon receives warrants from those debt investments, it also has the ability to make some capital gains.
As of September 30, the company's portfolio consisted of 32 secured loans with an aggregate fair value of $253.0 million. (Source: "Fact Sheet," Horizon Technology Finance Corp, last accessed November 15, 2019.)
Horizon's equity, warrants, and other investments, on the other hand, totaled $14.0 million in fair value. So the company's goal is definitely to generate current income.
And boy, did it succeed on that goal. In the third quarter of 2019, Horizon Technology Finance achieved an annualized portfolio yield on debt investments of 17.7%, marking a new record for the company. (Source: "Horizon Technology Finance Announces Third Quarter 2019 Financial Results," Horizon Technology Finance Corp, October 29, 2019.)
Of course, as is the case with most BDCs, the key performance metric to check at HRZN is net investment income. Generally speaking, in order for a BDC's dividends to be considered safe in a given reporting period, it would need to generate net investment income that is in excess of its payout.
The good news is, that's exactly what has been happening at Horizon Technology Finance.
In the third quarter of this year, the company generated a net investment income of $0.42 per share, representing a 40% increase from the $0.30 per share earned a year ago. Most importantly, the amount easily covered Horizon's three monthly dividends totaling $0.30 per share declared during the quarter.
In the first nine months of 2019, HRZN's net investment income came in at $1.08 per share. During this period, the company declared nine monthly dividends totaling $0.90 per share. So again, Horizon managed to outearn its payout.
Furthermore, as of the end of September 2019, Horizon Technology Finance Corp had accumulated $0.29 per share in undistributed spillover income.
"Looking at the balance of 2019, we remain confident in our ability to continue to drive sustainable NII above our distribution. Demand for technology, health care tech, and life science investments remain active and strong. We continue to be disciplined and thoughtful with our approach to funding investments as reflected in our steady loan portfolio growth of 17% thus far in 2019," said HRZN's Chairman and Chief Executive Officer Rob Pomeroy. (Source: "Horizon Technology Finance's (HRZN) CEO Rob Pomeroy on Q3 2019 Results – Earnings Call Transcript," Seeking Alpha, October 30, 2019.)
Given the company's solid business, its board of directors has declared monthly dividends of $0.10 per share through March 2020.
Bottom Line on Horizon Technology Finance Corp
Due to the inverse relationship between dividend yield and stock price, a lot of the ultra-high-yielding companies in today's market have down-and-out stocks.
While HRZN stock is not exactly a hot ticker, it's not in the doldrums, either.
For instance, in the two-year period ended September 30, 2019, Horizon Technology Finance Corp delivered a total return of almost 32%, which substantially outperformed the Wells Fargo Business Development Company Index's total return of less than 11% during the same period. (Source: "Investor Presentation – Third Quarter 2019," Horizon Technology Finance Corp, last accessed November 15, 2019.)
For investors who want to earn oversized income from the booming tech sector, HRZN stock's 9.5% yield could be worth a look.