8.2%-Yielding Suburban Propane Stock Trouncing the S&P 500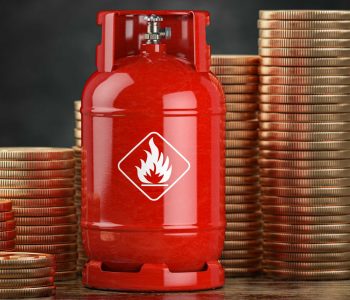 Why Suburban Propane Partners LP's High-Yield Dividend Is Safe
Summer probably isn't the best time to discuss propane as a heating fuel, but its ubiquitous presence in American backyards inside barbeque tanks means it's never really out of sight or mind. While propane is primarily used in the U.S. for cooking, it's also used for heating and agricultural purposes. According to the U.S. Department of Energy, approximately five percent of U.S. households use propane as their primary heating fuel.
As such, investors might want to look at Suburban Propane Partners LP (NYSE:SPH). (Source: "Investor Fact Sheet," Suburban Propane Partners LP, last accessed July 12, 2022.)
The Whippany, NJ-based company is a national distributor of propane, renewable propane, fuel oil, and related products and services. It also markets natural gas and electricity, as well as invests in low-carbon fuel alternatives.
The partnership serves the energy needs of approximately one million residential, commercial, governmental, industrial, and agricultural customers through approximately 700 locations in 42 states. The company's diverse client base includes:
958,000 active propane customers, predominantly higher-margin retail customers
35,000 residential and commercial fuel oil and refined fuel customers in the Northeast
39,000 natural gas and electricity customers—predominantly retail—in New York, Pennsylvania, and Maryland
In fiscal 2021, Suburban Propane Partners LP had retail propane sales of 420 million gallons.
Suburban Propane might be one of the largest retail marketers of propane in the U.S., but it still has plenty of room to grow. The propane distribution market is highly fragmented, with the top three companies accounting for 23% of the U.S. market. Suburban Propane Partners is No. 3, with a five-percent market share. The other 5,000+ independent retailers account for 74% of the market. (Source: "Investor Presentation" Suburban Propane Partners LP, May 6, 2021.)
Another "Outstanding" Quarter
For the second quarter of fiscal 2022 ended March 26, Suburban Propane reported total revenue of $588.0 million, a 9.5% increase over the $537.2 million recorded in the same prior-year period. (Source: "Suburban Propane Partners, L.P. Announces Second Quarter Results," Suburban Propane Partners LP, May 5, 2022.)
The partnership's net income was $175.1 million, or $2.77 per share, a 38% increase over its first-quarter 2021 net income of $127.2 million, or $2.03 per share. Its adjusted earnings before interest, taxes, depreciation, and amortization (EBITDA) inched up by 0.3% year-over from $172.0 to $172.5 million.
Michael A. Stivala, the company's president and CEO, noted, "The fiscal 2022 second quarter was another outstanding quarter for Suburban Propane — delivering solid operating results, making progress on the execution of our long-term strategic initiatives and continuing to improve our financial metrics." (Source: Ibid.)
During the second quarter of its fiscal 2022, Suburban Propane Partners LP sold 159.2 million gallons of propane, a 5.8% decrease from the same prior-year period. This was a result, in part, of unseasonably warm and inconsistent temperatures throughout the second quarter.
According to the National Oceanic and Atmospheric Administration, average temperatures across all of the partnership's service territories during the second quarter were seven percent higher than normal, similar to in the prior year's second quarter. The average propane prices in the second quarter of fiscal 2022 were 44.5% higher than in the prior year and 4.7% higher than in the first quarter of fiscal 2022.
Thanks to high commodity prices, demand, and cash flow, the company is able to provide SPH stock investors with stable, growing dividends. In April, the partnership's board declared a distribution of $0.325 per unit, for a yield of 8.2%.
There's certainly room for Suburban Propane Partners LP to increase its distribution in 2022; the company's payout ratio is just 52.9%.
In addition to providing buy-and-hold investors with high-yield dividends, Suburban Propane stock has been seriously outpacing the S&P 500 in terms of share performance. As of this writing, SPH stock is up by:
Five percent over the last three months
14% year-to-date
Five percent year-over-year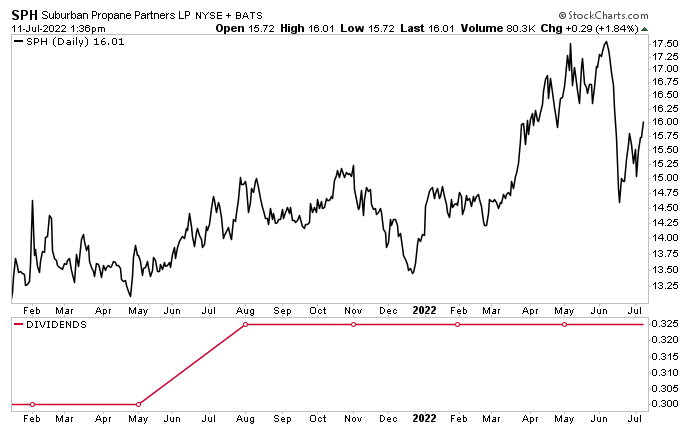 Chart courtesy of StockCharts.com
The Lowdown on Suburban Propane Stock
Suburban Propane stock is a great energy stock that has mostly recovered from the coronavirus-fueled sell-off. Suburban Propane Partners LP has been expanding its market share, paying down debt, and investing in renewable energy opportunities.
In terms of share price, SPH stock has been outpacing the broader market. Moreover, the company has begun raising its ultra-high-yield dividend. That might be the perfect combination for investors who are seeking shelter during this high-inflationary, economically volatile time.