8.3%-Yielding MPLX Stock Trading Near Record Level, Going From Strength to Strength
Undervalued MPLX LP Has Big Potential
Crude oil has been moving considerably higher since July, rising from roughly $70.00 per barrel to more than $90.00 per barrel. Despite the big move, there's an inherent volatility with oil, since its price can rise and fall due to foreign policy, economic data, or other factors.
One way to leapfrog this volatility is with midstream stocks like MPLX LP (NYSE:MPLX). As the tollkeepers to the oil and natural gas industry, midstream energy companies have less exposure to volatility in commodity prices. This has made them, historically, great long-term plays for both income and growth.
MPLX LP is a midstream company formed by oil and gas behemoth Marathon Petroleum Corp (NYSE:MPC). The Findlay, Ohio-based MPLX owns and operates midstream energy infrastructure and logistics assets and provides fuel distribution services. (Source: "About MPLX," MPLX LP, last accessed September 27, 2023.)
Its assets, which are in key U.S. supply basins, include:
A network of crude oil and refined product pipelines
An inland marine business
Storage caverns
Refinery tanks, docks, loading racks, and associated piping
Crude and light-product marine terminals
Crude oil and natural gas gathering systems and pipelines
Natural gas and natural gas liquid (NGL) processing and fractionation facilities
During the second quarter, MPLX announced that its net income increased by 6.6% year-over-year to $933.0 million. Its adjusted earnings before interest, taxes, depreciation, and amortization (EBITDA) rallied by five percent year-over-year to a record-high $1.5 billion. (Source: "MPLX Reports Second-Quarter 2023 Financial Results," MPLX LP, August 1, 2023.)
During the second quarter, the company generated $1.4 billion in net cash by operating activities and adjusted free cash flow of $1.1 billion. Its distributable cash flow advanced in the quarter by 6.3% to a record $1.3 billion, or $0.775 per unit.
Management Has Hiked Distributions for 11 Consecutive Years
Thanks to its high distributable cash flow growth, with a compound annual growth rate (CAGR) of 6.8% since 2019, MPLX LP has been able to return a significant amount of capital to its unitholders. In the second quarter alone, MPLX stock returned nearly $800.0 million of capital to unitholders.
In July, the company declared a quarterly cash distribution of $0.775 per unit, for an inflation-crushing yield of 8.83%. This represents a 10% increase from the $0.705 per unit that MPLX stock paid out in the second quarter of 2022. (Source: "Distribution," MPLX LP, last accessed September 27, 2023.)
MPLX has raised its distribution every year since it went public in 2013. That means, even during the worst economic crisis in 100 years (the COVID-19 pandemic), the company was able to increase its dividend each year. Better still, in 2021, it also declared a special dividend. There weren't a lot of companies doing that during the pandemic.
Moreover, before the pandemic, MPLX LP had raised its quarterly dividend for 28 consecutive quarters. The only thing that got in the way of that record was the pandemic. The company held MPLX stock's payout at $0.6875 in 2020 and the first half of 2021, but it has been raising it regularly since then.
There's every reason to believe that MPLX will continue raising its dividends annually. At the moment, its distribution coverage ratio is 1.7x and its payout ratio is a low 76.71%.
| | |
| --- | --- |
| Year | Dividend/Unit |
| 2023 | $3.10 (estimated) |
| 2022 | $2.96 |
| 2021 | $2.78 ($3.36 with special dividend) |
| 2020 | $2.75 |
| 2019 | $2.69 |
| 2018 | $2.53 |
| 2017 | $2.29 |
| 2016 | $2.05 |
| 2015 | $1.82 |
| 2014 | $1.41 |
| 2013 | $1.16 |
(Source: Ibid.)
MPLX Stock Up 35% YOY & Has 25%+ Upside
What's better than a reliable income machine? One that also provides big share-price gains. As of this writing, shares of MPLX LP are up by:
15.5% year-to-date 

34.5% year-over-year 

659% since bottoming in March 2020 

110% since the start of 2020 
The big gains in 2023 are worth championing, and the outlook for MPLX stock remains robust. Wall Street analysts have provided a 12-month share-price target in the range of $41.00 to $45.00. This points to potential gains in the range of 16% to 27%.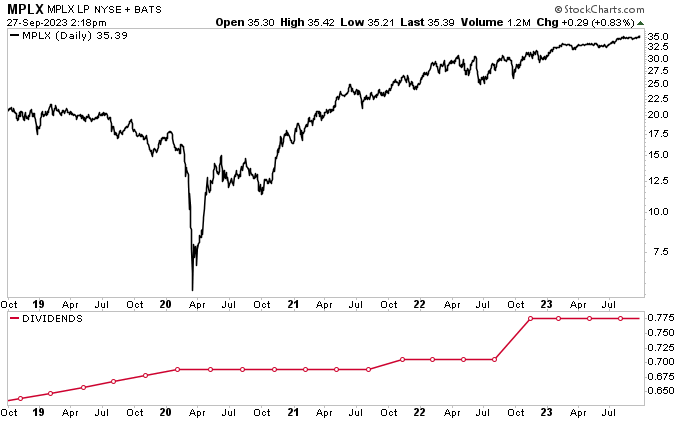 Chart courtesy of StockCharts.com
The Lowdown on MPLX LP
Energy stocks were the biggest winners in 2021 and 2022. Although 2023 started out slowly, oil and gas stocks have rebounded significantly. MPLX stock has been one of the bigger winners.
MPLX LP has large and growing midstream energy infrastructure and logistics assets, and it has been reporting outstanding financial results.
Thanks to its fabulous business performance and lower capital spending, MPLX has been able to generate exceptionally high cash flow, allowing it to maintain growing, ultra-high-yield dividends and continue buying back its own shares.