8.8%-Yield SFL Stock at Record-High Price Level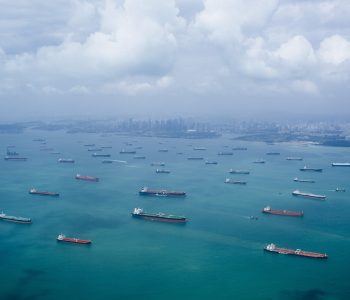 Why Investors Should Look Into SFL Corporation Ltd
There are typical marine shipping companies, and then there's SFL Corporation Ltd (NYSE:SFL). The international marine infrastructure company has highly predictable cash flow, an enormous fixed-revenue backlog, a rising share price, and safe, high-yield dividends.
SFL Corporation currently owns 36 container ships, 15 dry bulk ships, 13 tankers, seven car carriers, and two offshore energy drilling rigs. (Source: "Q2 2023 Results Presentation," SFL Corporation Ltd, last accessed September 25, 2023.)
Whereas many marine shipping companies specialize in specific industries, like oil and gas, SFL Corporation's diversity gives it legs throughout multiple market cycles.
The weighted contract duration in the company's shipping portfolio is close to seven years, and about 91% of its gross revenue comes from long-term charters. This provides the company with stable revenues and operating costs. It also helps juice SFL stock's reliable, high-yield dividends.
SFL Corporation's customers include A.P. Moller – Maersk, ConocoPhillips (NYSE:COP), Koch Industries, Inc., Phillips 66 (NYSE:PSX), and Volkswagen Group (ETR:VOW3, OTCMKTS:VLKPF).
In August, the company announced a new $100.0-million contract for its harsh-environment, semi-submersible drilling rig "Hercules." The contract, which is for one well plus one optional well, is expected to begin in the second quarter of 2024. (Source: "New $100 Million Contract for Semi-Submersible Rig Hercules," SFL Corporation Ltd, August 14, 2023.)
Hercules is currently drilling for Exxon Mobil Corp (NYSE:XOM) in Canada. After that, the rig will be moved to Namibia for a contract with Galp Energia, SGPS, S.A., which is expected to start in the fourth quarter of 2023.
"With this contract, SFL has now approximately $200 million of revenue backlog on Hercules and secured undisrupted employment for the rig until the fourth quarter of 2024," said Ole B. Hjertaker, SFL Corporation Ltd's CEO. (Source: Ibid.)
"This contract[,] together with other recent contract rewards in the industry[,] illustrates that the market for advanced harsh environment semi submersibles is firming and expected to remain strong for a prolonged period."
Management Announced 78th Consecutive Dividend
Thanks to SFL Corporation Ltd's billion-dollar contract backlog and predictable cash flow from long-term contracts, it has a unique track record in the maritime industry of paying consistent, high-yield dividends.
In fact, SFL stock has paid dividends every quarter since it went public in 2004. As of this writing, that's 78 consecutive quarters of payouts ($2.6 billion in accumulated dividends).
The company's dividend level can fluctuate depending on market conditions, but thanks to its diverse fleet, it has continued to pay high-yield dividends.
As you can see in the chart below, the company reduced its payout to save cash during the worst economic crisis in 100 years (the COVID-19 pandemic), from $0.35 to $0.15 per share. (Source: "Dividend History," SFL Corporation Ltd, last accessed September 25, 2023.)
Since then, the company has been raising its quarterly dividends. Most recently, in August, it declared a quarterly dividend of $0.24 per share, for a yield of 8.82%.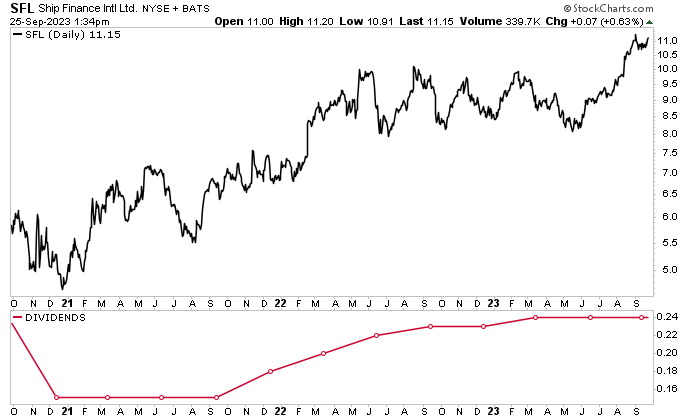 Chart courtesy of StockCharts.com
SFL stock's dividend still needs to grow by 45% to get to its pre-pandemic level of $0.35 per share. If SFL Corporation Ltd's financials are any indicator of the strength of its dividends, the payout level should get there eventually.
In the second quarter, the company reported net income of $16.9 million, or $0.13 per share. It ended the quarter with $201.0 million in cash and cash equivalents. (Source: "SFL – Second Quarter 2023 Results," SFL Corporation Ltd, August 17, 2023.)
So far in 2023, the company has added more than $300.0 million worth of backlog, increasing its total fixed-rate backlog to $3.6 billion.
Hjertaker commented on SFL Corporation 's backlog: "This provides continued cash flow visibility going forward, with significant additional cash flow from the drilling rig Hercules and the newbuild car carriers from the third quarter." (Source: Ibid.)
Moreover, the company recently repurchased about 1.1 million of its own shares, at an average price of $9.27 per share. (Source: "Q2 2023 Results Presentation," SFL Corporation Ltd, op. cit.)
Trading at Record Level, SFL Stock Up 30% in 2023
Shares of SFL Corporation Ltd have been on a tear since cratering during the pandemic, up by 120% since the start of 2021. The stock hit a new all-time high of $11.27 on September 1, and it continues to trade near that level.
As of this writing, SFL stock is up by:
25% over the last three months
30% year-to-date
29% year-over-year
Strong financial results and an equally impressive outlook suggest that SFL stock could rise to numerous new record highs over the coming quarters.
The Lowdown on SFL Corporation Ltd
SFL Corporation Ltd is a diversified marine shipping company with highly predictable cash flow from long-term contracts. As mentioned earlier, it also has a $3.6-billion fixed-revenue backlog.
Tested through multiple market cycles, the company has been able to increase its long-term distributable cash flow per share. This has allowed it to pay dividends to SFL stockholders every quarter since SFL Corporation went public in 2004.