Undervalued, 7%-Yielding LTC Properties Stock Has 25% Upside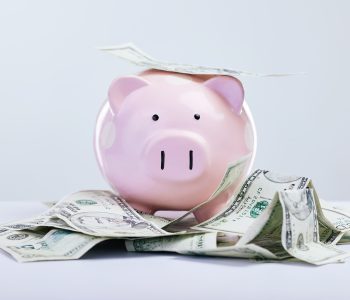 How LTC Stock Is Able to Pay Reliable, Monthly Dividends 
As I've said before, investing is all about taking advantage of opportunities. On that note, LTC Properties Inc (NYSE:LTC) is a leader in a lucrative, growing, niche field.
Yes, every business will tell you it has a captive audience or market that it's going to capture, but LTC Properties has already made its mark serving a growing demographic: seniors.
The company is a real estate investment trust (REIT) that invests in seniors' housing and health-care properties, primarily through sale-leasebacks, mortgage financing, joint ventures, and structured finance solutions such as preferred equity and mezzanine lending. (Source: "LTC Reports 2023 First Quarter Results and Discusses Recent Activities," LTC Properties Inc, April 27, 2023.)
In 2018, 10,000 baby boomers in the U.S. were turning 65 each day. Sure, every baby boomer in the U.S. will have turned 65 by 2030, but that doesn't mean the number of Americans retiring and needing a place to live is going to decline. By 2050, the number of people turning 65 in the U.S. will hit 12,000 per day. (Source: "Americans Are Retiring at An Increasing Pace," Yahoo! Finance, November 21, 2018.)
LTC Properties Inc's real estate portfolio includes 218 properties in 29 states. Moreover, the company has 31 operating partners for those properties. Based on gross real estate investment, the REIT's portfolio is made up of about 50% seniors' housing and 50% skilled nursing properties. (Source: LTC Properties Inc, April 27, 2023, op. cit.)
Because of the high and growing demand for retirement homes and long-term care facilities, the REIT also has properties under development and is always hunting for strategic acquisitions. In the first quarter of this year, the company invested $128.3 million in 12 assisted living and memory care communities. Meanwhile, it invested $51.1 million in a 203-unit independent living, assisted living, and memory care community in Georgia.
Also in the first quarter, LTC Properties Inc sold two skilled nursing centers in New Mexico for $21.3 million, recording a gain on the sale of $15.3 million. It also sold a 60-unit assisted living community in Kentucky for $11.0 million. After the first quarter, LTC Properties sold a 70-unit assisted living community in Florida for $4.9 million.
Also subsequent to the first quarter, LTC Properties repaid $6.0 million under its unsecured revolving line of credit.
Additionally, the REIT agreed to defer up to $1.5 million in interest payments due on a mortgage loan secured by 15 skilled nursing centers in Michigan.
It also agreed to defer the April and May rent of $467,000 for an operator for whom LTC Properties had previously provided assistance. The REIT is in the process of transitioning this operator's eight assisted living communities (500 units) to another operator, expecting to complete the transaction in the second quarter.
Furthermore, the company provided $215,000 of abated rent in April to an operator for whom it had previously provided abated rent. LTC Properties has agreed to provide rent abatements of up to $215,000 for May and June.
LTC Properties Inc's Funds Available for Distribution Climbs 20%
For the first quarter, LTC Properties announced that its net income climbed by 130% year-over-year to $32.9 million. Its earnings per share (EPS) more than doubled to $0.80. (Source: LTC Properties Inc, April 27, 2023, op. cit.)
The REIT's funds from operations (FFO) went up in the first quarter by 15% to $27.2 million, or $0.66 per share. Its funds available for distribution (FAD) rallied by 20% to $30.0 million.
LTC Properties Inc said its excellent first-quarter results came from higher rental income from transitioned portfolios, its acquisition of four skilled nursing centers during the second quarter of 2022, completed development projects, and annual rent escalations.
The REIT's first-quarter results were also positively affected by higher interest income from financing receivables due to its acquisition of three skilled nursing centers in the 2022 third quarter and its acquisition of 11 assisted living and memory care communities in the 2023 first quarter.
Thanks to its ongoing financial strength, LTC Properties has been able to reliably pay dividends since 1992. It initially paid dividends quarterly, but by 2006, it had switched to a monthly payout schedule. (Source: "Dividends," LTC Properties Inc, last accessed May 25, 2023.)
In the red line in the chart below, you can see that, despite ongoing concerns during the COVID-19 pandemic, LTC Properties maintained its monthly dividends at $0.19 per share.
In April, LTC Properties Inc again declared monthly dividends of $0.19 per share for April, May, and June. As of this writing, the REIT's dividend yield stands at seven percent.
LTC Properties stock's high-yield dividend isn't a fluke or a result of a tanking stock price; maintaining a high dividend yield is part of the company's long-term strategy. Its five-year average dividend yield is 5.8%.
For the first quarter, LTC Properties Inc reported FAD of $30.0 million and FFO of $0.66 per share, which is more than enough to comfortably cover its dividends for the quarter of $0.57 per share. And, as you can see in the chart below, save for the odd year, LTC Properties has a long history of raising its dividends.
Recent Share-Price Performance
In addition to its reliable monthly dividends, LTC stock has been rewarding buy-and-hold investors with share-price gains. The stock was actually trading at record levels before the pandemic.
For the 10-year period ending December 31, 2019, with dividends reinvested, LTC Properties stock provided returns of about 180%. For the 10-year period ended December 31, 2022, LTC Properties Inc provided total shareholder returns of 71.4%.
LTC stock has been trading in a tight price range since then. Despite strong financial results, the stock is currently down by eight percent year-to-date.
Wall Street analysts, however, think LTC Properties stock is undervalued and poised to trend higher. Their average 12-month share-price forecast for LTC Properties Inc is $36.40, and their high estimate is $40.00. This points to gains in the range of approximately 12% to 25%.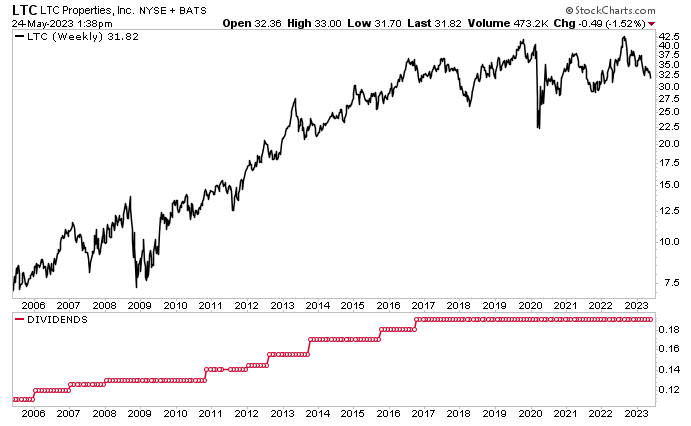 Chart courtesy of StockCharts.com
The Lowdown on LTC Properties Inc
LTC Properties has a diverse, high-quality portfolio of seniors' housing and health-care properties. Management continues to expand the REIT's operations in order to meet the needs of America's aging population, keep its properties at full capacity, and raise rents along the way.
The company continues to report solid financial results, which include net income, FFO, and FAD growth. This has helped juice LTC Properties Inc's share price and has allowed it to reward LTC stockholders with reliable, inflation-busting, monthly dividends.