Outlook for 7.2%-Yielding Holly Energy Partners Stock Bullish on Industry Tailwinds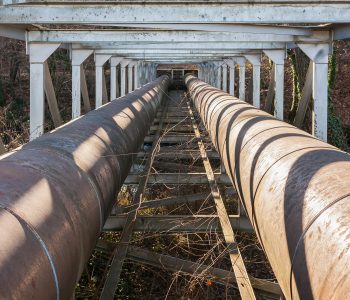 Why HEP Stock Is Poised to Rise
We could be entering a golden age for U.S. midstream energy stocks, and that's great news for shareholders of Holly Energy Partners, L.P. (NYSE:HEP).
Since late June, the price of West Texas Intermediate (WTI) oil has climbed by roughly 18% from about $16.00 to more than $79.00 per barrel.
Crude oil prices have been on the move since the supply of oil has been tightening due to Organization of the Petroleum Exporting Countries Plus (OPEC+) production cuts, a slowdown in U.S. shale production growth, high demand during peak driving season, and high demand overall from China and India.
Fears of a recession are always lurking around the corner, but U.S. Treasury Secretary Janet Yellen now says she doesn't expect the long-promised recession to materialize. Even if it does arrive, Wall Street analysts believe it will be mild and short.
All this has led Goldman Sachs Group Inc (NYSE:GS) to raise its forecast for crude oil to $86.00 per barrel by the end of the year. (Source: "Goldman Sachs Expects 'All Time High' Oil Demand to Spur Large Deficits, Boosting Prices," CNBC, July 24, 2023.)
Strong industry dynamics point toward impressive growth in the U.S. midstream energy sector, which comprises the transportation, storage, and wholesale marketing of crude oil and refined petroleum products.
The midstream sector might not sound as exciting as drilling for oil and natural gas, but it's the largest pure-play U.S. oil and gas sector. It's larger than the upstream sector, twice the size of the oilfield services sector, and three times the size of the refining sector. (Source: "Back to Basics: Solving the Capital Conundrum of US Midstream Companies," Deloitte Development LLC, last accessed July 26, 2023.)
While midstream energy companies don't generally benefit upfront from high oil and gas prices (since a large part of their sales are contracted and fee-based), the high prices and high long-term demand show that the industry is in the midst of some of its best years of growth and profitability.
About Holly Energy Partners, L.P.
Holly Energy Partners provides crude oil and petroleum product transportation, terminalling, storage, and throughput services to the petroleum industry in the U.S., including subsidiaries of HF Sinclair Corp (NYSE:DINO). (Source: "Investor Presentation: March 2023," Holly Energy Partners, L.P., last accessed July 26, 2023.)
HF Sinclair is in talks to acquire all of its outstanding common units of Holly Energy Partners (it currently has a 49.995% non-operated interest), although there's no indication of how long discussions could last and no guarantee that the deal will go through. (Source: "Holly Energy Partners, L.P. Acknowledges HF Sinclair Corporation's Proposal to Acquire its Outstanding Common Units," Holly Energy Partners, L.P., May 4, 2023.)
Through its subsidiaries, Holly Energy Partners and joint ventures own and/or operate crude and petroleum product pipelines, tankage, and terminals (in Colorado, Idaho, Iowa, Kansas, Missouri, Nevada, New Mexico, Oklahoma, Texas, Utah, Washington, and Wyoming) and refinery processing facilities (in Kansas and Utah).
Holly Energy Partners, L.P. operates through two segments: 1) Pipelines and Terminals and 2) Refinery Processing Units. Its network includes:
1,200 miles of pipelines
A regional crude energy gathering system for HF Sinclair's refineries and third parties
Refined product outlets for HF Sinclair's refineries
Eight product terminals and two crude energy terminals with 4.5 million barrels of operated storage
A product distribution and crude energy gathering system for HF Sinclair and third parties
Holly Energy Partners, L.P.'s joint ventures include the Saddle Butte Pipeline, the Pioneer Pipeline, and the UNEV Pipeline.
Its revenues are nearly 100% fee-based, with all minimum volume commitments tied to the Producer Price Index (PPI) or the Federal Energy Regulatory Commission (FERC).
Q1 Distributable Cash Flow Up 30%; Quarterly Distribution of $0.35
For the first quarter ended March 31, Holly Energy Partners announced that its revenues increased by 19% year-over-year to $143.3 million. Its net income went up by 16% year-over-year to $57.5 million, or $0.45 per unit. (Source: "Holly Energy Partners, L.P. Reports First Quarter Results," Holly Energy Partners, L.P., May 4, 2023.)
The partnership's adjusted earnings before interest, taxes, depreciation, and amortization (EBITDA) climbed by 27% year-over-year to $108.3 million. Its distributable cash flow advanced 30.2% to $83.9 million in the first quarter of 2023.
With almost 100% of its revenue being fee-based, Holly Energy Partners, L.P. is able to generate sustainable free cash flow and increase its returns to HEP unitholders. This includes via distributions (limited partnerships call their dividends "distributions").
In April, the company's board declared a quarterly cash distribution of $0.35 per unit, for a yield of 7.2%. That's more than twice the current inflation rate of 2.9%.
The partnership actually changed its distribution strategy back in April 2020, which was just when the COVID-19 pandemic was wreaking havoc on the energy sector. At the time, it reduced its quarterly payout by 48% to $0.35 per unit. (Source: "Holly Energy Partners Announces Change in Distribution Strategy and Quarterly Distribution," Holly Energy Partners, L.P., April 23, 2020.)
The company also updated its distribution strategy to:
Fund all of its capital expenditures and distributions through free cash flow
Improve its distributable cash flow coverage to 1.3 times or greater
Reduce its leverage to 3.0 to 3.5 times
At the time of the strategy change, Mike Jennings, Holly Energy Partners, L.P.'s CEO, said, "We believe a strategy of funding growth and distributions with cash flow, while deleveraging the balance sheet and enhancing liquidity best positions HEP to create long-term value for its unitholders." (Source: Ibid.)
The partnership has held Holly Energy Partners stock's payout at $0.35 per unit since then.
HEP stock's price hasn't stayed at the same level since then, though. Since bottoming in March 2020, HEP units have rallied by 282%. Holly Energy Partners units are also up by 20% over the last three months, 12% year-to-date, and 19.5% over the last 12 months.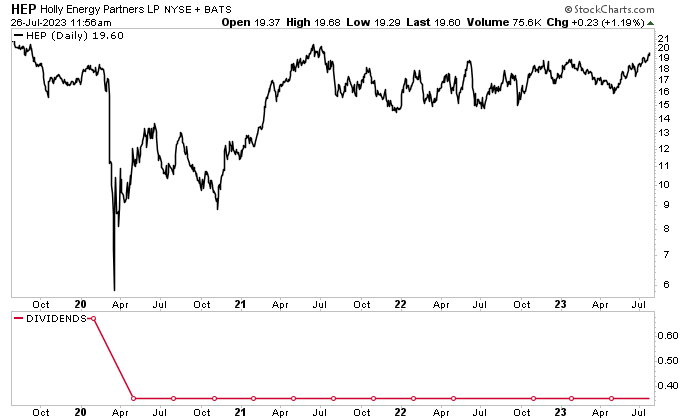 Chart courtesy of StockCharts.com
The Lowdown on Holly Energy Partners Stock
Holly Energy Partners, L.P. is a great midstream oil and natural gas company with assets strategically located in core growth areas in the U.S.
As mentioned earlier, the partnership's revenues are nearly all fee-based, and its minimum volume commitments are tied to PPI or FERC.
The company's solid first-quarter results were supported by its safe and reliable operations, as well as high volumes in both its crude oil and refined product transportation and storage systems. This allowed HEP stock to continue paying reliable, high-yield distributions of $0.35 per unit. With a distribution target of at least 1.3x, the payout from HEP units is more than safe.