7 Best Quotes and Advice from Warren Buffett's Annual Shareholder Letter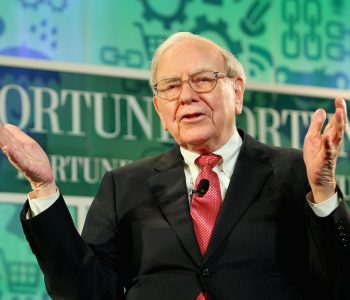 Credit: Paul Morigi / Stringer
Quotes from Warren Buffett Annual Letters 2016
Warren Buffett is one of the most successful investors of our time. From 1964 to 2016, Buffett's Berkshire Hathaway Inc.'s (NYSE:BRK.B) per-share book value increased at a compound annual growth rate (CAGR) of 19%, smashing the S&P 500 Index's CAGR of 9.7% during this period. The consistent performance of Warren Buffett's portfolio also helped him become one of the richest people on earth, with a net worth of $73.0 billion. The best part is, the "Oracle of Omaha" is willing to share his investing secrets. There are plenty of Warren Buffett quotes that can give investors a glimpse into the legend's investing strategies. In this article, we are going to take a look at the seven best quotes from Warren Buffett's annual letters as of 2016.
Those that have been following Warren Buffett would know that one of the most valuable resources to learn about his wisdom is Berkshire's annual shareholder letter. Since Buffett took control of Berkshire Hathaway, a small textile company, in April 1965, he has written more than 50 letters to shareholders. The latest Berkshire shareholder letter was released last Saturday. (Source: "2016," Berkshire Hathaway Inc., last accessed February 27, 2017.)
Warren Buffett letter quotes can be of particular importance to income investors. This is because of his investing strategy. Buffett prefers holding solid companies rather than trading high-momentum names. He might be known for picking stocks that had skyrocketed in value, but I'm pretty sure that dividends also played a crucial role building up Berkshire Hathaway. In fact, if you take a look at what's inside Berkshire's portfolio, you'd see plenty of well-known, rock-solid dividend-paying stocks.
Below is the top seven quotes I found in Buffett's latest shareholder letter, which discusses results in calendar year 2016. 2016 was a solid year for Buffett's company, with Berkshire's book value increasing 10.7%, while its market value surged 23.4%.
Quotes from Annual Shareholder Letter 2016
Warren Buffett Quote #1
"When trillions of dollars are managed by Wall Streeters charging high fees, it will usually be the managers who reap outsized profits, not the clients. Both large and small investors should stick with low-cost index funds."
This is not the first time Buffett has voiced his concern on the high fees charged by Wall Street money managers. In fact, he was so confident that low-cost index funds are the best investment vehicles that nine years ago, he made a $1.0-million bet with an asset manager that low-cost index funds would outperform hedge funds over the span of a decade. Buffett's choice was Vanguard 500 Index Fund Admiral Class (MUTF:VFIAX), which tracks the S&P 500 Index and has an expense ratio of as low as 0.05%. Protégé Partners' Ted Seides, the investor manager that took the bet, chose five "funds of funds." These types of funds charge an additional layer of fees on top of the fees charged by each fund in their holdings.
How did the bet go? Well, nine years have passed, and none of the five "funds of funds" have outperformed Buffett's S&P 500 Index fund over this period. In the latest shareholder letter, Buffett said that there is "no doubt" that he will win the bet when it ends on December 31 this year. The proceeds of the bet will go to a charity of the winner's choice.
Warren Buffett Quote #2
In this Warren Buffett top quote, he talks about fear in the financial markets. 2016 was a good year for the U.S. stock market: the Dow surged 13.4%, the NASDAQ gained 7.5%, and the S&P 500 climbed just short of 10%. Buffett is confident about U.S. businesses and said that they are "virtually certain to be worth far more in the years ahead." But he also said that market declines could also occur occasionally.
"The years ahead will occasionally deliver major market declines – even panics – that will affect virtually all stocks. No one can tell you when these traumas will occur – not me, not Charlie, not economists, not the media. Meg McConnell of the New York Fed aptly described the reality of panics: 'We spend a lot of time looking for systemic risk; in truth, however, it tends to find us.'"
In Berkshire's 2016 shareholder letter, Buffett also tells investors what to do when the stock market enters a downturn:
"During such scary periods, you should never forget two things: First, widespread fear is your friend as an investor, because it serves up bargain purchases. Second, personal fear is your enemy. It will also be unwarranted. Investors who avoid high and unnecessary costs and simply sit for an extended period with a collection of large, conservatively-financed American businesses will almost certainly do well."
Warren Buffett Quote #3
"If a statue is ever erected to honor the person who has done the most for American investors, the handsdown choice should be Jack Bogle. [sic]"
Warren Buffett knows a thing or two about helping investors make money. Over the past several decades, he has created a tremendous amount of wealth for Berkshire Hathaway's investors. But in his opinion, the person that has done the most for American investors is Jack Bogle.
Jack Bogle is the founder of The Vanguard Group. Four decades ago, Vanguard started the first index fund. Despite being mocked by the investment management industry in his early years, Bogle has been consistently urging investors to invest in ultra-low-cost index funds. Buffett calls Bogle a "hero" to investors and to himself.
Warren Buffett Quote #4
Warren Buffett is known for his buy-and-hold strategy. Some of the companies he invested decades ago have provided him with astronomical returns. And when it comes to investment horizon, "forever" is a frequently used word in describing Buffett's style. Indeed, if a business is solid enough to keep generating handsome profits year after year, why would anyone want to sell it?
In the latest shareholder letter, however, Buffett said that although he likes the strategy, it doesn't mean that all of Berkshire's marketable security will have a "forever" holding period:
"Sometimes the comments of shareholders or media imply that we will own certain stocks 'forever.' It is true that we own some stocks that I have no intention of selling for as far as the eye can see (and we're talking 20/20 vision). But we have made no commitment that Berkshire will hold any of its marketable securities forever."
Warren Buffett Quote #5
One of the most important things that happened in 2016 was Donald Trump's surprise victory in the U.S. presidential election. Buffett campaigned with Democratic nominee Hillary Clinton in the election. In the latest shareholder letter, he did not make any direct remark on the new President. However, when talking about the future of the U.S. economy, Buffett mentioned the contribution made by immigrants:
"Our efforts to materially increase the normalized earnings of Berkshire will be aided – as they have been throughout our managerial tenure – by America's economic dynamism. One word sums up our country's achievements: miraculous. From a standing start 240 years ago – a span of time less than triple my days on earth – Americans have combined human ingenuity, a market system, a tide of talented and ambitious immigrants, and the rule of law to deliver abundance beyond any dreams of our forefathers."
Warren Buffett Quote #6
"Today, I would rather prep for a colonoscopy than issue Berkshire shares."
This quote is pretty self-explanatory. The Oracle of Omaha is not a fan of issuing new Berkshire shares. In 1998, Buffett decided to issue 272,200 shares of Berkshire Hathaway to buy General Reinsurance. While General Reinsurance has become "a fine insurance operation" that Buffett prizes, issuing new shares was nevertheless "a terrible mistake" because it increased Berkshire's outstanding shares by a whopping 21.8%.
Buffett also revisited what he calls one of his biggest mistakes: using Berkshire shares to buy Dexter Shoe. In 1993, Berkshire bought Dexter Shoe for $434.0 million. The shoemaker's value went to zero a few years later. And because Buffett used Berkshire shares to buy Dexter Shoe, the 24,203 shares of Berkshire he gave to the seller are worth more than $6.0 billion today.
But everyone already knows these mistakes in Warren Buffett's tremendously successful investing career. Why would he talk about them again? Well, one possibility is that the Oracle of Omaha is reminding his successors (which are yet to be named) that diluting Berkshire shares could turn out to be very expensive.
Warren Buffett Quote #7
One of the things Berkshire shareholders want to know is Buffett's succession plan. And the last one of the top Warren Buffett quotes list might shed some light on that.
Ajit Jain is the head of Berkshire Hathaway's insurance operations. Here's what Buffett said about him in the latest shareholder letter:
"When Ajit entered Berkshire's office on a Saturday in 1986, he did not have a day's experience in the insurance business. Nevertheless, Mike Goldberg, then our manager of insurance, handed him the keys to our small and struggling reinsurance business. With that move, Mike achieved sainthood: Since then, Ajit has created tens of billions of value for Berkshire shareholders. If there were ever to be another Ajit and you could swap me for him, don't hesitate. Make the trade!"
Those are some of the most notable quotes from Berkshire's annual letter for 2016. Investors looking for Warren Buffett's annual letter for 2017 will need to wait till the last Saturday of February of next year.