6.2%-Yielding Realty Income Corp Stock Hikes Dividend for 122 Straight Months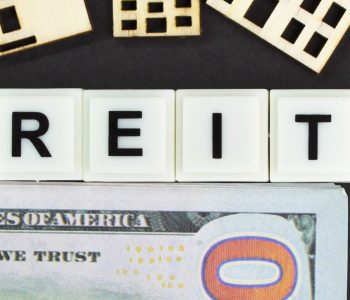 Why O Stock Is Worth Considering
Rising interest rates and signals from the Federal Reserve that the rates will remain high for a long time have taken the shine off real estate investment trusts (REITs). These companies tend to increase their property portfolios, and that means having to borrow money. The higher interest costs put pressure on REITs' profits.
This has led to a broad-based sell-off of REIT stocks. For instance, shares of Charles Schwab US REIT ETF (NYSEARCA:SCHH), the largest REIT exchange-traded fund (ETF), are down by 10% over the last month and 12% over the last three months (as of this writing).
Many well-run, financially robust REITs have seen their share prices take big hits. This includes Realty Income Corp (NYSE:O), the gold standard of REIT and dividend investing.
The REIT, which calls itself "The Monthly Dividend Company," is the largest triple-net REIT in the U.S. and the fourth-largest REIT in the world. It owns more than 13,100 properties that are under long-term net lease agreements. (Source: "Investor Presentation: August 2023," Realty Income Corp, last accessed October 4, 2023.)
The company's properties, which are currently 99% occupied, are leased to about 1,240 tenants in 84 industries. The breakdown of its real estate portfolio by industry is as follows:
Convenience stores: 11% of its contractual rent
Grocery stores: 9.9%
Dollar stores: 7.1%
Home improvement: 5.9%
Drug stores: 5.8%
Quick-service restaurants: 5.5%
Casual dining restaurants: 4.8%
Health and fitness: 4.2%
Automotive service: 4.0%
General merchandise: 3.7%
Realty Income Corp's top clients (by percentage of contractual rent) include Dollar General Corp (NYSE:DG), Walgreens Boots Alliance Inc (NASDAQ:WBA), Dollar Tree Inc (NASDAQ:DLTR), 7-Eleven, EG Group, Wynn Resorts, Limited (NASDAQ:WYNN), and FedEx Corp (NYSE:FDX).
The company says that, thanks to its diverse tenant base, 91% of its total rent is "resilient to economic downturns and/or isolated from e-commerce pressures." (Source: Ibid.)
Recent Acquisitions
To maintain its status as one of the largest REITs globally, Realty Income Corp continually expands and diversifies its property portfolio.
In February, Realty Income announced that it had signed a "strategic real estate alliance" agreement with Plenty Unlimited Inc. Realty Income will acquire land and provide development funding for indoor farming facilities that it will lease to Plenty. Realty Income said the deal provides for up to $1.0 billion of development opportunities. (Source: "Realty Income and Plenty Announce Strategic Alliance for up to $1 Billion of Vertical Farm Development," Realty Income Corp, February 21, 2023.)
The first property to be developed as part of that agreement will be Plenty Unlimited's indoor vertical farm campus near Richmond, Virginia. Plenty expects the multi-farm property to deliver more than 20 million pounds of produce annually. Plenty Unlimited, which supplies leading grocery retailers on the West Coast, also plans to expand its footprint in California.
In March, Realty Income signed a definitive agreement to purchase up to 415 single-tenant convenience store properties in the U.S. from EG Group, a leading U.K.-based independent convenience store firm. Realty Income expects to acquire these properties at a cap rate of about 6.9% and to initially have a weighted average lease term of 20 years. (Source: "Realty Income Announces $1.5 Billion Sale-Leaseback of Convenience Store Properties from EG Group," Realty Income Corp, March 6, 2023.)
In August, the company announced that it had signed a definitive agreement to pay $950.0 million to acquire common and preferred equity interests from Blackstone Real Estate Income Trust, Inc. in a new joint venture that has a 95% interest in the real estate assets of Bellagio Las Vegas. (Source: "Realty Income Announces $950 Million Investment in Bellagio Las Vegas at $5.1 Billion Valuation," Realty Income Corp, August 25, 2023.)
After this deal is closed, Realty Income will invest about $300.0 million worth of common equity in the joint venture to acquire a 21.9% indirect interest in the property. Blackstone Real Estate Income Trust will have a 73.1% indirect interest in the property and MGM Resorts International (NYSE:MGM) will have a 5.0% interest. Realty Income Corp will also pay $650.0 million for a yield-bearing preferred equity interest in the joint venture.
This isn't the REIT's first foray into the world of gaming. In February 2022, it signed a definitive agreement to acquire the Encore Boston Harbor Resort and Casino property for $1.7 billion in a long-term net lease agreement with Wynn Resorts. (Source: "Realty Income Announces $1.7 Billion Sale-Leaseback of Encore Boston Harbor Through Partnership With Wynn Resorts," Realty Income Corp, February 15, 2022.)
Management Increased Acquisition Guidance to $7 Billion+
For the second quarter ended June 30, Realty Income reported net income of $195.4 million, or $0.29 per share. Its normalized funds from operations (FFO) in the quarter were $688.3 million, or $1.02 per share. Its adjusted FFO (AFFO) came in at $671.7 million, or $1.00 per share. (Source: "Realty Income Announces Operating Results for the Three and Six Months Ended June 30, 2023," Realty Income Corp, August 2, 2023.)
During the quarter, the company invested $3.1 billion in 710 properties, including properties under development or expansion, with a weighted average cash lease yield of 6.9%. It also raised $2.2 billion by selling common stock (mainly through at-the-market transactions) with a weighted average price of $61.89 per share. It also completed a sale-leaseback transaction with EG Group.
Commenting on the results, Sumit Roy, Realty Income Corp's CEO, said, "Our investment efforts are supported by our well-capitalized balance sheet which was further bolstered through a successful debut Euro bond offering in July." (Source: Ibid.)
He continued, "In addition, we currently expect over $650 million of net proceeds from unsettled forward sales of our common stock to support our near-term growth initiatives. Given our current liquidity position and healthy investment pipeline, we are increasing our acquisitions guidance to over $7 billion."
122nd Monthly Dividend Increase
What sets Realty Income Corp apart from its peers is its ability to pay dividends monthly and raise them for years on end. Since 1994, its dividends have expanded at a compound annual growth rate (CAGR) of 4.4%.
Moreover, the REIT is part of the S&P 500 Dividend Aristocrats index. That classification is reserved for companies that have increased their dividends for at least 25 consecutive years. Realty Income has increased its dividends for 30 years.
In August, the company increased its monthly dividend from $0.2555 to $0.256 per share. This represents Realty Income Corp stock's 639th consecutive monthly dividend and its 122nd dividend increase since it went public on the New York Stock Exchange (NYSE) in 1994. (Source: "122nd Common Stock Monthly Dividend Increase Declared by Realty Income," Realty Income Corp, September 12, 2023.)
The new dividend translates to a yield of 6.15%. That's almost double the current U.S. inflation rate and almost quadruple the S&P 500 average dividend yield of 1.66%.
Beaten-Down Realty Income Corp Stock Has 50% Upside
While investors have been able to rely on O stock's growing monthly dividends for 30 years, its share price hasn't followed the same trajectory.
As of this writing, Realty Income Corp stock is down by 12% over the last month, 19.5% year-to-date, and 14.2% year-over-year. Those aren't the most compelling numbers, but this has more to do with rising interest rates and investor sentiment than anything going on at the company.
O stock's outlook looks much better, though, with Wall Street analysts providing a 12-month share-price target in the range of $68.00 to $74.00. This points to gains in the range of 38% to 50%.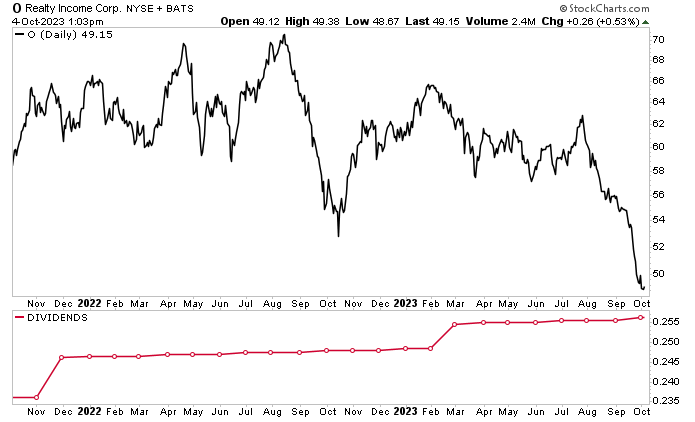 Chart courtesy of StockCharts.com
The Lowdown on Realty Income Corp
When it comes to reliable, growing dividends, it's tough to beat Realty Income Corp. As mentioned earlier, the REIT is a member of the S&P 500 Dividend Aristocrats index, which means it has raised its dividends for at least the past 25 years.
To date, the company has declared 639 consecutive monthly dividends and has increased its dividend 122 times since going public in 1994. Over that time frame, Realty Income Corp stock's dividend has expanded at a CAGR of 4.4%.
There's more to O stock than its dividends, though. More broadly, it has a proven track record of providing significant returns to shareholders, including a 14.2% compound annual return since its 1994 NYSE listing. Realty Income Corp also has a track record of generating stable and growing earnings. It has reported earnings-per-share growth in 26 out of 27 years and median AFFO-per-share growth of five percent since 1996.