5.2%-Yielding MDC Stock Benefiting From Hot Housing Market & Rising Interest Rates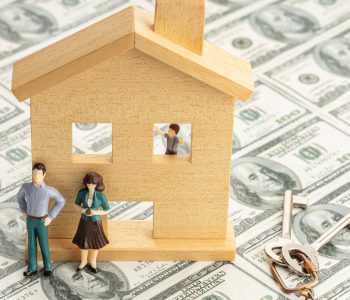 Why Undervalued MDC Holdings Stock Is Compelling 
MDC Holdings Inc (NYSE:MDC) is a high-yield dividend stock that has been benefiting from the hot U.S. housing market and rising interest rates. The company has been reporting wonderful financial results and providing robust guidance. Moreover, Wall Street analysts think MDC stock could almost double from its current level over the next 12 months.
MDC Holdings Inc is one of the leading homebuilders in the U.S. Since its founding in 1972, the company has helped more than 220,000 buyers move into new homes across the country. (Source: "May 2022 Investor Presentation," MDC Holdings Inc, last accessed June 3, 2022.)
Whereas some homebuilders target high-end buyers, MDC Holdings specializes in single-family detached homes for first-time home buyers and those looking to move up in affordable markets.
MDC Holdings Inc currently has a two to three-year land supply and manages its building projects to reduce exposure to industry cycles. The company's total lot count at the end of the first quarter of 2022 was up by 18% year-over-year at 37,812.
The company's exposure to affordable markets continues to experience solid, sustained growth. Since 2017, MDC Holdings Inc's closings increased by 98% in Arizona and 132% in Florida. On top of that, its entrance into new markets over the past year (Albuquerque, Austin, Boise, and Nashville) have increased MDC Holdings' footprint in more affordable markets.
MDC Holdings Inc's subsidiaries have homebuilding operations in the metropolitan areas of Baltimore, the Bay Area, Denver, Colorado Springs, Salt Lake City, Las Vegas, Los Angeles, Orange County, Portland, Riverside-San Bernardino, Sacramento, San Diego, San Francisco, Seattle, and Washington D.C.
In addition to building pre-designed homes and communities, a key differentiator in MDC Holdings Inc's business model is its build-to-order strategy. Not only does the company allow customers to have a hand in designing their own homes, MDC Holdings' higher-margin in-house merchandising (lights, cabinets, kitchens, etc.) helps drive revenue.
The company's "Home Gallery" design studios bring in seven percent of its home sales revenue, with structural options bringing in another seven percent.
MDC Holdings Inc also originates loans through HomeAmerican Mortgage Corporation, provides title agency services through American Home Title and Escrow Company, and provides third-party insurance to homeowners through American Home Insurance Agency, Inc.
MDC Holdings Inc Kicked Off 2022 With Strong Earnings & Revenue Report
Targeting buyers of smaller, more attainable single-family homes in affordable markets has provided MDC Holdings Inc with exceptional revenue and earnings growth over the last decade.
In 2021, the company closed on 9,982 homes and generated record home sales of $5.1 billion, which helped drive impressive bottom-line growth, including pretax income of $751.7 million and record net income of $573.7 million, or $7.83 per diluted share. (Source: "M.D.C. Holdings Announces 2021 Fourth Quarter and Full Year Results," MDC Holdings Inc, February 1, 2022.)
That momentum has carried on in 2022. For the first quarter ended March 31, M.D.C Holdings announced that its home sales revenue advanced 19% year-over-year to $1.2 billion. (Source: "M.D.C. Holdings Announces First Quarter 2022 Results," MDC Holdings Inc, April 28, 2022.)
The company's average number of unit deliveries in the first quarter of 2022 went up by three percent to 2,233, and its average selling price climbed by 16% year-over-year to $556,000. Its first-quarter net income rallied by 34% year-over-year to $148.4 million, or $2.02 per share.
MDC Holdings Inc's dollar-value backlog at the end of the first quarter went up by 26% year-over-year to $5.0 billion. Its unit backlog increased by 11% year-over-year to 8,558, while the average selling price of homes in its backlog went up by 13% year-over-year.
The company ended the first quarter with total cash, equivalents, and restricted cash of $588.3 million.
"MDC delivered strong results in the first quarter of 2022 both in terms of profitability and order activity," said Larry Mizel, the company's executive chairman. "With a strong balance sheet, a seasoned management team and a sizable quarter-end backlog, MDC is in a great position to deliver on its goals for the year." (Source: Ibid.)
For the second quarter of 2022, MDC Holdings Inc expects to report:
The delivery of 2,400 to 2,600 homes
An average home sale price between $560,000 and $570,000
A gross margin from home sales of more than 26.0%
In fiscal 2022, the company expects to deliver 10,500 to 11,000 homes, for year-over-year midpoint growth of seven percent.
MDC Stock's Industry-Leading Dividend Increased 25% in April
In addition to boasting the homebuilder industry's leading dividend yield, MDC Holdings stock has provided cash dividends since 1994.
MDC Holdings Inc has raised its dividend for the last five consecutive years. In April, the company declared a quarterly dividend of $0.50 per share, for a yield of 5.2%. This represents a 25% increase over the $0.40 per share in the same prior-year period. (Source: "Dividend History," MDC Holdings Inc, last accessed June 3, 2022.)
MDC stock's dividend yield trounces that of its competition, with a peer average of just 0.8%. There's plenty of room for the company to continue increasing its dividend, too, since the payout ratio is just 21.6%.
Despite the company's healthy financial results, massive backlog, strong guidance, and industry tailwinds, MDC Holdings stock has been taking a bit of a beating. As of this writing, MDC stock is:
Up by 3.5% over the last month
Down by 13.5% over the last three months
Down by 20.0% over the last six months
Down by 30.7% year-to-date
Down by 31.5% year-over-year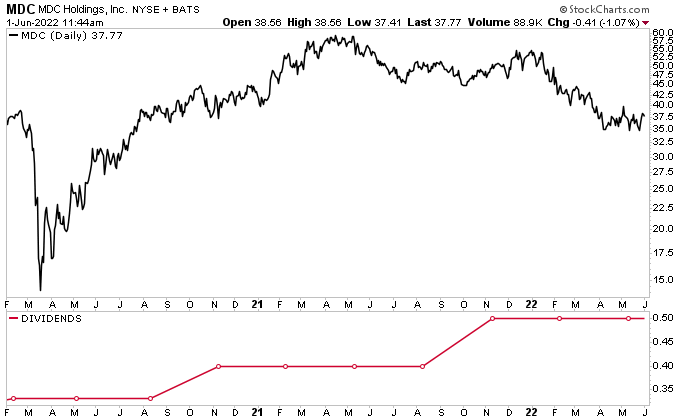 Chart courtesy of StockCharts.com
MDC Holdings stock's outlook is solid, with analysts providing a 12-month price target range of $55.25 to $70.00, which points to potential gains of 46% to 85%.
The Lowdown on MDC Holdings Inc
MDC Holdings Inc has a rock-solid balance sheet and has been seeing high demand in all of its homebuilding divisions. The combination of favorable demographics, strong local economies, huge backlog, and historically low inventory levels in the housing markets it serves has created a great operating environment for the company and puts it in a fabulous position to meet its 2022 goals.
Therefore, MDC stock is an excellent high-yield dividend stock that investors should watch.