5.2%-Yielding Alico Stock Up 25% From February Lows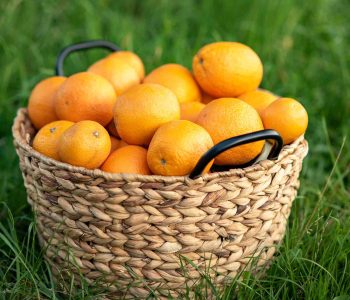 Why Alico, Inc. Is Bullish Right Now
An apple a day might keep the doctor away, but oranges have even more vitamins and minerals. The juicy tropical fruit also keeps Alico, Inc. (NASDAQ:ALCO) shareholders in the green. ALCO stock is an excellent, under-the-radar defensive stock with a fabulous outlook.
There's a growing consensus that the U.S. will soon face a recession. This has led many investors to focus on defensive stocks. Since the beginning of March, the Invesco Defensive Equity ETF (NYSE:DEF) has rallied by almost six percent. (Source: "Posthaste: Deutsche Bank Was the First to Call a Recession — but It Won't Be the Last," Financial Post, April 11, 2022.)
Why should investors play defense at this point?
In the U.S., there are concerns that rapid, oversized interest rate hikes will hit the economy so hard it will end the two-year recovery. Moreover, since Russia invaded Ukraine, commodity and energy prices have spiked in Europe, which could wreak havoc on the continent's economy. The U.S. might be the world's biggest national economy, but Europe is the biggest economic region.
Admittedly, there are technically no true recession-proof stocks—all stocks face some periods of volatility—but there are defensive stocks that do well during economic downturns and provide reliable, growing dividends.
One of them is Alico, Inc., one of the largest citrus producers in the U.S.
The Fort Myers, FL-based agribusiness and land management company has a strong balance sheet, reports robust earnings growth, sells portions of its non-core ranchlands, and acquires new citrus acres.
Alico has approximately 49,000 gross citrus acres in Florida. In its fiscal 2021, which ended September 31, 2021, the company produced about 6.4 million boxes of oranges. (Source: "Investor Presentation: March 2022," Alico, Inc., last accessed April 13, 2022.)
That number is expected to increase. The company planted roughly 1.5 million trees from the beginning of fiscal 2018 through the end of fiscal 2021. The trees planted in 2018 are expected to start producing a meaningful amount of fruit for the 2023 fiscal harvest.
Alico, Inc.'s citrus inventory levels and pricing are expected to remain solid over the coming quarters. The international demand for not-from-concentrate (NFC) orange juice during the COVID-19 pandemic, which started in March 2020, has been high.
Moreover, for the second consecutive year, Brazil's orange crop is forecast to be less than the 10-year historical average. With the demand for NFC orange juice high and the processor inventories for juice at lower-than-normal levels, the market price of oranges is expected to stay near or above seasonal levels for the upcoming harvest.
That doesn't mean it's clear sailing for Alico, Inc. Many of its orange groves in Florida were hurt by the late-January 2022 freeze.
The company, however, took proactive measures to minimize the impact of the weather. Nearly all of the company's early and mid-season fruit, which comprises roughly 40% of its annual box production, had already been harvested and wasn't materially impacted by the freeze. (Source: "Alico, Inc. Announces Update on Harvest Season, Ranchland Sales, Other Business Activities and Financial Guidance," Alico, Inc., March 31, 2022.)
Furthermore, although the company's Valencia orange harvest will be smaller this season (by 11%) as a result of the freeze, the weather didn't inflict any long-term, measurable damage to Alico's trees.
The company's decrease in production will be partially offset by the increase in citrus prices, which are up for the second consecutive year.
And there's more to Alico, Inc. than oranges; the company also owns a 32,000-acre leasing business for cattle grazing, hunting, and other harvesting. The company also holds 90,000 acres of oil, gas, and mineral rights in Florida.
Since the beginning of 2018, Alico has sold off approximately 48,000 acres of ranchland and has used those proceeds to acquire about 3,600 acres of citrus groves, retire approximately $61.3 million of long-term debt, execute a $25.6-million tender offer, and pay about $17.2 million in common dividends.
Alico, Inc. Reports Strong Financial Results & Updates Guidance
For the first quarter of fiscal 2022 ended December 31, 2021, Alico reported net income of $10.1 million, or $1.34 per share. That was up significantly from its first-quarter 2021 net income of $3.8 million, or $0.51 per share.
Alico, Inc. reported first-quarter 2022 earnings before interest, taxes, depreciation, and amortization (EBITDA) of $11.6 million, compared to $10.1 million in the same prior-year period. Its adjusted EBITDA in the first quarter of fiscal 2022 were $2.4 million, versus $2.7 million in the same quarter of the previous year.
The company reported a first-quarter 2022 adjusted loss of $0.24 per share, compared to an adjusted loss of $0.23 per share in the first quarter of 2021.
Alico, Inc. noted that these financial results reflect the seasonal nature of the company's business. The majority of its citrus crop is harvested in the second and third quarters of its fiscal year. As a result, most of the company's gross profits and cash flow are generated in its second and third fiscal quarters. Meanwhile, its working capital requirements are greater in its first and fourth quarters.
Due to Alico, Inc.'s significantly lower production in the first quarter of fiscal 2022, exacerbated by the January freeze, the company was forced to update its financial guidance for the fiscal year. In light of the company's latest sale of ranchland for $28.3 million—and other pending ranchland sales—Alico has updated its EBITDA and net income guidance.
For fiscal 2022, Alico, Inc. expects its:
Net income to increase to between $35.6 and $38.9 million, up from its previous guidance of $6.0 to $7.9 million
Adjusted net income to decrease to a loss between $4.1 and $2.3 million, compared to its previous guidance of $5.3 to $7.1 million
EBITDA to increase to between $59.0 and $64.2 million, up from previous guidance of $26.9 to $30.1 million
Adjusted EBITDA to decrease to between $13.0 and $16.0 million, down from its previous guidance of $26.0 to $29.0 million
ALCO Stock's Dividend Poised to Climb Again in June?
Since the start of 2020, Alico, Inc. has raised its dividend three times. Last June, the company's board increased Alico stock's quarterly dividend from $0.18 to $0.50 per share. It has held the payout at $0.50 since then, which translates to a current yield of 5.3%.
With a payout ratio of just 30.7%, ALCO stock's dividend is sound. There's every reason to believe Alico will raise its payout again in 2022.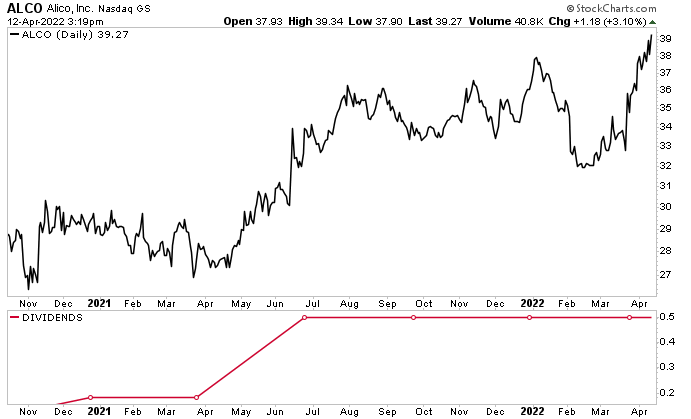 Chart courtesy of StockCharts.com
This dividend stock has been significantly climbing in price. As of this writing, Alico stock is up by:
15% over the last month
17% over the last six months
Six percent year-to-date
Eight percent year-over-year
Already trading at its highest levels since 2015, ALCO stock has a bullish outlook.
The Lowdown on Alico Stock
ALCO stock is a great stock for investors who are looking for growth and income. Alico, Inc. continues to report solid financial results and guidance.
In an environment of soaring inflation, rising interest rates, the war in Ukraine, and concerns about a recession, a defensive play that provides reliable, high-yield dividends—Alico stock—could help investors ride out near-term volatility.