5 Monthly Dividend Stocks Yielding Up to 12.2%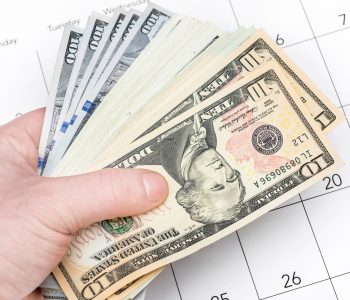 iStock.com/LIgorko
These Stocks Pay You Monthly
I love dividend stocks, but they've always had one big problem: you only get paid every three months.
That creates a headache for those of us who rely on our portfolio income to pay the bills. Sure, we can sync quarterly distributions to pay the bills, but it's not really convenient.
Bonds make it even harder. By convention, most fixed-income investments only pay you semi-annually. Aside from the hassle of just managing our cash flow, no one wants to wait that long just to get paid.
Thankfully, we have options. Over the past few years, a growing number of companies have started paying dividends monthly. In the traditional world of Wall Street, the shift presents a big change from the typical quarterly schedule.
And it's not hard to see why some businesses have switched. Companies gain a loyal shareholder base. Investors can better match their dividend income with expenses. You could call it a real win-win for everyone.
New investors won't find many widely held stocks in this group. You can, however, find enough high-quality businesses to build a reliable stream of monthly income.
Here are five top names to get you started.
| | | |
| --- | --- | --- |
| Company | Market Cap | Dividend Yield |
| Realty Income Corp | $15.7 Billion | 4.8% |
| Apple Hospitality REIT Inc | $4.1 Billion | 6.7% |
| Main Street Capital Corporation | $2.3 Billion | 5.8% |
| AGNC Investment Corp | $8.1 Billion | 11.3% |
| San Juan Basin Royalty Trust | $279.7 Million | 12.2% |
(Source: Yahoo! Finance, last accessed July 19, 2018.)
Let's say a few words about these stocks.
Real estate investment trusts (REITs) offer investors a chance to earn monthly rental income, minus the hassle of dealing with tenants. These firms own sprawling property empires and pass on the proceeds to investors. And because they receive payments monthly, most of them mail out checks to their unitholders in the same manner.
Realty Income Corp (NYSE:O) and Apple Hospitality REIT Inc (NYSE:APLE) are some of my favorite names in this group. Realty Income Corp's portfolio consists mostly of retail developments. Apple Hospitality has stuck mostly to hotels and vacation properties. But in both cases, commercial investments generate a lot more income than traditional rental apartments. For this reason, these two REITs pay out some of the highest yields around.
I have long admired the management team at Main Street Capital Corporation (NYSE:MAIN). The firm has structured itself as a business development company (BDC) that lends money to small, fast-growing businesses for interest and an equity stake. Main Street Capital stock pays out this interest income as dividends each month. It also pays out supplemental distributions twice a year. This variable dividend policy conserves cash during recessions and rewards shareholders during the good times.
AGNC Investment Corp (NASDAQ:AGNC) works like a "virtual bank." The partnership borrows money from depositors at low interest rates then invests the funds in higher-yielding mortgages. But unlike traditional banks, AGNC has no branches, no tellers, and no ATMs. Since all of its profits can flow directly to investors, the investment trust can fund an 11.4% dividend yield.
You can think of San Juan Basin Royalty Trust (NYSE:SJT) simply as a stake in a number of oil and gas wells. But rather than plowing its profits into new properties, the company passes them all on to investors. The trust has a lean operating structure that effectively works as a pass-through entity. That means shareholders get a direct share of the profits from energy production, but also get direct exposure to wild swings in commodity prices. Payouts vary from month to month based on output and market conditions. But with the rebound in the energy market, San Juan Basin Royalty stock could provide handsome rewards to investors.