Get 4 "Bonus Checks" From This 9.4% Yielder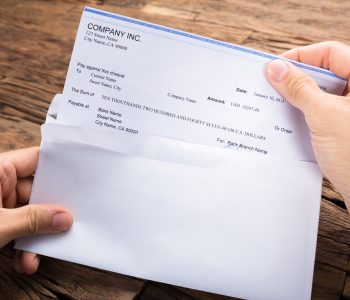 iStock.com/AndreyPopov
If You Want to Earn "Bonus Checks" From Stocks in 2019, Read This
What could be better than a safe dividend yield of 9.4%? Answer: a safe 9.4% yielder that grows its payout.
Is there anything that could be even better than that? How about a safe and growing 9.4% yielder that also dishes out "bonus checks?"
I'm talking about Ares Capital Corporation (NASDAQ:ARCC), a specialty finance company headquartered in New York City.
Ares Capital won't be a familiar name to most people because the company doesn't serve consumers directly. Instead, it focuses on providing one-stop financing solutions to middle-market businesses in the United States.
America is home to a lot of middle-market companies, but the segment is largely underserved due to tightening banking regulations. That's because traditional banks don't usually lend to these businesses anymore. As a result, middle-market companies often find themselves having to pay higher interest rates to get loans.
To middle-market lenders like Ares Capital Corporation, those higher interest rates have translated to oversized profits.
Here's the neat part: Ares Capital chooses to be regulated as a business development company (BDC) under the Investment Company Act of 1940. One major requirement for maintaining its BDC status is that the company must return at least 90% of its profits to shareholders through dividends. In exchange, the BDC can avoid paying corporate income tax on its distributed income.
Thanks to a profitable lending business and the mandatory distribution requirement, BDCs can offer some of the biggest yields in today's market.
Ares Capital Corporation Offers a Generous Dividend Yield
How big is that yield?
Well, in the case of Ares Capital Corporation, management recently declared a quarterly dividend rate of $0.40 per share. With ARCC stock trading around $17.00 apiece, that gives the company an annual yield of 9.4%.
And like I said, this 9.4% yielder is also a dividend grower. The newly declared quarterly dividend of $0.40 per share represented a 2.6% increase from the company's previous payment. (Source: "Dividends," Ares Capital Corporation, last accessed February 13, 2019.)
Moreover, this also marked ARCC's second quarterly dividend increase in the past three quarters.
Of course, with a yield that's multiple times bigger than what most companies pay, you may be wondering whether the payout is safe. So let's take a look at ARCC's financials.
Is the Dividend Safe?
In the fourth quarter of 2018, Ares Capital Corporation generated core earnings of $0.45 per share while declaring and paying a quarterly dividend of $0.39 per share. So the company outearned its dividend for the quarter. (Source: "Ares Capital Corporation Announces December 31, 2018 Financial Results, Declares an Increased First Quarter 2019 Dividend of $0.40 Per Share and Additional Dividends Totaling $0.08 Per Share for 2019," Ares Capital Corporation, February 12, 2019.)
In full-year 2018, the company's core earnings totaled $1.68 per share. It declared and paid total dividends of $1.54 per share during this period. So again, Ares made more money than what was needed to meet its dividend obligations.
Business has been going quite well at this BDC. As of December 31, 2018, Ares Capital Corporation had investments in 344 portfolio companies with a fair value of $12.4 billion. Approximately 76% of those investments were in the form of first- or second-lien senior secured loans, providing the company with a steady income stream. (Source: "Fourth Quarter 2018 Earnings Presentation," Ares Capital Corporation, last accessed February 13, 2018.)
At year-end 2018, the weighted average yield on ARCC's income producing securities at fair value was 10.3%. And only 0.6% of the loans at fair value had non-accrual status (meaning they weren't generating their stated interest rate due to nonpayment from the borrower).
Also, in full-year 2018, the company's net asset value improved by 2.8%, from $16.65 to $17.12 per share.
Collecting Four "Bonus Checks" in 2019
The best part is, I'm pretty sure that investors who purchase ARCC stock today will collect cash payouts that are even bigger than the current 9.4% yield suggests.
The reason is simple: on the same day of its fourth-quarter earnings release, the company's board of directors declared additional dividends of $0.08 per share, "to be distributed in quarterly payments of $0.02 per share during 2019." (Source: Ares Capital Corporation, op cit.)
Note that this is not included in the already-increased quarterly dividend rate of $0.40 per share; these are "bonus checks" on top of regular dividends.
In other words, shareholders can look forward to receiving four payments of $0.42 per share in full-year 2019. That would give ARCC stock an effective yield of 9.9% at the current share price. However, it shouldn't be confused with its 9.4% dividend yield because the four additional payments totaling $0.08 per share for the year are not regular recurring dividends.
For investors looking to earn oversized income from the stock market this year, Ares Capital Corporation deserves a serious look.