High-Yielding 3M Co Raises Dividend for 64th Consecutive Year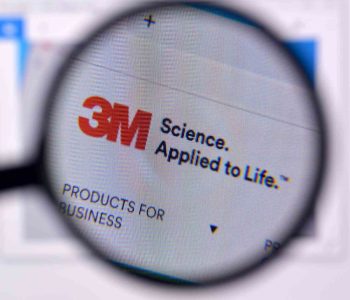 3M Stock Ideal for Long-Term Dividend Growth
For the most part, the stock market sell-off has been broad-based. Even so-called recession-proof stocks, such as consumer discretionary stocks, have been taking a beating. The big plunge has many bottom-feeders looking to get in on the bargains. But by all accounts, the stock market still has room to fall. (Source: "Big Stock Bears Say S&P 500 Bottom Still Another 700 Points Away," Bloomberg, May 3, 2022.)
A blue-chip stock that's being taken lower in price during a stock market sell-off is hardly a good thing, but growing, high-yield dividends can help investors stomach share-price volatility. See 3M Co (NYSE:MMM). With a market cap of $84.8 billion, the company is an industrial giant that manufactures and markets a wide variety of products and services. Moreover, 3M pays reliable, growing dividends.
3M operates through four segments: Safety & Industrial, Transportation & Electronics, Health Care, and Consumer. (Source: "Investor Overview," 3M Co, last accessed May 25, 2022.)
The Safety & Industrial segment's offerings include personal safety, body shop, grid modernization, robotics, and automation products
The Transportation & Electronics segment's offerings include automotive/mobility, electronic material, semiconductor, and architectural film products
The Health Care segment's products and services include wound care, health-care IT, and biopharma filtration equipment
The Consumer segment's offerings include home improvement, consumer safety, package protection, shipping, and auto care products
The company has more than 60,000 products in its portfolio. Three of its most popular consumer brands are "Ace," "Post-it," and "Scotch." While picture-hanging products, tape, sanders, and sticky notes might not seem all that scintillating, 3M Co makes products that people need—and those products generate a lot of money.
MMM Stock Returned $1.6 Billion to Shareholders in Q1
In the first quarter of 2022, 3M's sales were pretty much flat, at $8.8 billion. The company's earnings went down to $2.26 per share, while its adjusted earnings came in at $2.65 per share. (Source: "3M Reports First-Quarter 2022 Results," 3M Co, April 26, 2022.)
3M reported operating cash flow of $1.0 billion and adjusted free cash flow of $700.0 million for the first quarter of 2022. It also returned $1.6 billion to investors through dividends and share repurchases, which was a 49% increase over the first quarter of 2021.
Despite the brutal macroeconomic and geopolitical environment, the outlook for 3M Co is solid. The company expects its full-year earnings to be in the range of $9.89 to $10.39 per share, compared to $10.12 in 2021. On an adjusted basis, the company projects that its earnings will be in the range of $10.75 to $11.25 per share in full-year 2022. At the midpoint, that represents an 8.6% gain over the $10.12 per share reported in 2021.
And therein lies the beauty of a company like 3M Co. The company might not report record financial results every quarter (or year), but its results are reliable. This allows the company to provide 3M stock investors with exceptional share-price gains and dividend growth.
Of particular note is 3M Co's dividend policy. It has paid dividends to its shareholders without interruption for more than 100 years, and has raised its dividend in each of the last 64 years.
Whether investors have been dealing with soaring inflation, a pandemic, a recession, a terrorist attack, war, or any number of Black Swan events, they've been able to rely on MMM stock to provide them with an annual raise. In February, 3M's management declared a dividend of $1.49 per share, for a yield of 4.1%. This made 2022 the 64th consecutive year in which 3M had increased its dividend. (Source: "3M Increases Dividend for the 64th Consecutive Year," 3M Co, February 8, 2022.)
The company's payout ratio is just 61.7%, which suggests that 3M's track record of annually raising its dividend will continue.
Over the last three years, which included the COVID-19 pandemic, stock market crash, and soaring inflation, 3M has returned more than $14.0 billion to its shareholders through dividends and share buybacks. Over the last 40 years, with dividends reinvested, 3M stock has posted total returns of 4,351%. Over the same time frame, the S&P 500 has racked up gains of just 3,757%.
Before the recent stock market sell-off, MMM stock posted total returns of more than 5,400%. This doesn't mean 3M stock won't face turbulence. It will, just like every other stock, but because of its wide moat and solid balance sheet, MMM stock usually rebounds faster than most.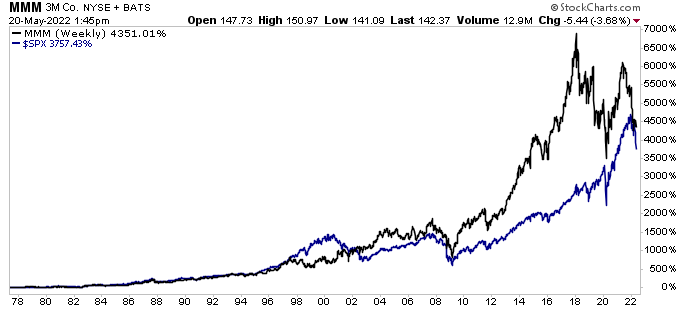 Chart courtesy of StockCharts.com
The Lowdown on 3M Co
3M Co is an industry juggernaut that has a storied history of providing investors with stock market gains and reliably growing, high-yield dividends. The company's products might not be as exciting as the metaverse or electric vehicles, but when it comes to making money, sometimes boring is beautiful.
Despite the challenging economic environment, the company had a strong start to 2022, delivering solid financial growth. This has allowed MMM stock to return significant cash to shareholders.