3 Top Dividend Stocks for November 2020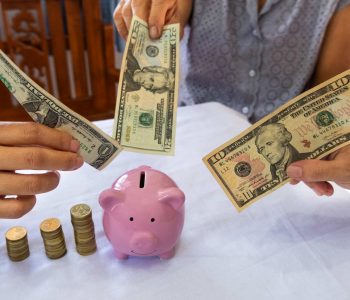 These Top Dividend Stocks Pay up to 7.8%
Investors face a lot of unknowns heading into November: the results of a hotly contested presidential election; a potential third wave of COVID-19; a looming wave of corporate and consumer bankruptcies.
But there's one thing you can still hang your hat on: top dividend stocks.
When you own top dividend stocks, you can almost always be certain you'll get paid a chunk of cash each quarter, regardless of what happens in the economy. For me, watching those checks get deposited into my bank account makes it easier to stomach the stock market's inevitable ups and downs. 

And it gets better. A recent study published by Ned Davis Research found that top dividend stocks have actually outperformed the broader stock market over the past 50 years. And more impressively, those stocks accomplished that with less day-to-day volatility than their counterparts. (Source: "The Power of Dividends: Past, Present, and Future," The Hartford Funds, last accessed October 26, 2020.)
With that in mind, I put together a list of three top dividend stocks that should be on investors' radar screens in November. To be clear, the list below doesn't constitute "buy" recommendations, but it does represent a great starting point for further research.
Prologis Inc
With COVID-19 shutting down brick-and-mortar retail outlets, people have started doing more of their shopping online. This summer, the U.S. Department of Commerce reported that e-commerce sales spiked 29.6% year-over-year—the largest year-over-year percentage increase since the agency began keeping records. This has forced retailers to invest billions of dollars into beefing up the behind-the-scenes supply chains that make this business possible. As a result, analysts have reported booming demand for warehouse space. (Source: "US Nonstore Retail Sales Surge a Record 29.6% in June," Digital Commerce 360, July 16, 2020.)
This was great news for industrial landlord Prologis Inc (NYSE:PLD). Last quarter, the real estate investment trust reported blowout profits that crushed Wall Street estimates. In fact, record-low vacancies and soaring rents forced management to raise their full-year earnings forecast for 2020—an almost unheard-of move amid the COVID-19 pandemic. (Source: "Prologis Reports Second Quarter 2020 Earnings Results," Prologis Inc, July 21, 2020.)
Booming profits have also translated into lucrative returns for unitholders. Since 2014, Prologis has hiked its quarterly distribution at a 12% compounded annual clip. But given the rampant demand for warehouse space, investors can expect that growth rate to accelerate in the coming years.
McDonald's Corp
McDonald's Corp (NYSE:MCD) has soldiered through the pandemic better than most restaurants. Because 95% of its U.S. locations have drive-through windows, the company has been able to keep most of its locations open during the pandemic. A slew of savvy marketing moves, including faster service, new product launches, and a partnership with rap star Travis Scott, have also padded sales.
You can see the impact of these efforts in McDonald' Corp's most recent financial results.
In October, the burger giant reported that its third-quarter same-store sales jumped five percent year-over-year. (Source: "McDonald's Reports Third Quarter 2020 Comparable Sales, Raises Quarterly Cash Dividend And Announces November Investor Update," McDonald's Corp, October 8, 2020.)
These kinds of numbers would have impressed analysts during normal times. But amid the current COVID-19 depression, they blew Wall Street's expectations out of the water.
However, it will take time before those higher profits translate into much in the way of dividend growth.
Also in October, McDonald's executives hiked the company's quarterly dividend by only three percent—one of the chain's smallest dividend bumps in history. But given the current uncertainty surrounding COVID-19, it makes sense for management to slow the pace of distribution increases and keep more cash on hand.
But given McDonald's robust financial results, I don't expect that management will stiff shareholders for much longer. As the economy begins to reopen and we have more certainty about the future, don't be surprised to see this top dividend stock start sending out bigger checks to investors.
AT&T Inc.
AT&T Inc. (NYSE:T) pays out one of the highest dividend yields around (7.8%). Investors aren't fond of the stock because everyone knows the company's future earnings growth will be lackluster at best. The COVID-19 pandemic has crushed AT&T's advertising and media revenues. And the telecom giant has struggled under the weight of a high debt load.
Yet even in a recession, people want to stay connected—doubly so in a pandemic, when it's difficult to meet face to face. AT&T's wireless and Internet divisions continue to post respectable results, as evident in the company's most recent quarterly results. This should allow the business to remain profitable until conditions return to normal.
In the meantime, AT&T still generates more than enough money to fund its distribution. For full-year 2020, management projects that free cash flow will top $26.0 billion. That should keep the company's payout ratio in the 50% range. (Source: "AT&T Pinched by Cord-Cutting and Closed Theaters," The Wall Street Journal, October 22, 2020.)