3 Top Dividend Stocks Poised to Hike Their Payouts in October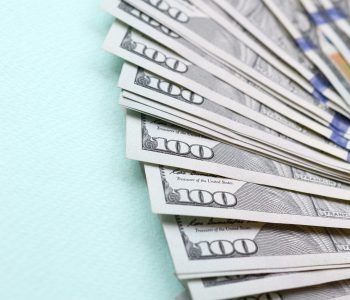 @Mehaniq via Twenty20
These Top Dividend Stocks Will Likely Increase Their Payouts to Shareholders
If I'd told you in January that the world would be on the verge of an economic depression, the stock market would trade at all-time highs, and the government would have a ban on hugging, then you have probably checked me into a psychiatric ward.
Look, if COVID-19 has taught us anything, it's that it's basically impossible to predict the future. Even if you predict what's coming, there's no guarantee you'll know how the market will react. And anyone who tells you they have a crystal ball that looks into the future is totally full of it.
But there's one aspect of investing that you can hang your hat on: dividends.
Dividends are the Swiss trains of finance: they almost always roll in on schedule, regardless of what's going on in the rest of the world. For me at least, they make it easier to hold on when the market is in turmoil. Because, even if share prices are plunging, I know the checks will predictably show up in my brokerage account.
In fact, some top dividend stocks are even more predictable. Not only can you reliably anticipate when they'll pay a dividend, but also when the company will likely raise it.
So with that theme in mind, I've highlighted three top dividend stocks that will almost certainly boost their payouts in October. Of course, the list below doesn't represent a series of buy recommendations. But it does, however, represent a great starting point for further research.
Visa Inc
When it comes to dividend payouts, good things sometimes come in small packages.
Consider Visa Inc (NYSE:V).
Over the past decade, the yield on this top dividend stock has averaged just one or two percent—not enough to get the attention of most income investors. Yet Visa's payout and stock price have both soared over the past decade, producing a jaw-dropping total return—assuming you reinvested all distributions—of 1,073% for the 10 years ended September 31.
Investors have good reason to expect those returns to continue.
While the COVID-19 recession has temporarily clipped profits, Visa looks poised to cash in on the slow elimination of cash payments. That explains why some of the smartest investors in the world, including Warren Buffett, Ken Griffin, and D.E. Shaw, have purchased large stakes in this business. (Source: "Visa Inc. (V) – Hedge Fund Holdings," Insider Monkey, last sccessed October 1, 2020.)
This should translate into growing profits (and dividends) for shareholders. Don't be surprised to see Visa boost its payout again later this month.
Merck & Co., Inc.
Long-time readers know I'm a big fan of investing in big, secular trends. And in the world of finance, you won't find many trends bigger than health care.
Each day, 10,000 Baby Boomers turn 65. And as the population ages, they will need more in the way of medical care, from drugs and doctor visits to treatments and surgeries.
Great news for Merck & Co., Inc. (NYSE:MRK).
The pharmaceutical giant owns a sprawling drug portfolio, which generates over $46.0 billion in annual revenue. Management has also invested billions into treatments for neurodegenerative diseases like Parkinson's, Alzheimer's, and amyotrophic lateral sclerosis (ALS), which could represent a huge new market for the company.
All of this means a growing income stream for shareholders.
Management has boosted the payout to shareholders every year since 2011. And given that executives recently boosted their earnings guidance for the upcoming year, I wouldn't be shocked to see this top dividend stock hike the distribution once again. (Source: "Merck & Co. (MRK) Q2 2020 Earnings Call Transcript," The Motley Fool, August 1, 2020.)
Verizon Communications Inc.
Verizon Communications Inc. (NYSE:VZ) represents the ultimate recession-proof business. Even in a downturn, people still tend to pay their cell phone and internet bills. Given these products represent virtually essential services in the modern age, investors can always count on Verizon to generate steady cash flow.
And that's exactly how things have played out through the current COVID-19 recession.
For the second quarter, the telecom giant posted net income of $4.7 billion, or $1.13 a share. That was actually up from $3.9 billion. or $0.95 a share, during the same period in 2019. Management also expects earnings for full-year 2020 to stay relatively stable from last year. (Source: "Verizon reports 'clean' earnings but analysts see uncertainty ahead," MarketWatch.com, July 24, 2020.)
This bodes well for income investors. Verizon stock already pays an above-average yield—4.2% at the time of this writing. But don't be surprised to see this top dividend stock boost that payout even further later this month.