3 Things Intel Corp. (INTC) Stock Investors Need to Know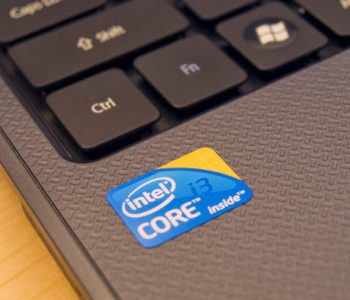 Intel Corporation (NASDAQ:INTC) stock is not the most exciting tech stock, but it does offer a decent return for income investors. With a quarterly dividend rate of $0.26 per share, Intel stock has an annual dividend yield of 2.77%.
But before you take out your wallet, here are three things you need to know about Intel stock.
PC Business is Declining
Intel is the investor of the "x86" series of microprocessors used in personal computers. The company supplies processors for many computer system manufacturers, including Apple Inc. (NASDAQ:AAPL), Lenovo Group Limited, HP Inc (NYSE:HPQ), and Dell Technologies Inc (NYSE:DVMT).
Today, Intel is the worldwide leader in the central processing unit (CPU) market. In 2015, Intel's share in the x86 processor market was a whopping 87.7%. The closest competitor, Advanced Micro Devices, Inc. (NASDAQ:AMD), held a meager 12.1% market share. (Source: "How AMD is resurrecting itself as a formidable rival to Intel," PC World, April 22, 2016.)
However, being deeply involved in the PC business might not be a good thing these days. The PC industry had its boom, and Intel grew tremendously over that period. Now, the industry is slowing down. According to research company Gartner Inc (NYSE:IT), worldwide PC shipments totaled 64.3 million units in the second quarter of 2016, representing a 5.2% decline from the year-ago period. (Source: "Gartner Says Worldwide PC Shipments Declined 5.2 Percent in Second Quarter of 2016," Gartner Inc, July 11, 2016.)
The trend in the PC industry has been reflected in Intel's financial results. In the second quarter of 2016, revenue from Intel's Client Computing Group declined three percent year-over-year to $7.3 billion. (Source: "Intel Reports Second-Quarter Revenue of $13.5 Billion," Intel Corporation, July 20, 2016.)
Data Center Business is Booming
Technology changes rapidly. Being able to adapt to new trends quickly is necessary for legacy tech companies to survive. Fortunately, Intel is doing just that.
While Intel's PC segment is not doing as well as it used to, the company has found a new market with huge potential in the form of cloud computing.
Speaking of the cloud computing industry, Amazon.com, Inc. (NASDAQ:AMZN) and Microsoft Corporation (NASDAQ:MSFT) are often the first ones to come to mind. Indeed, they are the biggest players in the cloud business. But note that in order for data centers to function, they need processors.
That's where Intel comes in. The company is not trying to enter the server processor market; it already dominates it. According to the International Data Corporation (IDC), Intel held a 99.2% unit share in the server-class microprocessor market in 2015. (Source: "Gradual Change in Server Microprocessor Market; IDC Expects Competition and Evolving Workloads to Change Supply Ecosystem in 2017," International Data Corporation, May 31, 2016.)
Despite its dominance, Intel's cloud business is still growing. In the second quarter, the company's Data Center Group revenue increased five percent year-over-year to $4.0 billion.
Internet of Things Is Just Getting Started
So, you have one segment declining and one segment booming. The two segments are big, but they don't make up the whole company. Going forward, Intel has another segment that could be huge: the Internet of Things Group.
The "Internet of Things" (IoT) is a broad concept. Still, however you define it, it involves devices communicating with each other. And for devices to be capable of doing that, they need to be able to process information. That is, they need processors.
Also Read:
Warren Buffett's Tech Stock Picks for 2017
Intel Stock Yield, Dates, Splits, Prediction, and Everything You Need to Know
The IoT is still in its early stages, but has the potential to be huge. Intel's IoT Group's revenue was $572.0 million for the second quarter, a small number compared to its PC business and data center business. But with the expected growth of the IoT industry over the upcoming decades, the segment could be a solid revenue driver for Intel.
The Bottom Line on Intel Stock
INTC stock investors are about to get another update on how these segments are doing for the legacy tech giant. Intel is scheduled to report third-quarter earnings after the closing bell on Tuesday, October 18th. If the growth in its Data Center Group and Internet of Things Group turn out to be solid, it could give investors more reason to be bullish on Intel stock.