3 Retirement Investments Yielding Up to 7%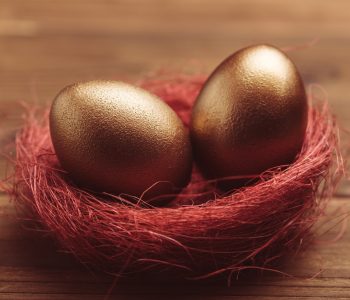 iStock.com/FabrikaCr
These Retirement Investments Provide Regular Income
Retirees, or those soon to leave the workforce, face a big challenge: replacing their paycheck with income from their retirement investments.
Social Security won't cut it. And few of us are fortunate enough to have a pension.
But the biggest headache facing retirees? Low interest rates. Central banks have driven yields to rock-bottom levels, which means traditional retirement investments like bonds don't generate much income.
One solution is dividend stocks. You can find hundreds of safe blue-chip companies that pay generous yields. Dividend hikes also deliver ongoing cost of living adjustments, providing the perfect hedge against inflation.
To help you get started, I've highlighted a few of my favorite dividend stocks. These companies all have strong business models, durable competitive advantages, and high dividend yields—in other words, the perfect retirement investments for regular investment income.
Enterprise Products Partners L.P.
If you want to make a lot of money of the next decade, then you need to pay attention to America's shale revolution. New technologies have unlocked vast quantities of oil and natural gas across the country. For investors on the front line of this trend, the bonanza has created a wave of new millionaires.
Pipeline companies represent the safest way for income hunters to cash in. I often describe these businesses as the "toll roads" of the oil patch, given that they earn steady fees on every barrel that flows through their network. Pipelines earn ongoing profits regardless of which oil driller hits it big on the next big strike. And thanks to booming production nationwide, owners of these valuable assets have seen their profits surge in recent years.
One of the best players in the group is Enterprise Products Partners L.P. (NYSE:EPD). Today, EPD stock pays an upfront yield of six percent, in addition to an impressive unit buyback program. That payout will likely grow in the years to come as management raises tariffs on existing pipelines and builds new routes.
Altria Group Inc
Regular readers of Income Investors know we love simple businesses. "Boring" products like coffee, chocolate, and fast food enjoy steady demand. And because the companies that make these staples don't have to constantly invest in research and development, they can pay out more money to shareholders.
Case in point: tobacco giant Altria Group Inc (NYSE:MO). Cigarettes cost pennies to make, you sell them for about a dollar, and they're addictive. That simple business model has resulted in jaw-dropping profits. Last year, the "Marlboro" maker's gross margins topped 60%, and over the past decade, Altria has generated an average of $0.49 in annual profit on every dollar of equity invested into the business.
That has created quite the income stream for shareholders. Management has boosted the dividend for 49 consecutive years, in addition to spending billions of dollars on shareholder buybacks. And today, MO stock pays an upfront yield of almost seven percent. Selling the basics might not be exciting, but it works.
Welltower Inc
You can make a lot of money investing in big, secular trends. And in the business world today, you won't find a bigger trend than America's aging population. Each day, 10,000 baby boomers turn 65. Over the next 30 years, the number of seniors living in the country will more than double. That will create an enormous income opportunity from companies catering to this demographic.
Senior housing owner Welltower Inc (NYSE:WELL) has positioned itself right in the middle of this boom. Thanks to the coming "gray tsunami," its properties throw off steady rental income. Moreover, Welltower has focused its investment dollars in dense, urban centers. That means its buildings face little in the way of competition from new developments.
The best part? Welltower Inc has structured itself as a real estate investment trust. That allows the partnership to avoid paying almost all corporate income taxes. But in exchange for this benefit, the firm must pay out most of its profits to unitholders. As a result, WELL stock pays an impressive upfront yield of 4.1%. Acquisitions, rent hikes, and lower vacancies should allow management to boost that distribution in the future.