3 Monthly Dividend Stocks to Watch in August 2017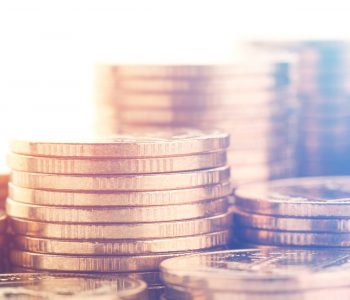 iStock.com/natrot
What Stocks to Watch in August 2017
The U.S. stock market has soared past its all-time high, which means that bargains are hard to find. The prices of the most well-known dividend stocks have already been bid up. However, that doesn't mean income investors cannot earn a decent return. Those who are willing to do the research will find several overlooked dividend-paying gems with solid yields, with some distributing on a monthly basis. In this article, we are going to take a look at the best monthly dividend stocks for August 2017.
Monthly Dividend Stocks for August 2017
Today, most dividend stocks pay dividends every quarter. While it's good to have some extra money coming in every three months, a quarterly payout schedule may not be frequent enough for investors who use their portfolio income to cover day-to-day expenses and pay monthly bills. The good news is, there has been an increasing number of companies that pay monthly dividends.
Where would you find these companies?
In my opinion, the best place to find stocks paying monthly dividends is the real estate sector. In particular, I'm looking at real estate investment trusts (REITs). These are companies that own income-producing real estate. Think about it; tenants have to pay rent every month, which allows real estate companies to generate a predictable stream of monthly rental income.
Moreover, REITs do not have to pay tax at the corporate level. But to qualify as a REIT, the company must distribute at least 90% of its annual income to investors in the form of dividends. That's why REITs are often considered the more generous dividend payers in the current market.
Another place to find high-yield monthly dividend stocks is business development companies, or BDCs. These are companies that invest in small and medium-sized businesses in the U.S. In particular, when a BDC focuses mostly on debt investments, it can generate a steady stream of interest income.
Note that BDCs are classified as regulated investment companies and face similar distribution requirements as real estate investment trusts. As a result, they often have handsome dividend yields as well.
Below, I have compiled a list of three monthly dividend stocks for August 2017 yielding up to 12.32%. But of course, for those that don't want to pick individual stocks, there are also monthly dividend ETFs to consider.
3 Monthly Dividend Stocks List for August
#1 Stag Industrial Inc
Stag Industrial Inc (NYSE:STAG) is a real estate investment trust based in Boston, Massachusetts. The company specializes in single-tenant industrial properties.
While industrial real estate is not really an exciting business, Stag Industrial offers investors a unique investment opportunity.
You see, a single-tenant property is either fully leased or completely vacant. In other words, it has binary risk. Investing in one single-tenant industrial property could result in high cash flow volatility. As a result, risk-averse investors are not willing to pay that much for these kinds of properties.
Stag Industrial, however, is large enough to aggregate the binary risk cash flows by owning a large and diversified portfolio of single-tenant industrial properties. Its portfolio consists of 342 buildings located across 37 states. They are leased to 296 tenants coming from different industries. And because small investors don't like the binary risk cash flow and the market is fragmented, Stag Industrial is able to purchase these properties at attractive prices.
By exploiting the pricing inefficiency in the single tenant industrial property market, the company is able to generate solid returns on its investments. In 2016, Stag Industrial acquired $472.0 million of industrial properties at a weighted average capitalization rate of 7.9%.
As a real estate investment trust, Stag Industrial is required to distribute most of its profits to investors through dividends. The company currently pays $0.1175 per share on monthly basis. At today's price, that translates to an annual dividend yield of 5.27%.
The payout has been growing, too. The chart below shows the stock's common dividends per share declared since 2011.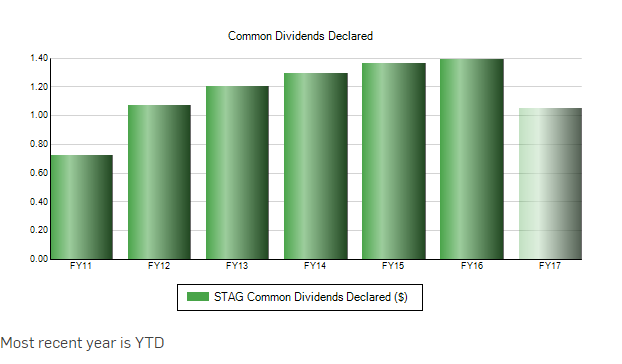 (Source: "Dividends," Stag Industrial Inc, last accessed August 9, 2017.)
The company has also grown its business to support the higher payout. In the second quarter of 2017, Stag Industrial generated $0.41 of core funds from operations (Core FFO) per share, representing a 7.9% improvement year-over-year. In the first half of this year, Core FFO per share also increased 7.9%. (Source: "Stag Industrial Announces Second Quarter 2017 Results," Stag Industrial Inc, August 1, 2017.)
Stag Industrial's most recent dividend hike was announced in May. While a higher payout is certainly good news, its shares have not climbed much since then. This could represent an opportunity for investors looking to lock in a handsome yield this month.
#2 Prospect Capital Corporation
Prospect Capital Corporation (NASDAQ:PSEC) is a business development company. It invests in middle-market companies, which usually have annual earnings before interest, tax, depreciation and amortization (EBITDA) of $5.0 million to $150.0 million.
The No. 1 reason to consider Prospect Capital is its double-digit dividend yield. Paying $0.08333 per share every month, the company has an annual dividend yield of 12.32%. To give you some perspective, the average yield of S&P 500 companies right now is just 1.91%.
Of course, high yield stocks can be risky. But this monthly dividend stock has been doing a good job at managing its risk.
For starters, most of the company's investments are in the form of first-lien and second-lien loans. As a matter of fact, 88% of Prospect Capital's investments are in the form of interest-bearing loans.
This business model allows Prospect Capital to generate a predictable stream of income. In 2016, 93.9% of the company's total investment income came from interest income on its loans.
Furthermore, Prospect Capital runs a well-diversified portfolio. By the end of March 2017, the company has investments spread across 125 companies coming from 36 separate industries. No single industry represents more than 9.6% of its portfolio's fair value. This level of diversification means that if one company enters a downturn, the impact on Prospect Capital's total income stream is limited.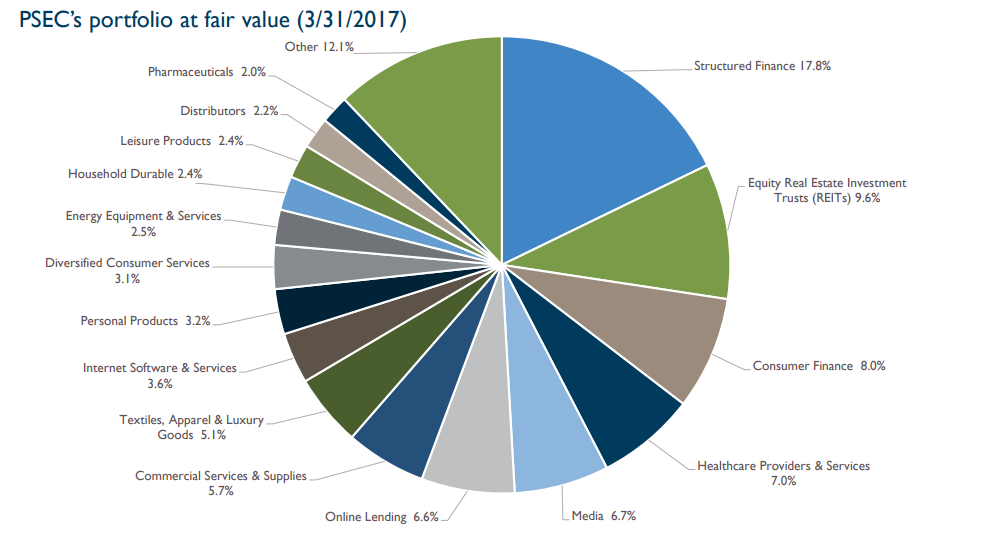 (Source: "Prospect Capital Corporation," Prospect Capital Corporation, last accessed August 9, 2017.)
The reason to consider this monthly dividend stock right now is the interest rate environment. For the most part of the last decade, interest rates have been kept artificially low by the U.S. Federal Reserve. Now, however, they are rising. And Prospect Capital could be one of the few high-yield stocks that can actually benefit from rising interest rates.
Consider this: 90.7% of the company's interest-bearing assets are floating rate. So if interest rates further increase, it would generate higher interest income. On the liability side, 99.9% of Prospect Capital's debt is fixed rate. So its own interest burden would not change much.
As a monthly dividend stock that stands to benefit from future Fed rate hikes, Prospect Capital deserves investor's attention today.
Also Read:
3 Dividend Increases to Expect in August 2017
5 Warren Buffett Dividend Stocks to Consider in August 2017
#3 Realty Income Corp
With a 4.42% yield, Realty Income Corp (NYSE:O) may not stand out compared to the double-digit yielders. But I still consider it to be one of the best monthly dividend stocks for 2017, and beyond.
In the monthly dividend stock universe, Realty Income has an unrivalled track record. The company was founded in 1969 and became public in 1994. Since its initial public offering, it has delivered total return of more than 2,500%, beating all three major stock indices in the U.S. as well as the Equity REIT Index.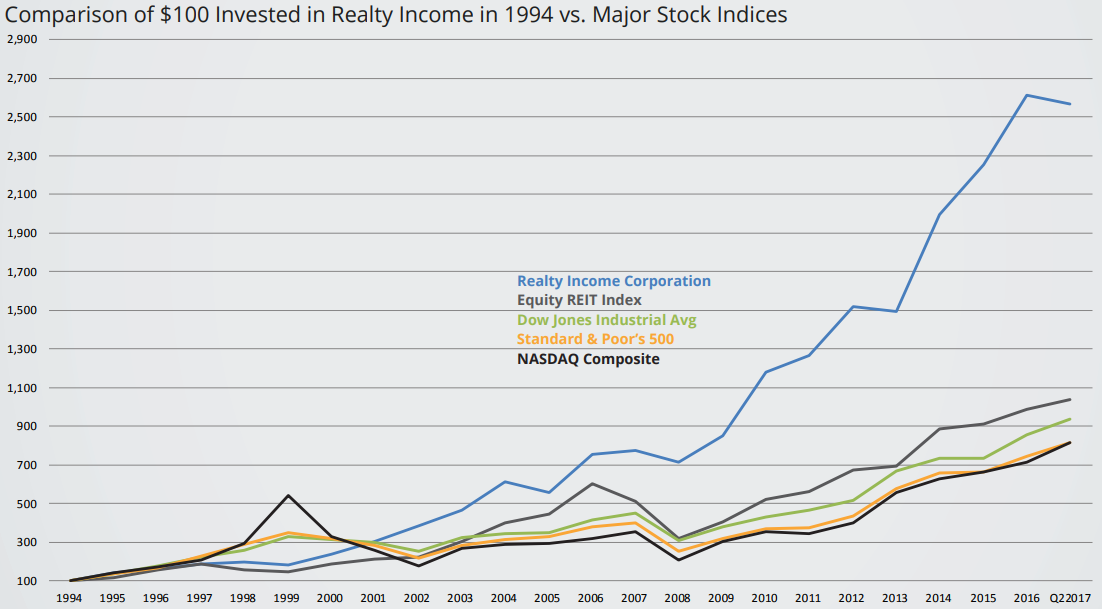 (Source: "Comparison of $100 Invested in Realty Income in 1994 vs. Major Stock Indices," Realty Income Corp, last accessed August 9, 2017.)
The company has been providing investors with a steadily increasing stream of dividends for decades. It has made 564 consecutive monthly dividend payments, and has raised its payout 92 times since its IPO. While most companies would be proud if they can raise their payout once a year, Realty Income is doing it every quarter. As a matter of fact, the company's last 79 dividend hikes were consecutive quarterly increases. (Source: "Track Record," Realty Income Corp, last accessed August 8, 2017.)
Let me guess: you are likely wondering how the company can afford to raise its payout so frequently. The simple answer is that Realty Income is running a rock-solid business.
The company collects rental income from a huge real estate portfolio of more than 5,000 commercial properties. The portfolio is well-diversified across 49 states and Puerto Rico. The properties are leased to 250 commercial tenants coming from 47 different industries.
Realty Income's properties are generally freestanding buildings in locations with good access and visibility. Moreover, they are leased to high-quality tenants. The company's top 20 tenants include CVS Health Corp (NYSE:CVS), Walgreens Boots Alliance Inc (NASDAQ:WBA), Wal-Mart Stores Inc (NYSE:WMT), and FedEx Corporation (NYSE:FDX), among others. (Source: "Top 20 Tenants," Realty Income Corp, last accessed August 9, 2017.)
Business has been growing, too. In the first half of 2017, Realty Income generated $409.7 million in adjusted funds from operations (AFFO), representing a 14.8% increase year-over-year. Higher AFFO would allow the company to further increase its payout. (Source: "Realty Income Announces Operating Results For Second Quarter And First Six Months Of 2017," Realty Income Corp, July 26, 2017.)
Realty Income last increased its dividend in June 2017. Since the company has been raising its payout every three months, the next dividend hike could arrive in September. So investors looking to collect the company's rising dividends may want to act early.