3 High-Yield Stocks Paying Up to 16.1%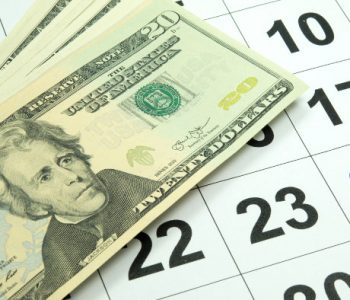 iStock.com/Stadtratte
Receive a Check Every Month
I think you'll agree with me when I say it's tough to balance monthly expenses with quarterly dividends. For those of us who count on our portfolio income to pay the bills, we'd all like those payments to come more frequently.
The thing is, there might be a fix. By digging into dividend payment schedules, we can find stocks that mail out checks in different months. That way, we can scatter our distributions throughout the year, creating a more consistent stream of income.
For example, let's say we had a $100,000 portfolio yielding five percent. If our distributions roll in quarterly, we'll get $1,250 every three months or so. But by staggering our payments, we would receive about $417.00 each month instead.
It gets better. Over time, companies often raise their payments to shareholders. If we invest in stocks that increase their distributions by 10% annually, our monthly income would jump to $672.00 at the end of five years.
So to help you get started, I've highlighted three stocks that will collectively pay a dividend each month of the year. These picks don't represent buy recommendations per se; they just highlight this strategy in action.
January, April, July, and October
For these months, investors should look into Dynagas LNG Partners LP (NYSE:DLNG). Over the next few years, few businesses will see as much growth as liquefied natural gas (LNG). New technologies have unlocked vast supplies of energy across the country. And around the world, emerging countries need a clean-burning fuel to power their economies.
Dynagas owns a fleet of carriers which ship LNG across the ocean. The partnership earns a fee on each cubic foot of natural gas shipped and locks these rates in through long-term contracts. So, while commodity prices can swing wildly from year to year, Dynagas's profits stay relatively consistent.
Most of those profits get passed on to unitholders. Dynagas has paid out distributions regularly since going public in 2013. Those distributions currently top $0.43 per unit each quarter. That comes out to an annual yield of 16.1%.
February, May, August, and November

Sabra Health Care REIT Inc (NASDAQ:SBRA) owns dozens of specialty hospitals, nursing homes, and senior housing centers. The partnership, however, doesn't get involved in the complicated business of managing patients. Instead, executives lease out these facilities to operators in exchange for a monthly rental income.
It's a lucrative business. Tenants sign long-term contracts, usually between 12 and 15 years. Leases also tend to get done on a triple net basis, which means operators pay for insurance, property taxes, and ongoing maintenance.
That has created quite the income stream for owners. Management paid out $1.73 per unit in distributions last year, which comes out to a yield of 10.1%. That payout should keep growing as aging baby boomers push up the demand for senior living facilities.
March, June, September, and December

Canada-based BCE Inc. (NYSE:BCE) is a well-run telecom company serving millions of customers. They send households a bill each month; you get a dividend. That dividend, by the way, has rolled in for the past 137 years.
It would be almost impossible to break into this business. New competitors have to front billions of dollars in order to build out a telecom network across the country. And even if someone could cough up that kind of dough, they would only split the existing business. That would make the industry unprofitable for everyone involved.
As a result, Canadians pay some of the highest prices for telecom services in the world. Most of the revenue from those bills, needless to say, gets passed on to shareholders. BCE churns out one of the highest, safest dividends around, with its yield recently topping 5.5%
Ultimately, it's entirely possible to collect a distribution check each month of the year. All you need to do is dig into company payment schedules and stagger out your income stream. The stocks listed above constitute one way to get started.