3 Dividend-Paying Stocks to Help Income Investors Survive the Next Recession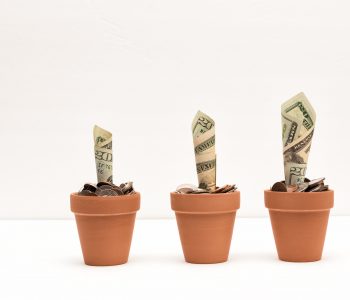 iStock.com/Letfluis
If You Want to Collect Recession-Proof Dividends, Read This
Things look pretty good for income investors at the moment. The economy is booming, corporate profits are soaring, and the new tax reform has led to quite a few dividend increases.
However, we shouldn't forget that the economy always moves in cycles. And for income investors with a long-term horizon, it's important to own not just the highest-yielding stocks, but also ones that can keep making dividend payments when everything else is deep in the doldrums.
So today, I would like to show you three companies that are well positioned to provide recession-proof dividends to income investors.
List of 3 Recession-Proof Dividend Stocks
| | | | |
| --- | --- | --- | --- |
| Company Name | Stock Exchange | Ticker Symbol | Dividend Yield |
| Amgen, Inc. | NASDAQ | AMGN | 2.83% |
| Walmart Inc | NYSE | WMT | 2.24% |
| The Coca-Cola Co | NYSE | KO | 3.54% |
1. Amgen, Inc.
Healthcare is one of the most well-known recession-proof industries. When the economy enters a downturn and people's income shrinks, new car sales may drop, but those that need medication will likely still fill their prescriptions.
Also Read:
Amgen, Inc. (NASDAQ:AMGN) is one of the largest biotechnology companies in the world. Headquartered in Thousand Oaks, California, the company focuses on six therapeutic areas: cardiovascular disease, oncology, bone health, neuroscience, nephrology, and inflammation.
Amgen did quite well in the last economic downturn. In 2008, the company delivered a 1.6% revenue growth and a whopping 38.3% increase in earnings per share. (Source: "Amgen Inc. Revenue & Earnings Per Share (EPS)," NASDAQ, last accessed February 23, 2018.)
However, Amgen probably wasn't in many income investors' portfolios in 2008 because the company didn't have a dividend policy back then. The good news is, it has one now.
Amgen started paying a dividend in 2011. Since then, the company has raised its payout every single year. From its initial quarterly cash distribution of $0.28 per share to today's $1.32 per share, Amgen's dividend has grown by more than 370%. (Source: "Dividend Information," Amgen, Inc., last accessed February 23, 2018.)
Trading at $186.59 apiece, AMGN stock offers an annual dividend yield of 2.83%.
2. Walmart Inc
The retail industry may not be in the best of shape right now, but in my opinion, Walmart Inc (NYSE:WMT) is still a great company for investors to earn some recession-proof dividends.
Consider this: Walmart started paying a dividend in 1974 and has increased its annual payout every year since then. That's 45 consecutive years of annual dividend increases. (Source: "Dividend History," Walmart Inc, last accessed February 23, 2018.)
With the rise of the e-commerce industry, several retailers have reported sizable year-over-year sales declines. But thanks to its "Every day Low Prices" strategy, people are still frequenting Walmart's stores. According to the company's most recent earnings report, comp sales at Walmart U.S. rose 2.6% year-over-year in the fourth quarter of its fiscal year 2018, ended January 31, 2018. Growth in comp sales was driven by a 1.6% increase in comp traffic. (Source: "Walmart U.S. Q4 comps 1 grew 2.6% and Walmart U.S. eCommerce sales grew 23%, Walmart U.S. full year comps 1 grew 2.1% and Walmart U.S. eCommerce sales grew 44%, Fiscal year 2018 GAAP EPS of $3.28; Adjusted EPS2 of $4.42, Company expects fiscal 2019 EPS of $4.75 to $5.00," Walmart Inc, February 20, 2018.)
For the quarter, Walmart's total sales grew 4.2% year-over-year to $135.2 billion. Adjusted earnings came in at $1.33 per share, representing a 2.3% increase from the year-ago period.
The neat thing about Walmart's business is that the company's stores are known for offering good value for the money. So when the economy slows down and people become more budget-conscious, consumers will likely prefer Walmart to the fancier retailers.
WMT stock has an annual dividend yield of 2.24%.
3. The Coca-Cola Co
To see why The Coca-Cola Co (NYSE:KO) is special, here's a number: 56. That's the number of consecutive years in which the company has raised its annual dividend.
The latest dividend hike arrived earlier this month when Coca-Cola increased its quarterly dividend rate by 5.4% to $0.39 per share. (Source: "Board of Directors of The Coca-Cola Company Announces 56th Consecutive Annual Dividend Increase," The Coca-Cola Co, February 15, 2018.)
Just think about that for a moment. A lot of things have happened over the past five decades, including quite a few economic downturns. But none of those things stopped the Atlanta, Georgia-based beverage giant from raising its payout to shareholders.
Just like the other two companies, Coca-Cola benefits from having a demand that stays resilient in economic downturns. Even when the economy was in deep trouble, a can of Coke would still be affordable to most people.
What the company has built is a large and recurring business. Right now, Coca-Cola offers more than 500 sparkling and still brands with nearly 3,900 beverage choices. Moreover, 21 of these brands can each generate more than $1.0 billion in annual sales. With a recurring stream of revenues and profits, Coca-Cola has been providing recession-proof dividends for decades. (Source: "Coca-Cola At A Glance: Infographic," The Coca-Cola Co, last accessed February 23, 2018.)
KO stock has an annual dividend yield of 3.54%.